American Photo: Robert Voit's Fake Plastic Trees
Robert Voit photographs those unsightly towers that send signals to and from the world's 5 billion mobile phones.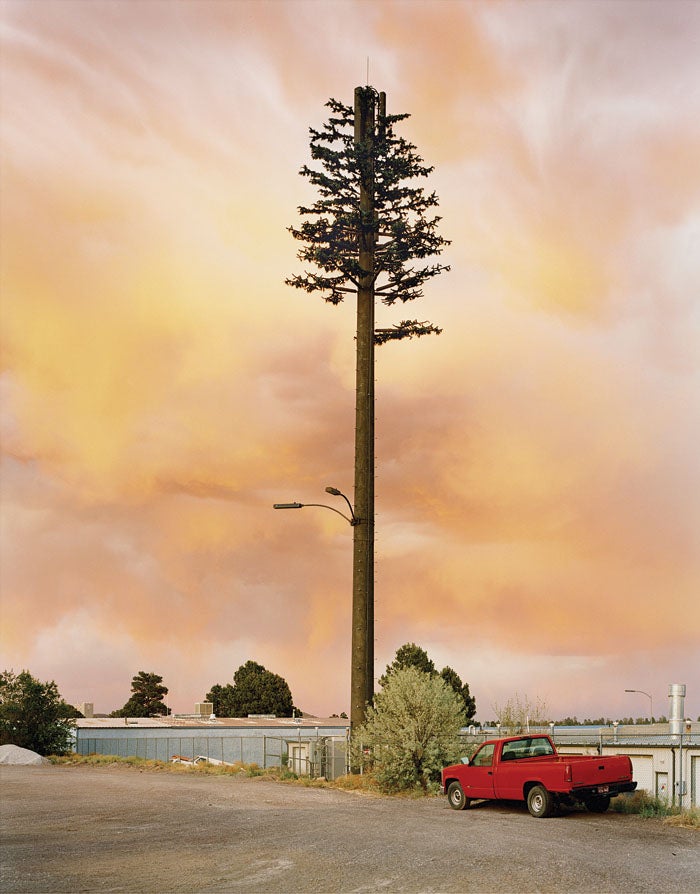 German photographer Robert Voit has documented cell-phone towers disguised as huge trees since 2003, but he came upon the subject by accident. "I was working on a project about the Christmas season, and I was searching the Internet for production facilities for [fake] Christmas trees," Voit recalls. "I had in my mind an overview of a plastic forest in one of those plants. But when I came across a picture of a mobile-phone tree online, I immediately left everything behind! I refocused and it turned into another story."
Voit soon discovered that "New Trees," as he calls them, are all over the world. "When I started out, I had hoped it could be a good traveling theme," he says, "but I didn't know it was such a global issue—and it's not just one company doing it. When I traveled to South Africa, South Korea, England, Portugal, Spain and all over the United States, everybody had these funny trees."
Yet finding them sometimes proved tricky. "I had to look for stuff like activists' Web pages, where they said, 'There is this freaky tree down the road; let's fight it on Friday night,'" he says with a laugh. "I also found hiking guides where it would say, 'Walk five kilometers down and turn at the huge tree.' This was not the huge tree—it was the huge fake tree."
Absurd and Scary
Voit isn't sure who began the phenomenon, which originated in the early 1990s, when cell-phone companies began camouflaging their giant reception towers. But a company in Tucson, Arizona, claims to have built the first one in 1992. "Mostly they try to put these tree disguises in areas where they think other towers would stick out too much," he says. "In South Africa, in the townships, they didn't want to have vandalism against mobile phones, so they put up the fake trees. It's totally absurd, and it's scary. But what the heck, we all have mobile phones in our pockets! Actually, I like some of them a little bit, and I hate them too. It's always this mixture. Some of them are really well made, like these huge cacti in Arizona. I would want to have one in my garden, if I had a garden."
Voit says one country where he has not found many of the structures is his native Germany. "These technical, engineer-nation people like us, we want to see steel!" he says with a laugh.
The 41-year-old artist usually shoots with a Linhof 4×5 or a Deardorff 8×10 camera, often returning over several days to get the light and sky he wants for a scene. "I work without an assistant; I just set out and hike myself through the world," Voit says. His "New Trees" series has been exhibited in several venues, including the Amador Gallery in New York City, and will be collected in a book by Steidl expected out early this year.
Having moved on to new work—ranging from the La Brea Matrix, a group project in Los Angeles in which he explored the camouflaging of oil-drilling equipment, to a recent portrait series at a clown convention in Mexico City— Voit says he's pursuing the tower portraits sporadically: "These trees are so bizarre, if you find a good one, you always shoot it."
The Things That Go On
Voit claims his motivation is more aesthetic than political. "I'm not so blue-eyed as to think that I can change anything in the world with my pictures," he says. "If I can make a change in myself or in the people looking at my pictures, that's OK. It's not like I'm taking pictures of cars because I love cars. It's just big fun to point out these things that go on in our world. The craziness is so funky, you don't need Photoshop."