Trunk Show: Shooting America's Endangered Trees
We sent 12 of our favorite photographers to capture some of America's most significant arbored specimens.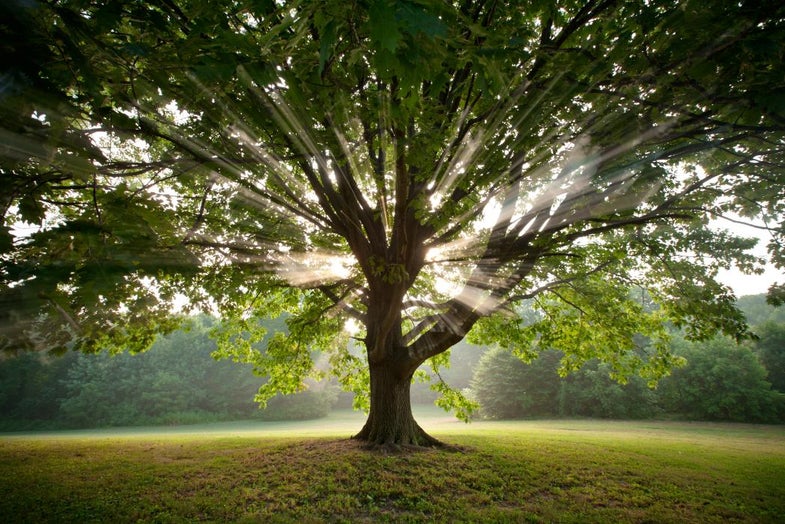 Any student of science will tell you that life is untenable without the fresh air furnished by leafy trees. One mature tree is said to dispense enough oxygen during its growing season to keep 10 people breathing. Even the least scientific human enjoys the more obvious contributions of trees, from wood to fruit to shade from the sun. And while there may be few living entities as ecologically important, photographers clearly believe that there are also few as magnificent.
That belief is expressed not just in the innumerable images of trees photographers have created, but also in the fact that a tree's scale and visual complexity—along with human intrusions into its space—make it a challenging subject. It compelled 19th-century photographer Carleton Watkins to set up his mammoth-plate camera whenever he saw a noble specimen, and more recently led National Geographic photographer Jim Balog to hoist himself up giant redwoods in order to shoot them digitally section by section for stitched vertical panoramas.
Still, the magnificence of trees hasn't deterred us from cutting down roughly 12 billion of them each year for fuel, farming, building materials and other less necessary purposes. Even trees we take for granted in our own communities are endangered by development, disease, climate change and other threats. To focus our collective attention on great trees in our own midst that may need protecting, American Photo and The Cultural Landscape Foundation (TCLF) have partnered to create a traveling exhibition featuring photographs of such specimens. As part of its annual "Landslide" initiative, the foundation chose 12 trees from more than 100 nominees that were solicited from landscape architects, horticulturists and the readers of Bonnier's Garden Design magazine, one of the project's sponsors along with AP and TCLF. The exhibition, which will be supplemented with TCLF's educational signboards for a special opening next spring, is called Every Tree Tells a Story.
We chose the photographers not just for their geographic connections but also for the sympathy toward the natural world displayed in their work. Just as important, though, was the work's aesthetic excellence, because we wanted these artists to interpret the trees rather than simply record them. Visit the site of The Cultural Landscape Foundation, to learn more about this remarkable project.
Click the links below for more information about each of the photographers and the story behind the trees they shot:
Yong Hee Kim
Dave Jordano
Amy Bedik
Jay Dickman
Bob Hower
Frank Hunter
Juan A. Pons
Barbara Bosworth
James Sheldon
Garie Waltzer
Robert Glenn Ketchum
Larry Nighswander