Tips For Better Travel Photography
Bring home great shots no matter where you go.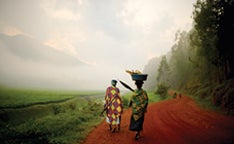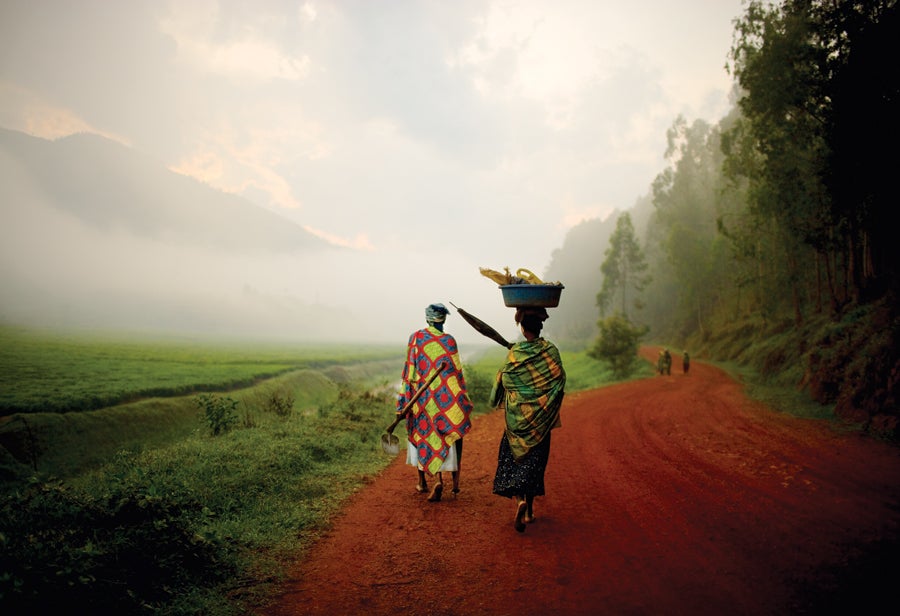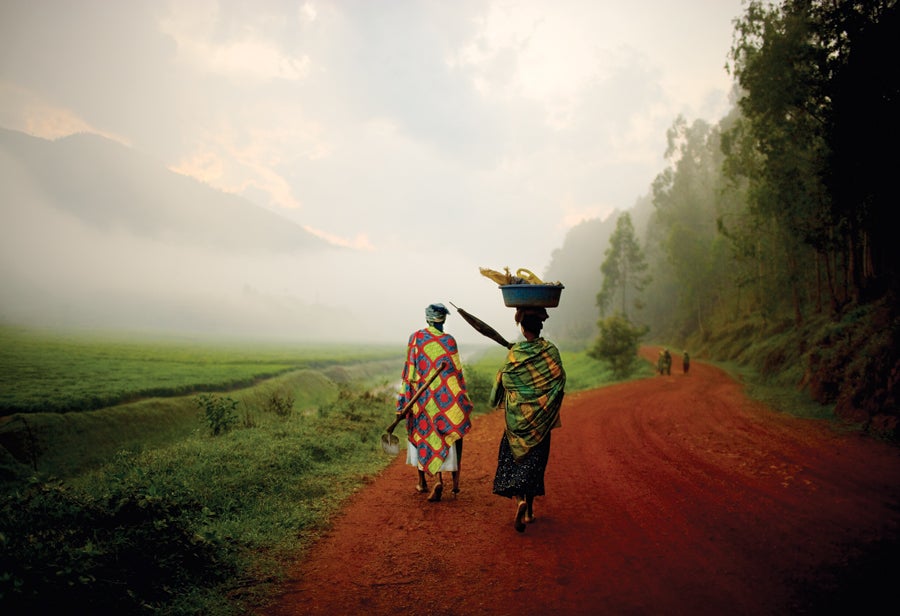 Charles Harris Rwanda
According to Charles Harris, the secret to good travel photography is simplicity—the fewer elements in your frame, the better. "For this picture, made in the tea fields of central Rwanda, I waited for groups of workers to thin down to a few colorfully dressed women, and then made my shot," he says.
In the course of interviewing more than two dozen professional travel photographers, we picked up some advice. Here are their best hints for the journey— and photos—of a lifetime.
Doing Your Research
— Learn as much as possible. Start with the tourism website of the destination that you will visit.
— Read the Lonely Planet guide for your destination, then try to avoid the must-see places it recommends. They will be swimming with tourists.
— Search Flickr.com to see what other photographers are shooting at your destination.
— Despite the previous three tips, your best research will happen when you hit the ground at your destination. Whatever you learn prior to traveling will be secondary to the sources you will find there.
Going and Staying There
— Visit at the right time, and find out—by speaking with locals—what "the right time" is.
— Couchsurfing.org and SERVAS International (joomla.servas.org) are home-stay and hospitality exchange services that can help you find free lodging all over the world.
— When booking rooms in dicey locations, ask if the hotel offers a safe place for storing gear.
— Search for hotels that are centrally located, near potential subjects, offer a view from your room, and have a roof deck. If you're staying for several days, try switching rooms—even hotels—nightly for better views.
— To avoid forgetting battery chargers or laptop cables, set them next to your car keys, wallet, or purse — never on the floor.
What Gear To Pack
— Most of the photographers we interviewed travel with surprisingly similar kits: a fullframe DSLR, f/2.8 ultrawide zoom lens, image-stabilized 70–200mm f/2.8 zoom, 2X teleconverter, lightweight carbon-fiber tripod, electronic cable release, and portable storage device for backing up image files.
— Try to bring a backup camera body, preferably one that's identical to your primary body. Working with different button configurations is confusing and inefficient at best, and disastrous at worst. In many foreign countries, cameras are significantly more expensive and often outdated compared to what you get in the U.S. Having a camera body overnighted to you can incur hundreds of dollars in local customs tariffs.
— A camera poncho like the Aqua Tech SS-Sport Rain Cover will keep you shooting in wet weather.
— Bring lenses that suit your subjects. If you're visiting mainly cities, wide-angles will be more useful than telephotos.
— Collapsible reflectors are better than flash units. They don't depend on batteries, they fold up flat, and they produce a softer, more flattering light. They also show their effects in real-time and can be slowly adjusted for nuanced changes of direction and intensity. Of course, you'll generally need to have someone else hold the reflector, but enlisting the aid of a nearby local often can pay off in unexpected ways.
— Use many smaller memory cards (2GB) instead of a few large cards. That way, if you lose one or it becomes corrupt, you haven't lost too many images.
— Bring a digital compact for when a larger camera isn't practical. A Canon PowerShot G11 or Panasonic Lumix DMC-FH1, for instance, can be invaluable for situations in which the noise of the shutter is inappropriate. Waterproof compacts such as the Pentax Optio WS80 are perfect when the weather isn't.
— A small digital voice recorder such as the Olympus WS-400S can help capture ambient sounds, interviews, and notes or reminders to yourself.
— For remote destinations where your subjects may never have seen a photo of themselves, a pocket-sized, battery-powered printer like the Polaroid PoGo can build trust, gain cooperation, and open doors.
— Energy bars and bottled water will let you keep shooting through the lunch hour. Why waste time eating?
****Gallery: The Best Places To Photograph Around The World****
Shooting Strategies
— Don't stop shooting just because it's wet outside. The time right before and after rain can produce amazing light and more saturated color.
— Try to plan your day and shooting schedule based on your subjects' positions relative to the arc of the sun.
— Get up early to be photographing as the sun is rising. Use midday for napping or location scouting. Start shooting again in the mid- to late afternoon.
— Return multiple times to the best locations to capture them in different light and weather.
— Don't hurry. It's better to capture a few places well than many places superficially.
— Stay patient and focused. Travel can be distracting and overwhelming. Creating a "mood board" can keep you on track: Cut and paste some inspiring photographs or pictures of artwork onto a piece of paper. Keep it folded in your pocket or bag. If you find yourself lost or drifting, pull it out to help regain focus and a sense of mission.
Relating To Subjects
— Learn a bit of the language spoken in the places you visit. The more obscure the language, the more you'll be rewarded for any efforts you make to commit words and phrases to memory.
— An effective and affordable way to learn a language is through an exchange (www.mylanguageexchange.com): You teach people your mother tongue while they teach you theirs.
— The single most important trick for getting better photos is connecting with people at your destination and using them as resources. If you have no human contact there, you may get a great landscape or architectural photo, but you will rarely feel that you've captured the soul of a place.
— Politeness and good manners will get you better people pictures than the highest-tech cameras and lenses.
Travel Safety
— Get a web-based (not serverbased) e-mail account. Attach scans of all your important documents (passport, credit cards, driver's license, hotel and airline reservation numbers, etc.) to an e-mail and send it to yourself.
— Before traveling internationally, visit the U.S. State Department's website and check the Traveler Alerts.
— Women, in particular, should consider carrying their gear in a large, leather hobo-style bag rather than a conventional camera bag. It may attract fewer thieves.
— Purchase travel insurance such as Global Rescue.
****Gallery: The Best Places To Photograph Around The World****