They Were Soldiers Once
Legendary Photographer Catherine Leroy went searching for the men captured in two of the Vietnam War's most famous images. She found how history, and pictures, change even heroes.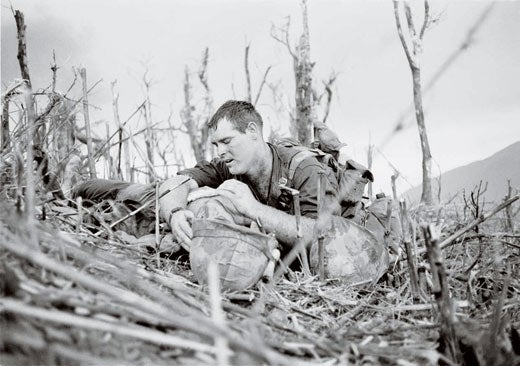 Though the Vietnam War ended 30 years ago, its distant thunder continues to echo. It was perhaps the most intimately photographed war in history, and in those still images the fighting has never ceased. The most powerful of the pictures are the ones that captured the apperceived truth of the morally contentious conflict. In these sustaining images, it is the suffering of the combatants alone that speaks with authority.
To mark the anniversary of the fall of Saigon, Paris Match magazine decided to track down the subjects of two such photographs. One was a shot of a wounded black Marine reaching out for an injured comrade, made on October 5, 1966, by Life magazine photojournalist Larry Burrows, who would himself be killed in a helicopter crash near the Cambodian border in 1971. The other image showed a bewildered Marine kneeling over the body of a fallen comrade, taken in April 1967 by legendary photographer Catherine Leroy. To photograph the two men, the magazine assigned Leroy herself, now living in Los Angeles.
Over the years, Leroy had kept in touch with the Marine she photographed that day in the bloody battle for Hill 881 near the border between South and North Vietnam. His name was Vernon Wike, and he lived by himself in a small home in Prescott, Arizona. When she and Paris Match correspondent Regis Le Sommier met Wike in 2005, it was clear that the man Leroy had photographed so long ago had come back from the war with a burden he could never rid himself of. Married four times, with two daughters he no longer speaks to, he had been living meagerly on a $325-a-month pension. The 58-year-old told Leroy that he felt more like 80. "While not physically hurt, he suffers from extreme Post Traumatic Stress Syndrome, waking from nightmares every night," wrote Le Sommier. "On his arms, he has tattoos of the names of his dead comrades. He's lost in a jungle of his own mind."
For Wike, the haunting memories and the pictures that Leroy shot of him during the war had become intertwined in a psychological spiral. The "Hill Fights" of spring 1967 were toe-to-toe slugging matches between Marines and North Vietnamese troops near the Marine outpost at Khe Sahn. Leroy, a freelance photographer who would later be seriously wounded while covering the war, arrived at the battle in the late afternoon that day on a resupply helicopter, wearing combat fatigues and a white handkerchief over her hair. She quickly learned how intense the fighting there was.
"I was standing next to a colonel, and suddenly I heard a zzzzzzzz-ing sound near my ear," recalls Leroy. "The colonel said, "You better take off that white handkerchief, because someone just shot at you.'"
She began following a Marine company on an assault through the bombed-out terrain. "It was hard to walk, because the earth was loosened and giving way, and the noise of the battle was deafening," Leroy says. Pinned down by gunfire, she saw a wounded Marine four meters ahead of her. "I heard someone yelling, "Corpsman, corpsman!" And I saw this other Marine rushing to the wounded man, and he put his ear on the man's heart. Then he looked up in total anguish."
The man in anguish was Wike. Recounting his story of that day to Le Sommier, he said, "I heard a bang, and I lifted my head out of the trench and saw my friend Rock — it all happened like in some dream — his body started falling and I threw myself at it. The only noise I heard was his heartbeat disappearing little by little. The bullet was in his chest."
As Leroy recalls the incident, Wike, who had been among the lead assault, then picked up the dead soldier's rifle and disappeared among a second wave of Marines. "He was yelling,
'I'll kill them all!" she says.
Wike returned home from Vietnam without any physical injury but troubled. In 2003 he accidentally shot himself with a gun he had placed in his pants pocket. In 2004 the house
he was living in burned to the ground.
Leroy photographed Wike in the cluttered bedroom of the small apartment he moved to after the fire, shooting with a Mamiya 7 and a single strobe. As she worked, Wike told her that her images of him as a young man had marked him forever; after 30 years, he said, it was still those pictures that woke him from his sleep at night.
Two days after the portrait session, Wike suffered a stroke that paralyzed his body and cost him his sight. He later moved to the home of a sister in the Midwest. "Vernon," says Leroy, "is haunted."
Leroy found the black Marine in the Burrows picture with the help of Burrows's son, Russell. Jeremiah Purdie was living in Fayetteville, North Carolina, a framed print of the famous image hanging in his home. A tiny shell fragment was stuck in a corner of the frame — a fragment that entered Purdie's skull that day in 1966, when, during the battle for Mutter Ridge, Burrows photographed him.
That battle was part of a six-month action called Operation Prairie whose aim was to cut off North Vietnamese infiltration through the Demilitarized Zone into the South. It turned into a costly affair, pushing U.S. casualties for the week to their highest of the war. When Burrows cabled New York with instructions on handling his damp film, he found himself apologizing: "Sorry if my captioning is not up to standard, but with all that sniper fire around I didn't dare wave a white notebook."
While covering the fighting for Hill 484, Burrows took a series of photos of a wounded black Marine being evacuated. In the most famous image from the series, the wounded Marine, Purdie, reaches out to a mud-covered comrade.
After he came back from Vietnam, Purdie tried to bury his memories of the war. But he, too, had nightmares. His wife, Angel, told Le Sommier that her husband often woke up screaming. It was only three years ago that Purdie, after counseling from a PTSD specialist, began to talk about his experiences during the war. He said the counselor had liberated his fears, finally convincing him that he hadn't abandoned his comrades when he was flown out of the battle.
Purdie had joined the Marines during the Korean War because, he said, it was the only service that would "take a black man." After Vietnam, he worked as a Marine Corps recruiter, talking to young men, most of them black, in parking lots and supermarkets. For his efforts in the battle for Hill 484 he received the Bronze Star. His wife told the Paris Match reporter that Burrows's photo had helped Purdie deal with his memories of Vietnam — allowing him, in a sense, to remain connected to his fellow Marines who never came home.
"When I photographed him, I could tell he was tired, so I had him just sit on his bed," says Leroy. A month after the portrait was made, Purdie died. "I consider myself lucky to have met him, and photographed him," says Leroy.