Life in Stages
Wildlife photographer Frans Lanting's new book and interactive website explore life on Earth in all its beauty.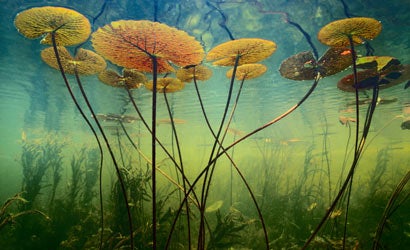 Photographer Frans Lanting — best known for his wildlife images in books and magazines such as National Geographic and Audubon — has recently unveiled an ambitious project looking backward and forward at the same time. Begun more than seven years ago, Life: A Journey Through Time is just that: Lanting explores the vast subject of life on Earth via selective images of natural phenomena, what he calls "slices in time."
Taschen has just brought out a lush coffee-table book by that title, and a traveling exhibit opens Sept. 22 at the Dutch natural history museum in Leiden, Netherlands. The project is also a mouseclick away: An interactive Website, www.lifethroughtime.com, is set to launch in late September, providing a detailed, flash-driven companion to the book.
In yet another iteration of this work, Lanting collaborated with composer Philip Glass to create a multimedia orchestral performance called Life Music, in which his imagery is merged with a live symphonic rendition of Glass's score. "People ask if this is like Koyaanisquatsi," says Lanting, referring to the 1983 Godfred Reggio film that was scored by Glass. "Yes and no.
"Like the film, this show has no explicit narration — it's blending of images and music with an implicit story line," Lanting says. "But Koyaanisquatsi involved moving images, and we're working with still photography. So the choreographer [designer Alexander Nichols] became the bridge between the images and the music. He had a fantastic approach, using three screens and flowing images that really made it work."
The Life Music project premiered in July at the 2006 Cabrillo Festival in Santa Cruz, California. It will be performed by the Baltimore Symphony in Washington, D.C., in February 2007 and will travel to other cities (visit www.lifethroughtime.com for schedule updates).
Lanting, meanwhile, plans to continue his exploration of life on Earth, with more emphasis on the impact of one prominent species: homo sapiens.
"Humanity, as a collective force, is beginning to change the face of the Earth in a dramatic fashion through climate change, through global warming," says Lanting, who up until now has concentrated more on the natural world than man's effects on it.
"Initially, I envisioned a three-part project, with the first part being a look back at the past, the second being a celebration of the present, and the third being a look forward in time to look at the consequences of climate change. But it took me seven years to cover the first two parts, and I felt that it was time to release this to the public." He chuckles.
"I'm going to keep exploring the subject. But I feel that you can't really understand the present, or look into the future, without understanding the past."