David LaChapelle's Weird World
A mammoth new collector's edition book puts David LaChapelle's astonishing career into perspective.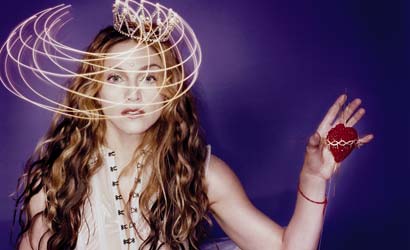 Desperate housewives are never more desperate than the ones in David LaChapelle's photographs. The image at right, part of a recent fashion story shot for Italian Vogue, has all the essential LaChapellian motifs: sex, chaos, humor, and a healthy disrespect for visual logic. When he looks at a suburban street, he sees a surreal landscape in which the quaint lives of soccer moms can be disrupted by sudden disaster, from a violent storm (in this case a hurricane) to the violent sexual yearnings caused by the sighting of a rock star. This elegant mom blithely walks away from the turbulence, strangely ambivalent to the uprooted world around her. Perhaps, like LaChapelle himself, she simply enjoys the spectacle of it all.
"It's funny, but we shot those pictures in June of 2005, before Hurricane Katrina, and they were at Italian Vogue being printed when the hurricane hit, and all I could think of was that the pictures looked so much like the devastation I was seeing on television," says LaChapelle. Hurricanes happened to be on his mind. "My mom lives in Florida, and they've had so many hurricanes there. So these pictures kind of represent how we're all going about our daily lives, shopping for luxury goods and not worrying about bigger things like global climate change."
It has always been easy — too easy, in fact — to see LaChapelle simply as a photographic provocateur who celebrates pop culture and its transcendent vulgarities. That's primarily due to the nature of the work, most of which was made for magazines selling celebrities, fashion, and entertainment on a highly disposable monthly schedule.
It is only in looking back over his 30 years of work that one can see LaChapelle's consistently ironic commentary on the culture around him. More than any of his contemporaries, LaChapelle has been determined throughout his career to create a photographic world all his own — a place that bears his personal stamp and operates under his very particular rules. He's been called "the Fellini of photography," a statement not at all hyperbolic. His supercharged colors and archly funny juxtapositions — a model crushed under an enormous inflatable hamburger; Elton John rocking out in a room full of cherries and bananas — reflected the tastes of MTV generation when he burst onto the scene in the mid-1980s.
"His images are the candy-coated connective tissue of the modern pop culture animal," one commentator noted midway through the following decade. Lately he has dabbled successfully in documentary filmmaking with his 2005 film Rize, which another critic called "a gripping portrayal of the hip hop ghetto nation." He also designed and directed Elton John's 2004 Las Vegas extravaganza "The Red Piano." But his legacy is still defined by the images he shoots for magazines and collects in books, particularly LaChapelle Land (1996) and Hotel LaChapelle (1999), both of which sold out initial print runs and became highly valued by collectors.
In another attempt to stake out the farthest reaches of his creative universe, LaChapelle is now bringing out a new book, and it too will be a hit with collectors — by design. Discreetly titled Artists & Prostitutes, it is being published by Taschen in a limited edition of 2,500 copies signed and dated by LaChapelle. The book is an oversized 13.6 x 19.7 inches, and at 688 pages it comprises a full retrospective of LaChapelle's work — everything from his latest fashion pictures to his porno-chic imagery for Arena and other magazines, as well as his memorable portraits of celebrities whose cultural impact may well be far less enduring than his pictures — Lil' Kim, Paris Hilton, Tupac Shakur, and Pamela Anderson, to name a few.
"If there's an exhibitionist left who wants his or her picture taken," LaChapelle once said, "I'll be there."
Therein lies the meaning of the book's title.
"Actually I wanted to call my first book Artists & Prostitutes, but the publisher wouldn't let me because he thought it was in bad taste," says LaChapelle. And the meaning? "It works on a lot of different levels," he says. "There are artists and prostitutes in the world, and I don't make a judgment about them, I photograph everyone the same way." In fact, says LaChapelle, "some of my best friends have been prostitutes, and sometimes to be an artist is to be a prostitute, and vice versa. I once read this great quote from a prostitute, who said that when she was with a client she always had to find something about him to love, even if it was just his shoes. And that's the way it is for me in photographing all the celebrities I do. For the time they're in the studio, I have to find something about them to love, even if they're not being very nice."
The book begins with an image LaChapelle made at the beginning of his career in 1985, a shot of the Beastie Boys in Times Square. The layout then places the surprising span of his career into perspective. "Up until now I don't think my work has been well understood except by the people I work closely with," he says. LaChapelle takes particular exception to the idea that he is just a digital magician who produces his amped-up images in Photoshop.
"It's true that I was employing digital technology early on, because I had a grant from a Japanese company to test out their equipment," he says. "But in fact what we really do is build sets, paint backdrops, and all the images exist in real time. We don't do all that much in post-production."
His famous shot of a nude Lil'Kim covered in Louis Vuitton logos, for instance, required the diminutive rapper to be body painted. The driving vision springs more from an instinct for theater than from digital know-how. "I'm really not that interested in computers," LaChapelle says.
He also dislikes the idea that he has only one trick, or one emotional response, to every subject. "I don't allow myself to be just the guy who's a clown, who does all the wild colors and light, funny photos," he says. "Not allowing myself to be categorized is what's kept me around for so long. And I think this book represents that — it's the first time all the work has been put together in one place."
Plumbing a 30-year career and editing it down even to a relatively expansive 688 pages would seem to be a daunting task, and indeed LaChapelle spent three years planning and laying out Artists & Prostitutes. Some photographers say they hate looking at their past work, preferring whatever current project they happen to be working on.
"I really enjoy looking back to see what I've done, and where I've been," says LaChapelle. "Each picture is a record of what I was doing, who was working on the shot with me, people I was in love with who I put into the images in some way. For me, my commercial work is also a personal photo album of my world."
And it is one thrilling place.