Cowboy Kate Rides Again
Sam Haskins talks about the art of the nude as his classic 1960s photo book gets a new lease on life.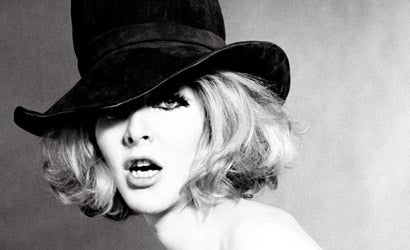 When photographer Sam Haskins published his most famous book, Cowboy Kate and Other Stories, in 1964, it was a pioneering work, blending an extended visual narrative with an artful use of black-and-white tones and subtly erotic, peek-a-boo nudity. First published in Europe, the book sold out several international editions, went out of print in the late 1960s, and became prized as a collector's item.
But this fall Cowboy Kate is back: Rizzoli has brought out a "Director's Cut" version of the book, complete with digitally restored plates and several never-seen images that Haskins has added to the mix. American Photo recently talked with the 81-year-old photographer — who began his career in London and now lives in Australia — about the new Cowboy Kate, modern times, and his varied career in photography.
You're most famous for your photographs of nudes, but you've shot all kinds of work, right?
Oh yes, a lot. Journalists zone in on the nude work. You do five percent of nudes, and everybody thinks that's all you do. But in fact, I'm an all-armed jobbing photographer: I do annual reports, industrial photography, portraiture, fashion, architecture, still life, products, you name it. But I did a few books because I wanted to do projects where I controlled the whole process, from conception to the final thing. As subject matter, I chose nudes. And of course, that's what I became famous for.
In the early 1960s, nudity was not nearly as ubiquitous as it is now.
No it wasn't. At that time, I had gone to art school, where you go to life classes and draw and paint and sculpt from the nude. So for me it was an everyday occurrence — it wasn't anything outrageous to work with a nude model. But for a lot of photographers it was, and you could sense it in their work: There was a stilted approach. They weren't alive, vibrant, breathing young girls, enjoying life. And that's what I tried to put across. The intelligent critics all latched onto that fact.
Do you miss the way it was in those days?
Absolutely, yes I do. And I miss the types of nudes that master photographers like Penn and Avedon used to do, people like that. The mass over-the-top nudes that you see in men's magazines these days are so boring it's unbelievable. No more limitations, anything goes, and they are just hyper boring — big breasts, blatant nudity, nothing refined or with any finesse any more.
Do you think Cowboy Kate will find a new audience?
"Oh yeah. Listen, there's tremendous rapport with Cowboy Kate and females. They love the book. I get requests all the time on my website from females for that book. It has become quite a collector's item.
Cowboy Kate has become so expensive, the original printing, it sells for up to $1,000 a book. The youngsters can't afford that. But they can afford the new book, which retails for only $45, and it is as good as if not better than the original. And it has additional work in it.
Is that why it's called 'Director's Cut'?
Yes, the reprint introduced new pictures which were not in the original. And also pictures in an era beyond the '60s, to show that I'm not totally stuck in that decade. You know, one does a book, at a certain stage in your life, and you let it go, and once it's printed there are pages you are not quite happy with and you'd like to change them. This was a wonderful opportunity to replace certain images and bring in some images that I didn't have in the book before.
Didn't you do the restoration digitally?
The images were printed from digital files, retouched in Photoshop. I scanned the original negatives on an Imacon scanner. And I feel I get better images out of old transparencies than I ever managed before in a wet darkroom. Because in one photo, you can have 20 areas each with a different contrast ratio. You can tweak the whole image bit by bit like you could never do in a darkroom. And listen, to stand all day in a stinking darkroom is not my idea of fun! I'd rather sit in a nice easy chair in front of a monitor.
You know, after Walt Whitman kept changing Leaves of Grass in each new edition, a lot of scholars say the first version was the best.
They always will. I'm sure they are going to say the same about Kate. [Laughs.] You always get these old die-hards who say, 'I prefer the original.' And they can buy that one, if that's what they want.