AA Battery Test
With dozens of off-the-shelf options, we tell you how to get the most clicks for your coin while staying green at the same time.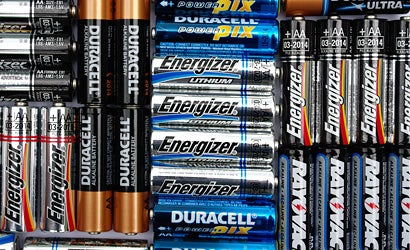 We may earn revenue from the products available on this page and participate in affiliate programs. Learn more ›
We all use them; from camera flashes to television remotes, AA batteries find their way into every home. But just like other energy sources, batteries can be very costly as well. With a wide range of prices from store to store, a bit of comparison shopping may be necessary to find a good deal. Need a 4-pack of alkaline batteries at a tourist trap? Forget about it — that'll be 10 dollars please.
With plenty of time to plan ahead, we shopped around for the best prices, dropping two Franklins at Wal-Mart. $200 bought seven sets of rechargeable and seven sets of single-use batteries — 84 batteries in total. With individual single-use batteries ranging in price from 50-cents to upwards of four dollars (purchased in packs of four or eight), our objective was simple: Calculate cost per shot for each battery.
Each set of batteries was put through a series of three tests. Batteries were tested twice using the 8-megapixel Canon PowerShot SX100IS, once with and once without using the built-in flash. The camera was tethered to a computer and fired using Canon's Remote Capture software, with each and every setting carefully matched before each test to ensure consistency. The camera continued firing until each pair of batteries was depleted, with shot intervals of five seconds for the flash off test and 15 seconds while the flash was on. This portion of the battery test often ran overnight.
In case you're interested in the technical details — images were captured at full resolution and sent directly to the computer for storage. The camera fired at ISO 400, f/2.8, 1/20 sec. for the flash off test and ISO 100, f/4, 1/160 sec. with the flash on. Focus was locked for both tests and the autofocus assist lamp was turned off. Because the camera did not focus and images were not displayed on screen between shots, the number of shots captured with each battery is significantly higher than you may experience with daily use. Nonetheless, this technique proved accurate for comparing life between different types of batteries.
Please continue on to Page 2 for results from our rechargeable and single-use battery tests.
Rechargeable Battery Test Results
Article Revised on 7/2/08: Original cost-per-shot results were corrected for single-use batteries following a miscalculation which resulted in cost-per-shot results that were double the correct cost-per-shot for each pair of single-use batteries.
With the environment taking center stage in the 21st century, staying green has become a much higher priority. As photographers, we can do our part to reduce waste by using rechargeable batteries whenever possible. While rechargeable batteries may not be the best choice in all situations, for applications that require frequent battery replacement, such as with digital cameras and flashes, their use can help save money and the environment at the same time.
Below are the results from our rechargeable battery point & shoot camera test. Batteries are presented in order from lowest to highest cost per shot. Because of our controlled shooting environment, costs per shot are lower than you will experience in the field, but still offer an accurate comparison of battery longevity. Battery capacity is presented as listed on unit packaging, but high capacity doesn't necessarily result in high longevity as seen in our tests. Our conclusion: advertised capacity cannot always be trusted.
Some manufacturers offer pre-charged AA batteries, including Duracell and Kodak. Batteries sold with their Value Charger models were advertised as pre-charged, though longevity was significantly shorter than after a full charge. While a nice gesture, pre-charged batteries are not always dependable. Because pricing is based on a single use, Kodak's Value charger offers the lowest cost per shot for rechargeable AA batteries in our test. Energizer's 15-Minute charger is our best buy, however, because of its high longevity and quick, 15-minute charge time. Kodak's 1-Hour charger was unable to charge batteries in 1-hour, requiring over three hours to accomplish the task. Charge times for other models were as described on packaging.
Editor's Note: Cost-per-shot results for rechargeable batteries include the price of the charger and are based on a single use. Actual cost-per-shot will decline progressively as batteries are reused.
||||||||||| |—|—|—|—|—|—|—|—|—|—| | Image| Make| Model| Cost| Qty| Capacity| Flash Off| Per Shot| Flash On| Per Shot| | Kodak| Value Charger| $11.97| 4| 2100 mAh| 2670| $0.0022| 1614| $0.0037| | Duracell| Value Charger| $16.97| 4| 2000 mAh| 3195| $0.0027| 1729| $0.0049| | Energizer| Standard Charger| $21.13| 4| 2500 mAh| 3637| $0.0029| 1962| $0.0054| | Rayovac| Easy Charger| $11.94| 4| 2100 mAh| 2058| $0.0029| 1022| $0.0058| | Polaroid| Superfast Charger| $19.77| 4| 1800 mAh| 2886| $0.0034| 1478| $0.0067| | Kodak| 1-Hour Charger| $18.87| 4| 2400 mAh| 2149| $0.0044| 1250| $0.0076| | Energizer| 15 Minute Charger| $29.87| 4| 2200 mAh| 3731| $0.0040| 1842| $0.0081| Single-use Battery Test Results
Energizer e2 Lithium batteries, our best buy, may be more expensive than any other on the market, but their longevity justifies the price. According to Energizer, they're also 33-percent lighter than alkaline batteries, cutting back on weight as well. If rechargeable batteries aren't for you, lithium AA batteries are the next best thing — offering great performance while cutting back on waste.
|||||||||| |—|—|—|—|—|—|—|—|—| | Image| Make| Model| Cost| Qty| Flash Off| Per Shot| Flash On| Per Shot| | Energizer| e2 Lithium| $16.84| 8| 5213| $0.0008| 2890| $0.0015| | Duracell| Coppertop| $5.27| 8| 1204| $0.0011| 668| $0.0020| | Duracell| Ultra Digital| $7.34| 8| 1456| $0.0013| 782| $0.0024| | Energizer| Max| $5.52| 8| 1059| $0.0013| 566| $0.0024| | Duracell| 2x Power| $4.67| 4| 1898| $0.0012| 939| $0.0025| | Energizer| e2 Titanium| $6.87| 8| 1162| $0.0015| 636| $0.0027| | Rayovac| Alkaline| $4.25| 8| 751| $0.0014| 243| $0.0044| Conclusion
Energizer's 15 Minute charger and battery set is our top pick in AA batteries. It offers enviable performance, is reasonably priced, and can charge completely in 15 minutes. 15 minutes isn't too much to ask, making this set a great choice for virtually any photographer. If you need even more power or don't use your camera on a daily basis, Energizer's lithium batteries are our second place pick. These batteries offer the lowest cost per shot of any we've tested, weigh 33-percent less than alkaline batteries, and last significantly longer than any single-use battery we've seen.
While rechargeable batteries are the best pick for green photographers, recycling services are available for single-use batteries as well. Battery Solutions offers their iRecycle Kit for proper disposal of both rechargeable and single-use batteries, as well as batteries from cellular telephones, iPods and laptop computers. Recycling kits range in price from $24 to $74, based on the total weight of the batteries you wish to recycle. Whether recycling your used batteries or sending them to the landfills, it's always a good idea to place a piece of tape over the battery terminals as a safety precaution. AA batteries are here to stay for the time being, but we can continue our dependence without causing significant harm to our wallets or the environment.