Shooting cherry blossoms with master nature photographer Art Wolfe
Tips and techniques for capturing one of nature's most beautiful displays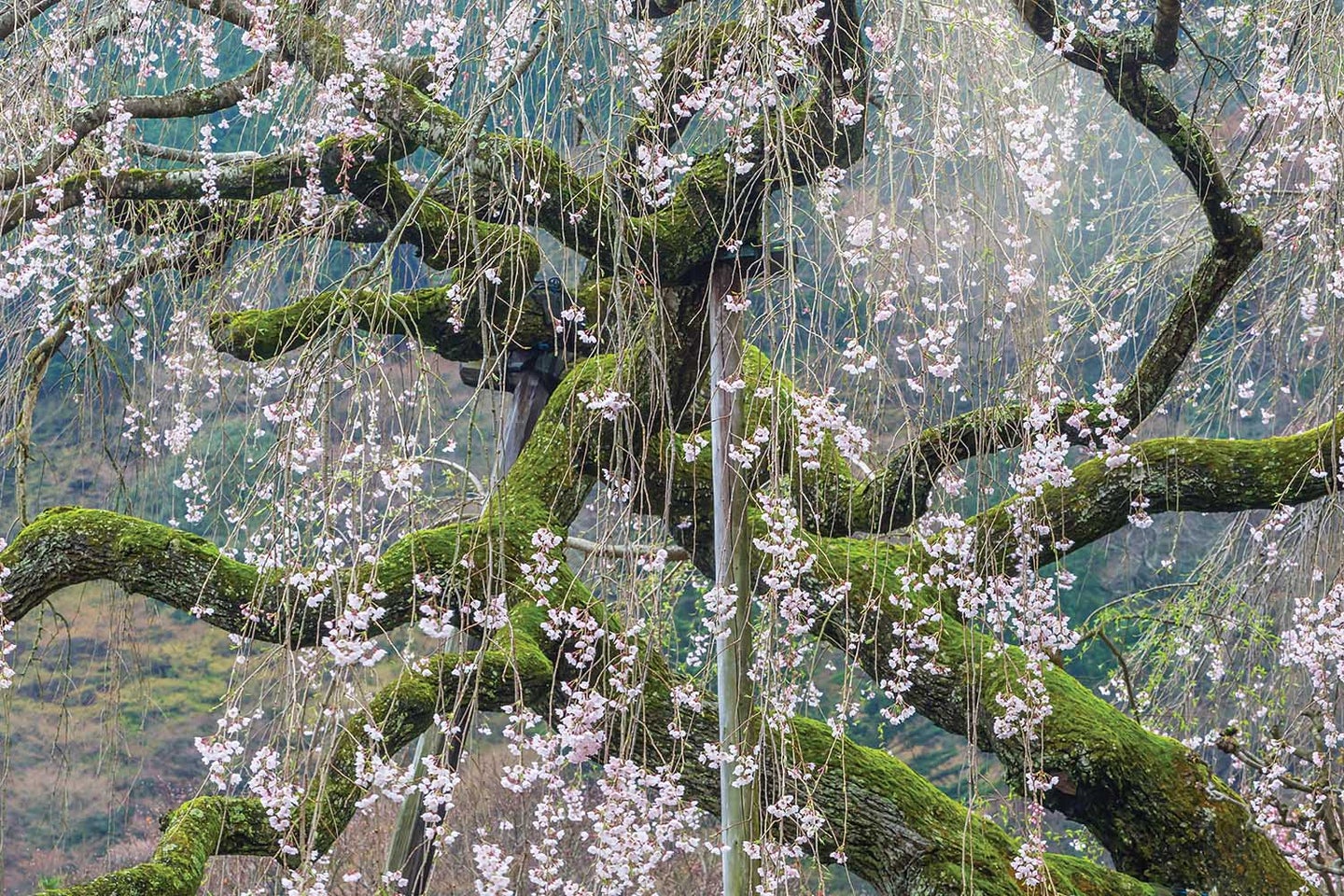 Nature maestro Art Wolfe has never let a little thing like geographic distance get in the way of great photography. He has crisscrossed the world in search of its most stunning environmental settings— often teaching workshops, staging lectures, or filming episodes for his public television series Travels to the Edge along the way. To photograph cherry blossom trees in full flower, Wolfe naturally made his way to the ancient city of Kyoto, Japan, and its surrounding countryside.
"The beauty of Kyoto in the springtime is unparalleled," says Wolfe, who most recently journeyed there in April of 2015. "The large cherry trees are quite magnificent when in full bloom."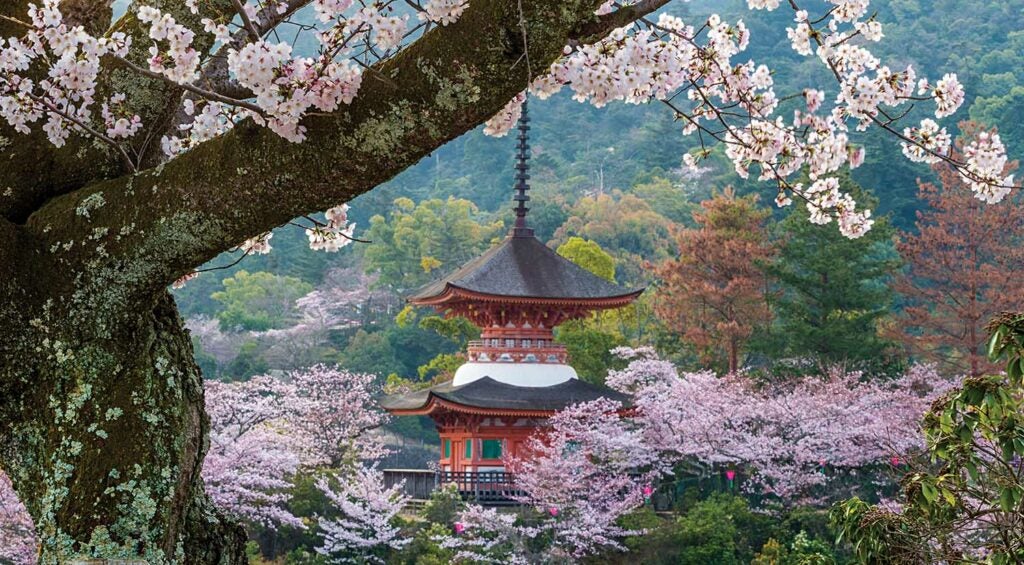 Ancient Temple
Wolfe shot this scene with a Canon EOS-1D X and EF 70–200mm f/4L lens, exposing for 2.5 sec at f/29, ISO 160.
While they are believed to have arrived thousands of years ago from the Himalayan mountain range, they're most prevalent today in Japan due to intense hybridization practices over centuries and the island nation's lush natural vegetation. (Cherry blossoms can be found in locales across the United States, too.)
Usually blooming en masse, cherry blossoms hold a place of reverence in Japanese culture as symbols of ephemeral beauty and the transient rhythms of nature. The celebratory ritual of Hanami, or picnicking under canopies of cherry tree blooms and taking in the scents and sights, is a centuries-old tradition."The peak cherry blossom timing is carefully tracked in Japan," Wolfe notes. "People join their friends and families in large numbers at parks, shrines, and temples that have sakura trees to hold flower-viewing parties." Here, Wolfe shares his secrets for capturing images of these evanescent wonders.
Timing is All The blooming periods of cherry blossoms can be unpredictable: They often vary according to location and climate factors. (Cold, harsh winters tend to delay the flowers' springtime emergence.) It's wise to research your destination before traveling. But keep in mind that many predictive reports—by the U.S. National Park Service and corresponding resources abroad—are not firmed up until early March, when the blooming is already close at hand.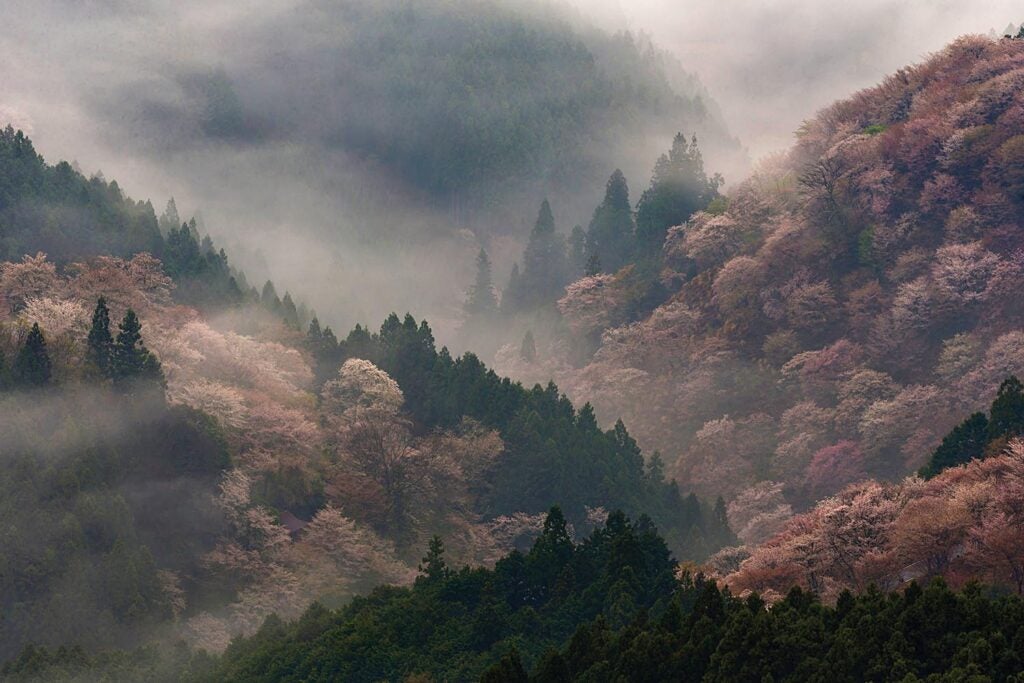 Misty Mountain
The image above was made with a Canon EOS-1D X and 100–400mm f/4.5–5.6L EF IS II lens. Exposure was 0.4 sec at f/16, ISO 100.
"Pay close attention to weather trends," Wolfe says, "because the peak of the season can swing by weeks. It may fluctuate quite a bit depending on the year."
While the species' dazzling "peak bloom" typically lasts for less than one week, the actual blooming period—from the first unopened bulbs to the final shedding of the blossoms and their replacement by green leaves—can be a month or more. April is the most common month globally—but a given location's flowering season might run any time from late March through mid-June.
Another key timing factor is time of day. "I try to shoot the blossoms in early morning when the wind is calm and the light is gentle," Wolfe says. "I often arrive at a location in the wee hours of the morning, so I can have a relaxing photographing experience around sunrise."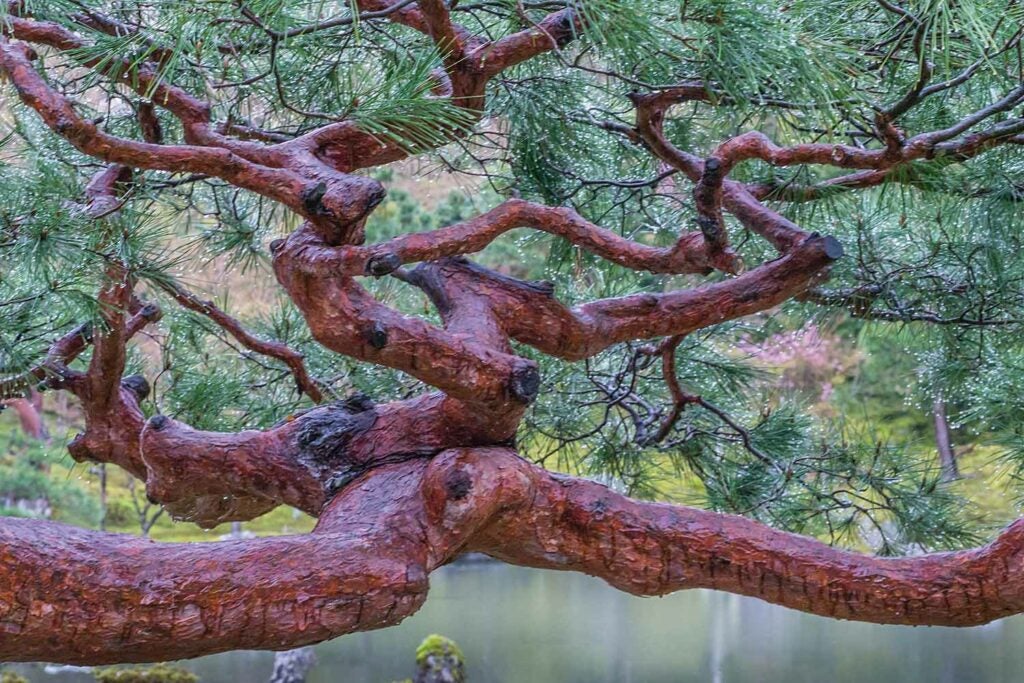 Gnarly Pine
Wolfe shot a red pine tree with a Canon EOS-1D X and 70–200mm f/4L EF lens, exposing for 1/40 sec at f/18, ISO 4000.
Light Matters To maximize their pastel hues, try to create a contrast between the cherry blossoms and their surroundings. Wolfe prefers to shoot the blooms under overcast skies. "The more subdued the light, the better chance the pale pinks will stand out," he says. "Utilizing a polarizing filter takes the shine off the cherry blossom petals, and low light tends to saturate the colors."
For the first shot in the gallery below, Wolfe took advantage of pale light as well as the dark green moss on the tree branches as a contrasting backdrop. "Kyoto is famous for its humidity, which nourishes the moss," he notes. "All of these trees are ancient— hundreds of years old—and their surfaces take on all sorts of interesting characteristics as they age."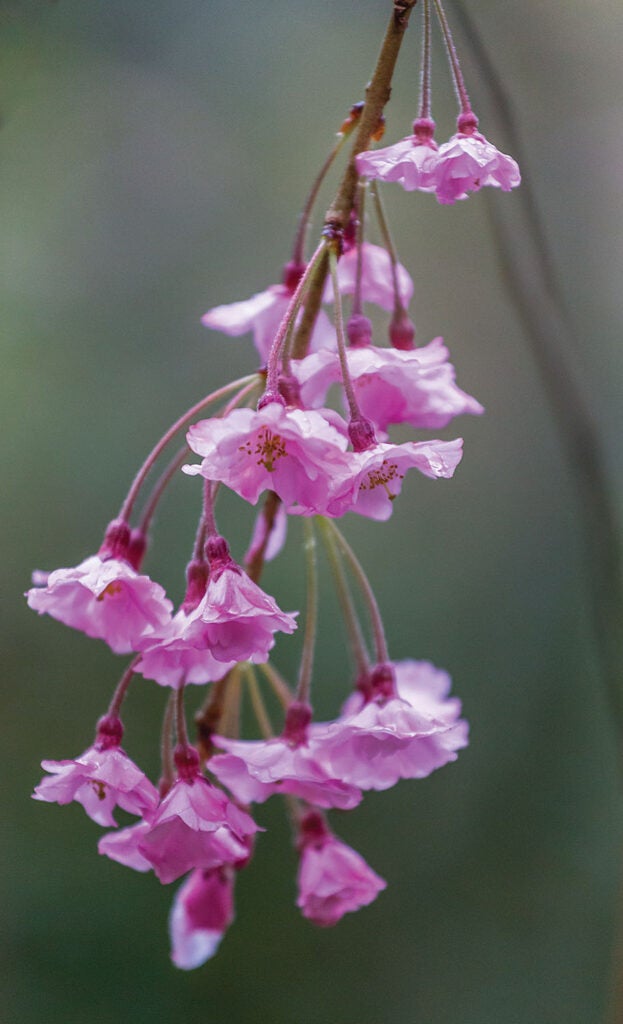 Isolated Blooms
The flower close-up was made with a Canon EOS-1D X and 70–200mm f/4L EF lens. Exposure was 1/1000 sec at f/4, ISO 4000.
Cherry blossoms are often associated with clouds because of their fluffy, hazy appearance when they bloom all at once. This effect is accented in Wolfe's distant shot of blossom-covered hillsides. "This picture was shot under a clear- ing storm," Wolfe recalls. "It's photographed from an open space in the forest overlooking a mountain valley. I got the broad depth of field using an aperture of f/16, and everything was far enough away that it was all focused on infinity."
Environmental Perks While scouting sites, keep an eye out for photo subjects that complement your images of blooms. A case in point is Wolfe's shot of a gnarly pine. "This is not a cherry tree at all—it's a Japanese red pine tree that frequently grows in the same environment as the cherry tree," Wolfe says. "This was photographed from a nearby trail with a 70–200mm lens [set to 200mm] because the tree was cantilevered over a pond."
In the image that opens this article, Wolfe incorporated an icon of ancient Japanese architecture—the Mitakidera Temple near Hiroshima—and framed it with a cherry tree in the foreground. "I focused slightly beyond the closest element, the tree," he says, "and then used my smallest aperture of f/29—this way it popped into focus."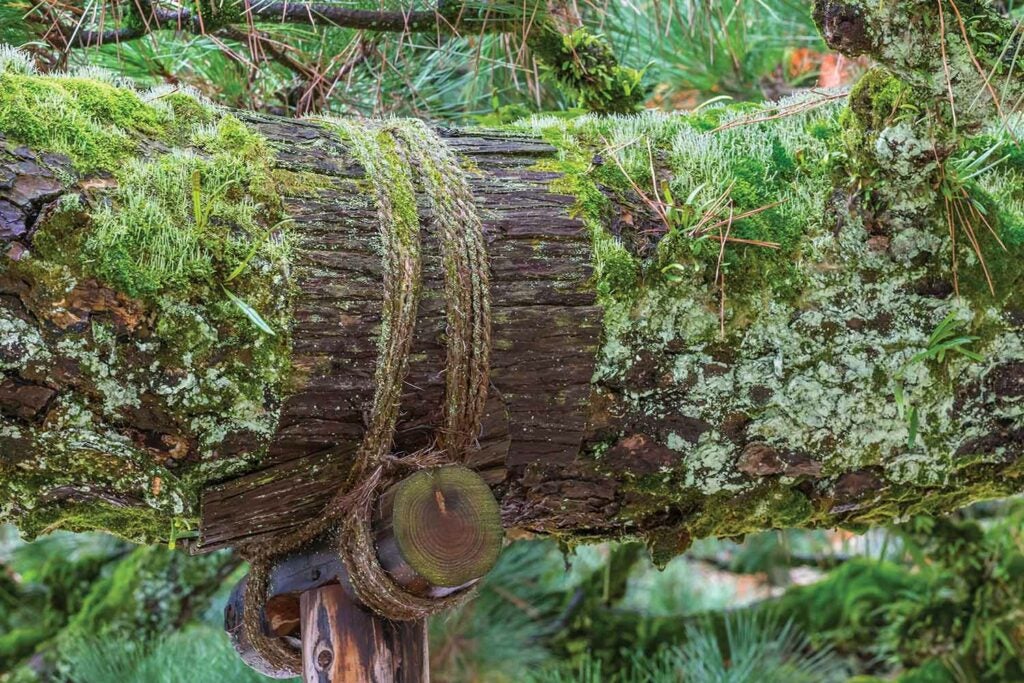 Support Beam
For this branch shot, Wolfe used a Canon EOS-1D X and EF 70–200mm f/4L lens, exposing for 1/60 sec at f/16, ISO 4000.
Then there's his photo of a moss and lichen covered branch that's been tied to a prop for stabilization. "I love photographing the Japanese gardens because they have worked with trees for hundreds of years," Wolfe says. "The trees become so old that they often need support just to keep their limbs from falling or breaking."
Attention to Detail While clusters of blooms are naturally dramatic, you can create detailed images by zooming in on one. "This shot is of the type of cherry that has blossoms that hang down, almost analogous to a weeping willow," he says.
Shooting from a distance, Wolfe deliberately isolated the blossoms from the background. "I used a 70–200mm zoom at the 200mm [end of the] range. I opened the aperture to f/4, going for a shallow depth of field so that the background pond is dark and out of focus. I used a circular polarizing filter to take some of the shine off the petals."
Impressionistic Patterns When shooting wide swaths of blooming flowers, you can use contrasting tree shapes and colors to create abstract patterns. In the penultimate photo below, Wolfe played the soft pink blossoms against green lichens on tree branches in a wild forest. "I love photographing trees that have character, and here I was drawn to the jade green of the lichens in the ancient tree trunks," recalls Wolfe, who had previously studied fine art before taking up environmental photography.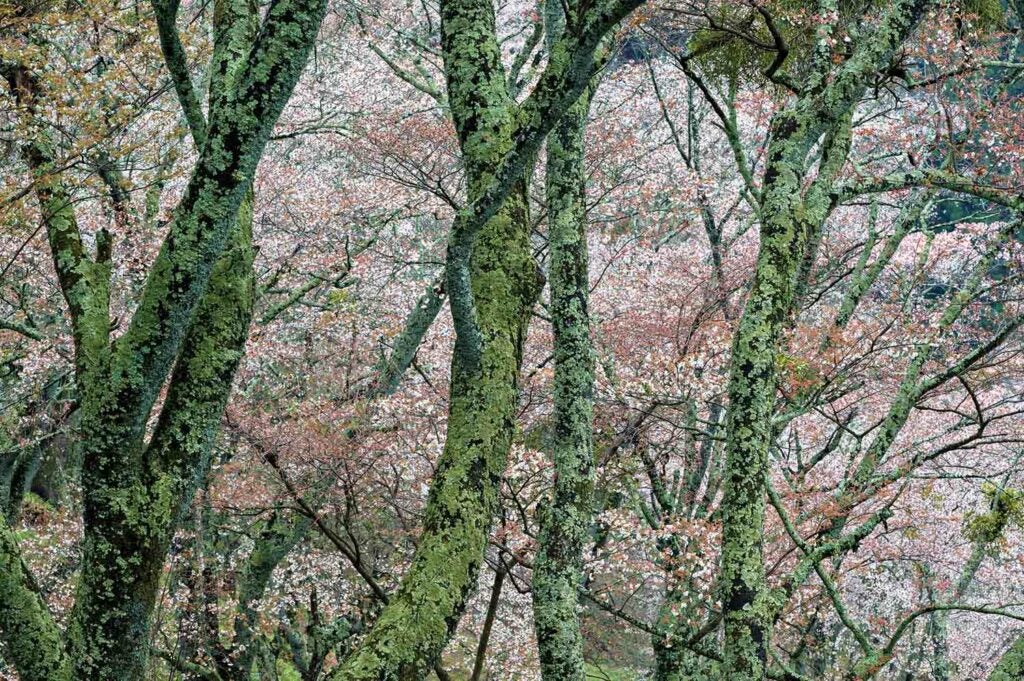 Impressionism
Wolfe captured the above forest with a Leica S (Type 006) and Apo-Elmar-S 180mm f/3.5 CS lens, exposing for 2 sec at f/22, ISO 100.
"Combining the pastel greens and pinks evokes complimentary colors," he adds. "The mottled trees resemble the complexity of the cherry blossoms surrounding them, rendering the entire scene into an image that reminds one of an impressionist painting."
Similarly, in the shot at bottom left, honeycomb-like flower shapes contrast the dark tree branches and pale sky to look like the inside of a kaleidoscope. "The wide swaths of blooms are specific to the Kyoto region," Wolfe says.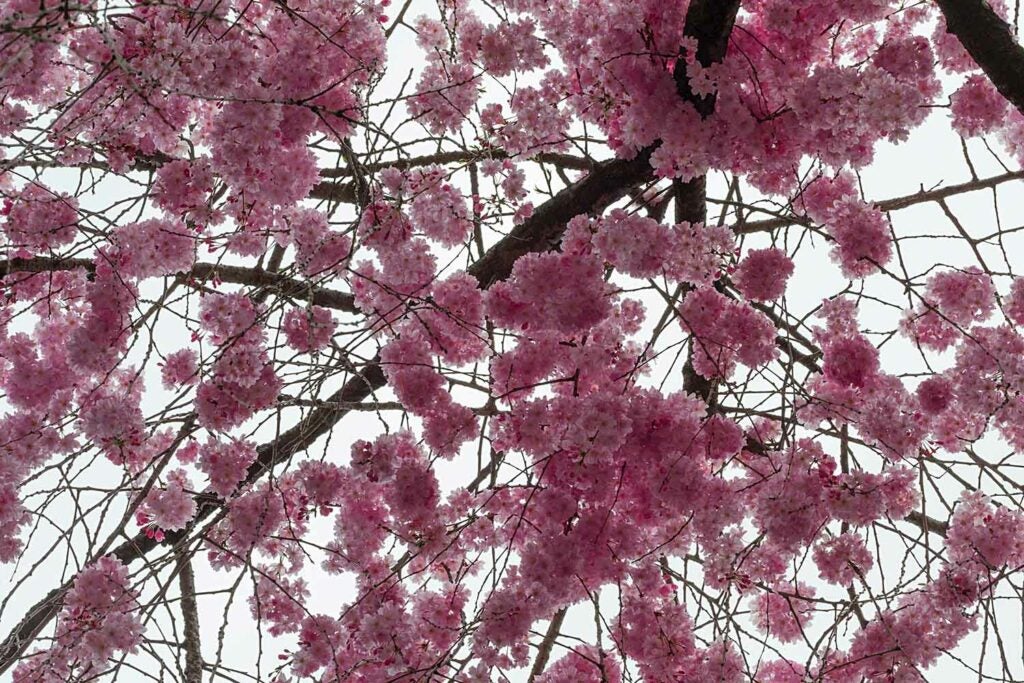 Kaleidoscope
For this shot, Wolfe used a Canon EOS-1D X and 70–200mm f/4L EF lens. Exposure was 1/80 sec at f/20, ISO 4000.
The Japanese custom of harmonious design frequently contrasts such unfettered natural growth with manicured settings. What could represent it more succinctly than cherry blossoms over a Zen garden as in the image above?
"I spotted this scene in a traditional Japanese rock garden, which is a beautiful sight in its own right," Wolfe says of the last photo in this gallery. "I believe the cherry blossoms and the rock garden have been cultivated together and combined, because both of them are deliberately placed in their juxtaposition."
Rocks and blooms, hard and soft, pinks and grays: Such dualities can lend a sense of balance to your art. If you're lucky enough to see a swath of cherry blossoms this spring, seize the moment to shoot them—because soon they'll be gone.