How Mark Hogancamp used photography to cope with PTSD
A comprehensive look at Mark Hogancamp's fictitious world of Marwencol.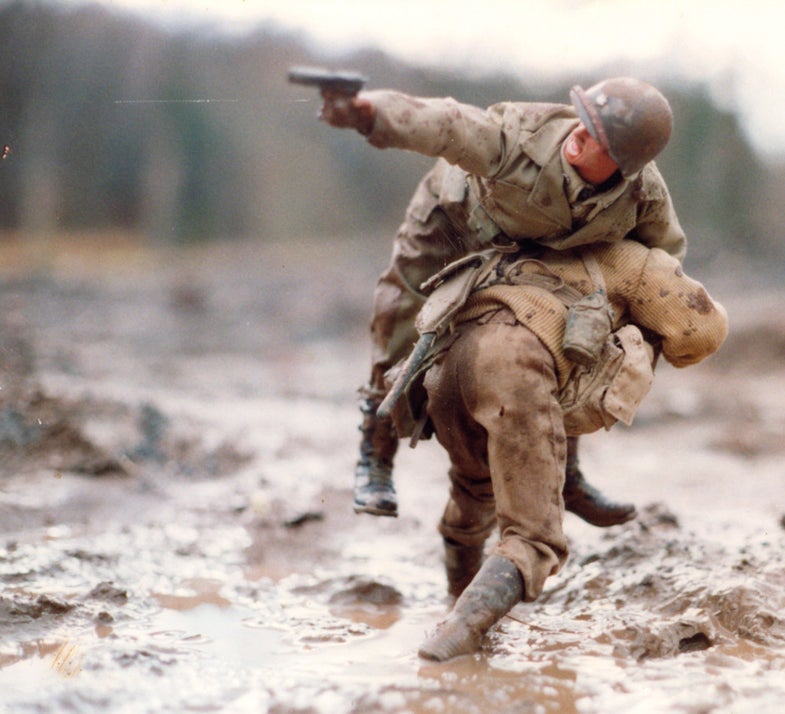 Mark Hogancamp leads a double life. In Marwencol, Hogancamp is a WWII fighter pilot, an owner of a successful bar, and married to a beautiful woman named Anna. He also happens to be only 12 inches high and made of plastic. In Kingston, New York—the real world—Hogancamp lives alone in a crowded trailer, devoting much of his time to building, photographing, and documenting the lives of those in Marwencol—a fictitious world of Hogancamp's creation.
Welcome to Marwencol examines this meticulously-crafted world that Hogancamp has been building and photographing for over a decade—a way to cope with his brain injuries and PTSD. Hogancamp's photography has been featured in the Esopus art journal, was the subject of an award-winning 2010 documentary called Marwencol, and a feature-length film starring Steve Carell that will be released this week. But for Hogancamp, creating the world of Marwencol was simply a form of therapy. It was a way to keep his mind occupied once his state-supported aid ran out.
"I didn't know that my fight to get my mind back would benefit other brain-injured people," Hogancamp told the New York Times in an interview from 2015.
In 2000 as Hogancamp was leaving a bar in Kingston, NY he was brutally attacked by five men and left for dead. He was out cold the minute his head hit the pavement, but that didn't stop the five assailants from kicking his legs, stomping his chest and face, and smashing in his right eye. Apparently earlier in the evening, while sharing a drink at the bar with one of the men, Hogancamp had revealed that he enjoyed cross-dressing. The attack lasted less than a minute, but changed Hogancamp's life forever.

When Hogancamp awoke from a nine-day coma, he had zero memories of his previous adult life. He had to slowly relearn how to eat, walk, and write. Two years after the attack he began working on 12-inch military figures and the town of Marwencol was born. He collected characters and built places for them to hang out. Working on the dolls improved his dexterity and his patience. The characters of Marwencol began to resemble the people he had known prior to the attack and story lines started to mirror events that had happened in Hogancamp's life. Eventually he started documenting every day life in his town with an old 35mm Pentax point and shoot.
Welcome to Marwencol takes a behind-the-scenes look at the life and work of this outsider-artist. The book is divided into three sections: Hogancamp's life before the attack and the first few years after, an in-depth look at the making-of Marwencol and the back stories of its characters, and finally an 100 page graphic novel featuring stories set in Marwencol. It is a comprehensive look at the profound healing properties that photography can have on the mind.
"It's good hearing from people who have been helped by my story, by my town," says Hogancamp. "That's why I did all this—the art show, the documentary, the book. 'For duty and humanity.'"