Hands On: Lomo'Instant Automat Film Camera
We spent some quality time with Lomography's newest instant camera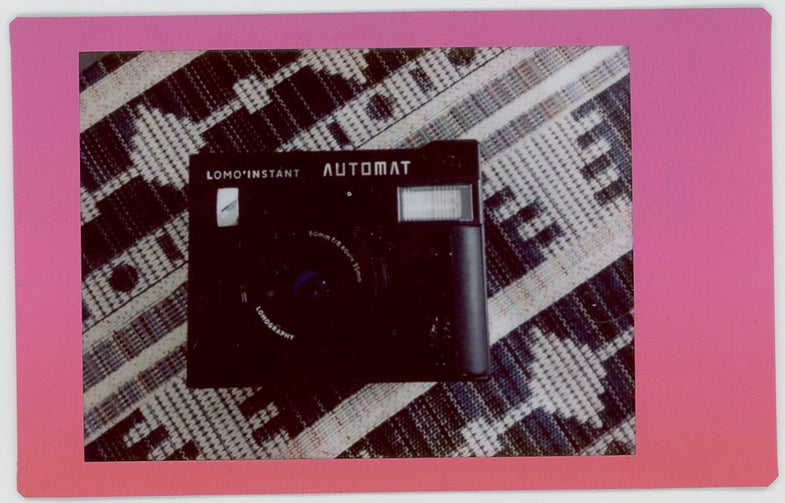 We may earn revenue from the products available on this page and participate in affiliate programs. Learn more ›
Lomography is well known for creating hip looking cameras and their new Lomo'Instant Automat certainly hits the mark.
We got our hands on the stylish all-black Playa Jardin edition and are happy to say that this camera is just as fun to use as it is to look at.
The Lomo'Instant Automat shoots to the Instax Mini film packs and comes with an attached 60mm f/8 (35mm equivalent) lens. Like most Instant Lomo cameras the Automat comes with colored gels and a variety of add-on lenses, such as the wide-angle, a fisheye and a close-up lens. There is also a neat infrared remote that is built into the lens cap so you can fire off an Instax without physically holding onto the camera. The camera has automatic and bulb exposure modes, but also gives you the option for exposure compensation (+1 or -1). It has a simple zone focusing system: mountains for subjects that are far away, a picture of two people for shots that are medium distance away and a picture of a single person, for portraits featuring single people. Although the "system" may seem rudimentary, it actually pushes out quite consistent results.
The majority of the time while working with the Automat I found myself shooting flash on in automatic mode with the standard 60mm lens. I have to say my favorite thing about this camera is just how compact it is. It's smaller and has a better shape than it's predecessor the Lomo'Instant and the photo results are way more predictable.
The one thing that took a bit of getting used to with this camera is the method that it uses for keeping track of how many frames you have left. On the left hand side of the Automat there is a line of small LED illuminated dots—as you shoot through your film pack of 10 the dots disappear. Once you know its there, its quite straight forward, but it did take me a while to realize this was an aspect of functional design and not something that was just there to look pretty. It is important to note that if the back of the camera pops opens at any point the dots will reset back to 10—giving you an inaccurate view of how much of your film pack is left.
Overall we were very impressed by this new instant camera. Although the Automat is more expensive than the Lomo'Instant ($179 for the camera and kit, or $149 for the camera alone) the predictable and consistent results from this camera make it a winner.