The DJI Action 2 may be the most modular 4K/120p capable action camera yet
The most impressive feature? Magnets.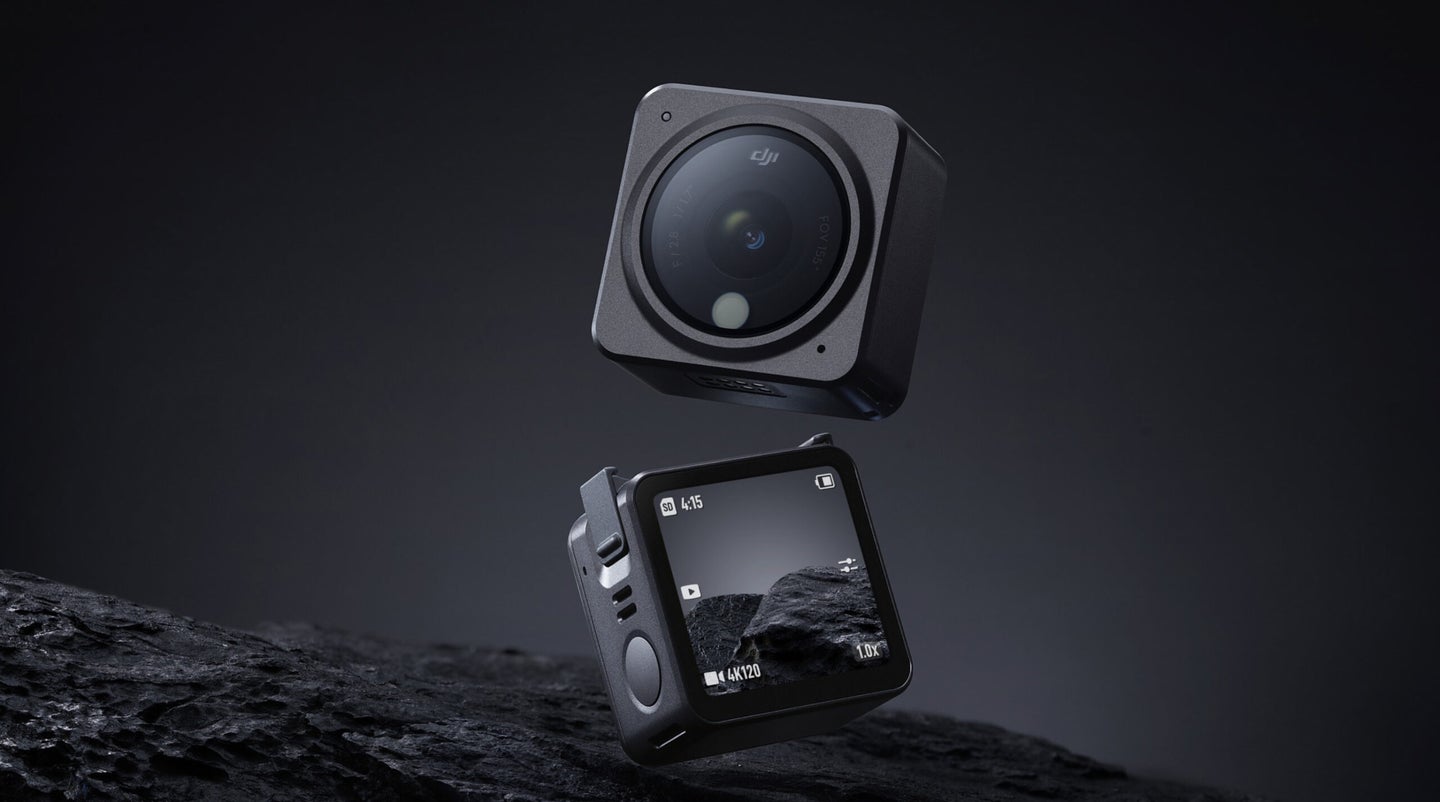 We may earn revenue from the products available on this page and participate in affiliate programs. Learn more ›
Slide on over GoPro Hero10 Black, because DJI also has a new 4K/120p-capable action camera. The new DJI Action 2 represents the brand's second iteration in their wearable/mountable camera lineup. And the design is a complete shift from that of the original Osmo Action. 
While the Action 2's top video specification is impressive on its own, more impressive is the unit's modular magnetic design. This new design allows for a huge number of accessories, like extra battery packs, front-facing cameras and lenses/filters to be attached to the unit securely and with ease. But more on that shortly. 
Let's dive in and look at all the key features and call-outs.
Key technical specs 
Up to 4K/120p video capture (in the 16:9 aspect ratio)
12MP 1/1.7-inch CMOS sensor (larger than the 1/2.3-inch sensor in GoPro Hero10 Black)
Lens has a 155-degree field-of-view 
Full HD capture at up to 240fps for an 8x slow-motion effect 
32GB of internal memory plus a MicroSD slot for expanded storage (located on the screen and battery modules)
USB-C port (located on the screen and battery modules)
1.76-inch OLED rear touchscreen
10 meter waterproof rating; 60 meters with waterproof case 
4 built-in microphones capture stereo sound 
Electronic image stabilization
Action 2 Design 
On its own, the Action 2 is a tiny unit, measuring 1.5-inches by 1.5-inches by just under 1-inch. And it weighs a mere 2 ounces. The rear of the camera offers a 1.76-inch OLED touchscreen. And there's a single power button on top. Additionally, there are 4 microphone holes located around the camera body. 
On the bottom of the unit, you'll find a set of electronic contacts. These are utilized when attaching an accessory, like an extra battery pack or the new front-facing accessory screen module.
Speaking of the screen module, when connected, it adds additional battery life to the package, increasing record time up to 180 minutes (same as the battery module). The module also offers a USB-C port for powering Action 2 from an outlet or USB battery pack. And a MicroSD slot expands the onboard storage. However, unlike the camera module itself, the screen module is not waterproof without a case (nor is the battery module). 
Key features
To go along with the lofty video capture modes, Action 2 offers DJI's "Rocksteady" electronic image stabilization. We've yet to test it out, but given DJI's pedigree, we expect video IS to be, well, rock solid. There's also a built-in feature called HorizonSteady that does exactly what you'd guess: keeps the horizon straight. 
A new color temperature sensor on the front of the unit should lead to better image quality in tricky lighting situations, like underwater, says DJI.
Other key features include timelapse and hyperlapse options. DJI Action 2 can also be used for livestreaming; footage is broadcasted at 1080/30p. Additionally, you can use Action 2 as a UVC camera (for video chats, livestreams, etc.) by connecting it to a computer or smart device via USB-C (again, you'll need either the battery or screen module to do this). 
Magnetic attraction 
When I first heard the new Action 2 connects to accessories magnetically, I thought to myself, "What happens if I wipe out (yard sale) while wearing it? Won't they fall off?"  Fortunately, DJI considered this very real possibility. 
All of the accessories that attach the base of Action 2 have two spring-loaded clips that lock them into place once connected magnetically. That said, lens-based accessories don't appear to offer any sort of locking mechanism (as far as we can tell). 
Accessories
A wide array of magnet accessories are available for the DJI Action 2, including:
Magnetic power module – adds 180 up to minutes of record time, a USB-C port and a MicroSD slot
Magnetic screen module  – adds up to 180 mins of record time, a front-facing touchscreen (for vlogging, selfies, etc.), USB-C port and a MicroSD slot 
Magnetic macro lens – attaches to the front of the unit for close-up shots
Waterproof case – holds both Action 2 and the screen or battery module, waterproof down to 60 meters 
Magnetic lanyard – use it for a hands-free first-person POV
Magnetic headband – another option for hands-free capture 
Magnetic ball adapter – use it to connect Action 2 to a tripod thread mount 
Remote control extension rod – acts as a selfie stick, tripod and remote control all-in-one
In addition, various mount, mount adapters and a floating handle will all be available for the DJI Action 2 shortly after launch. 
Who's it for?
The modularity of Action 2 makes it an extremely versatile piece of kit for a wide range of uses. Whether you're looking for something to document your extreme adventures, or you're seeking a vlogging solution, or you simply want a pocket-size camera to capture key moments in your life, this little unit has potential. 
Moreover, we've got our hands on a test model and will post a hands-on review with it, along with sample clips, in the coming days. 
Price and availability 
The DJI Action 2 is available now in two different bundles. The first is $399 and includes the camera, power module, magnetic lanyard and magnetic adapter mount. The second is $519 and includes the camera, touchscreen module, magnetic lanyard, magnetic adapter mount and magnetic ball-joint adapter mount.
Accessories for the DJI Action 2 will also be sold on their own.