DJI Air 2S review: The best drone for almost everyone
The DJI Air 2S offers improved image quality to an already excellent small drone.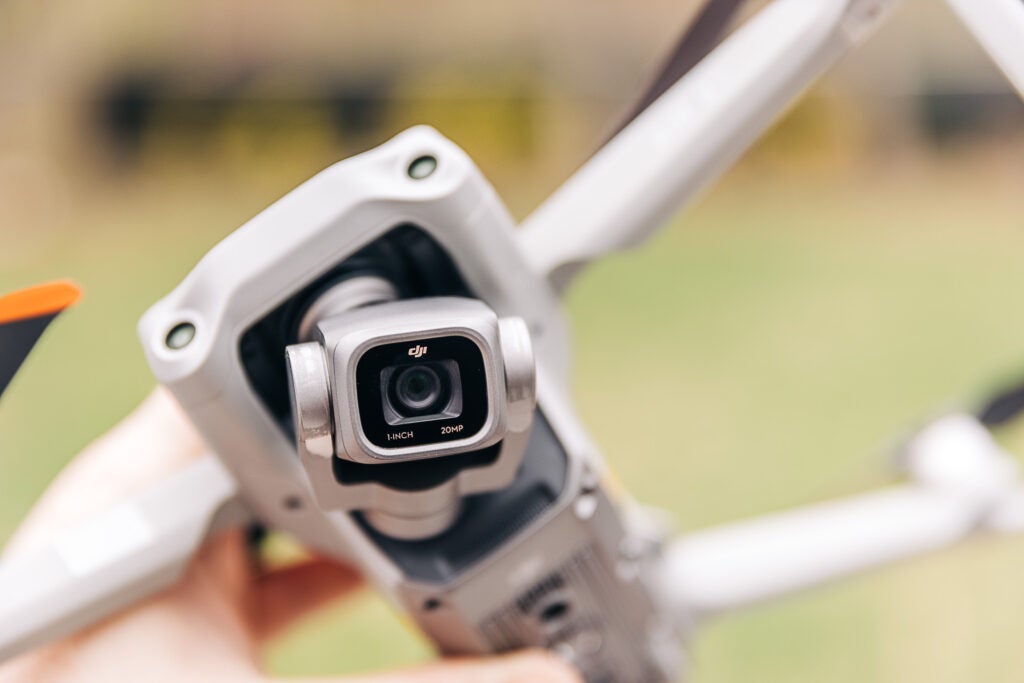 We may earn revenue from the products available on this page and participate in affiliate programs. Learn more ›
When the original DJI AIR 2 debuted back in 2020, it was the best consumer drone you could buy at that moment. Its compact body made it easy to carry. Its robust connection made it reliable even when flying long distances. It even had solid battery life. Then, almost exactly a year later, the DJI Air 2S hit the market. It offered all of those excellent features, plus a seriously improved camera. As a result, the DJI Air 2S finds itself the best drone for almost anyone looking to get serious about aerial photography and videography. 
What is the DJI Air 2S?
DJI has landed on the basic look it likes for its compact flying machines. The Air 2S doesn't deviate much from the norm. The 21-ounce craft folds up to about the size of a water bottle, so it's simple to cram into a camera bag where you'd typically put a zoom lens.
Serious camera upgrades
While there are some technical notes that we'll touch on later, the real story here is the new drone camera on the DJI Air 2S. It has a one-inch sensor inside, which steps up from the smartphone sensor-sized chip offered by the Air 2. It's roughly double the size, which is a huge leap. That sensor can pull down 20-megapixel still images and up to 5.4K video at up to 30 fps or regular 4K at up to 60 fps. That extra resolution at 5.4K allows you to crop in slightly on your footage and still get a full 4K resolution. That's handy for shooters who are just learning to pilot their craft and want to make sure they get the frame they want on their shots. 
When it comes to image quality, the camera is absolutely an upgrade over its predecessor. The 20-megapixel sensor can capture raw DNG-format photos that provide a solid, neutral look that lends itself to later editing. You can expect between 12 and 13 stops of dynamic range, which isn't what you'd expect out of a high-end mirrorless camera, but I found it plenty to work with when trying to draw details and pop out of my shots. 
The video looks similarly excellent. DJI has figured out its gimbal magic to an impressive degree and the footage is smooth and detailed. Because you're often so far away from your subject, the extra sensor size doesn't have any tangible effect on depth of field in most cases. 
Charge into the sky
Each battery charge will get you a claimed 31 minutes of flying time. In reality, of course, you'll have to plan for less than a half-hour in the sky before it has to head back. Actual run time depends on several factors, the largest of which is probably wind. When the craft has to battle heavy gusts, it burns through battery much quicker.
Still, 31 minutes promised is a very respectable battery life for a craft like this. I always recommend people buy a couple extra batteries, or just spring for the Fly More kit that DJI offers as a kit with the drone itself. That gets you two extra batteries (three total), as well as a set of neutral density filters, a carrying case, and a multi-battery charger for juicing up all your cells at once. The combo costs $1,299 compared to $999 for the drone on its own, but that extra flying time is almost certainly going to be worth it down the road. 
DJI Air 2S safety features
You can't shoot awesome aerial shots if you crash your drone. I know because I've crashed a few of them over the years. It's getting harder and harder to smash these little quad copters into static objects, however. The object avoidance system now has access to an extra camera (it was already nearly covered in them) on the top of the craft that it uses to avoid wrecks. When the craft is flying quickly, it naturally pitches forward. The camera on the top helps it see obstacles in the way during high-speed travel or straight upward paths. 
In addition to the safety cameras, it also connects to GPS satellites (as well as those from GLONASS) in order to figure out its position in space. You can use its safety features to create restricted zones and virtual fences. And when you enter a restricted flying area, the software can automatically knee-cap the drone's performance in order to keep you from getting in the way of larger artifacts or going places that might get you arrested.
During my time with the DJI Air 2S, I tried flying it into a couple of obstacles at relatively low speed, and the object avoidance system caught it with no problem. It's hard to convince yourself to fly the craft into something at high speed. The only real close call I had was when I was flying the craft toward my garage which is painted vaguely sky blue. The DJI Air 2S got closer to the garage than it did any other objects I tried to smash it into. In the end, it emerged unscathed. 
Take control
The DJI Air 2S comes with the same redesigned controller unveiled with the original Air 2. It's chunky, but modern-looking. The removable joysticks tuck nicely into the bottom of the device for safer storage during travel. A top-mounted clip holds your mobile device so you can use it as a remote viewing screen for the drone's live feed. It accepted my iPhone 12 Pro Max, but it was pushing the limits of the clamp's reach. 
As the controller hasn't changed since the last version, it's still excellent. The joysticks offer smooth, accurate action that makes you feel like you have very precise control (even when you don't). A center switch allows you to choose your preferred flying mode, and there's even a panic button that causes the craft to hover in the same spot until you have a moment to figure out your next move. If you hold the button down, the drone will automatically fly home to your location. You might find yourself using this semi-regularly if you just learning how to pilot the craft.
Even though you have to clip your phone onto it to get a display, the controller feels like a real piece of equipment that's meant for serious creative work. It may look a little like a toy, but it definitely doesn't feel like it.
Custom shooting modes
As you navigate through the DJI app, you'll find the custom shooting modes that the manufacturer has baked into the software. Flying a drone with precision takes lots and lots of practice, which is why DJI has baked some complex moves right into the platform. You can ask the Air 2 to perform circular orbits and dramatic pull-aways. All you have to do is press the button to make it happen. You need a lot of open space to make most of these work and you'll only get 1080p footage out of the camera when you used them. But, they will make you look a lot more talented (or at least experienced) than you are behind the joysticks. 
Who should buy the DJI Air 2S?
At $999, this DJI drone, the Air 2S, is certainly not a toy. Think of it like a serious piece of photo or video gear. It's $200 more than the $799 Air 2, which is still in the DJI lineup. Personally, I think the $200 upgrade is worth it for the improved camera. After all, sweet aerial footage is the whole reason you buy one of these things. You might as well squeeze as much quality out of it as you possibly can. 
If you want even more advanced features, like longer range and even more battery life, you can step up to the $1,599 DJI Mavic 2 Pro. It's also a truly excellent craft, but with this kind of camera quality on the Air 2S, I think this is the sweet spot for most users at this level. 
Like I said before, I typically recommend people bite the budget bullet and opt for the Fly More kit at the same time as the drone. Whether you're headed out to practice your piloting or trying to capture cool footage or photographs, that 30 minutes can go by extremely quickly. You'll almost never regret having too many batteries. You will, however, regret standing on the beach with your dead drone as an epic sunset unfolds in front of you.