Sandisk's 200 GB MicroSD Card Is Tiny, Massive
This little beast holds about 45,000 smartphone photos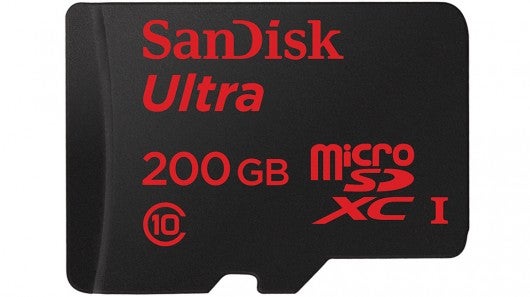 We may earn revenue from the products available on this page and participate in affiliate programs. Learn more ›
Sandisk has a penchant for pushing out world's firsts in terms of memory cards and their massive 200 GB microSD card is no exception.
The tiny little card costs $400 and was announced at the Mobile World Conference in Spain this week. While 200 GB doesn't sound all that mind blowing when it comes to standard memory cards anymore, jamming all that into a microSD that's smaller than your average corn flake is pretty impressive.
If you were to stick the card into a Samsung Galaxy S5 smartphone, you could store roughly 45,000 photos before it got full. It's also notable because now that GoPro cameras use MicroSD and shoot space-hungry 4K video, big capacities cards are a welcome development.
Frankly, I have to wonder if microSD will ever make its way into dedicated cameras. They're getting smaller all the time and microSD is making strides in both speed and capacity. I'm still partial to the big, tough compact flash cards, but that's just because I'm an old dinosaur and that's what I started with.