New Gear: SanDisk Announces 512 GB Extreme Pro SDXC Memory Card
From 512 MB to 512 GB in just a little over a decade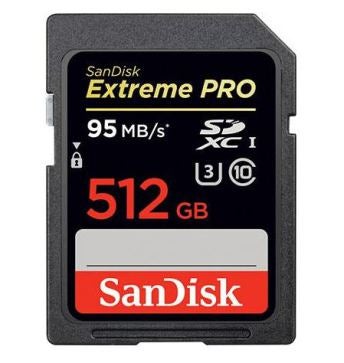 We may earn revenue from the products available on this page and participate in affiliate programs. Learn more ›
Memory cards have come a long way in the past decade or so. I remember stocking up on 256 MB cards at Best Buy on Black Friday one year to feed into my DSLR. So much space! Now, however, SanDisk has announced a 512 GB Extreme Pro SDXC card that's capable of keeping up with the new wave of 4K resolution video.
It has a stated max write speed up to 90 MB/s and an overall transfer rate of 95 MB/s, which is necessary if you want to record 4K to a card. Because it's part of their Extreme Pro line, it's also resistant to things like extreme temperatures, X-rays, impacts, and water.
The card will be available available soon for $800. And while $800 is a lot for a memory card, it may be what some shooters really need. And, with the rate at which memory cards progress, it will be interesting to see if they can keep up this pace. After all, it was just 2003 when SanDisk first announced their 512 MB cards. That's a big jump.