New Gear: Nikon D810A Is The First Full-Frame Astrophotography Camera
The latest DSLR from Nikon is meant to be pointed up to the night sky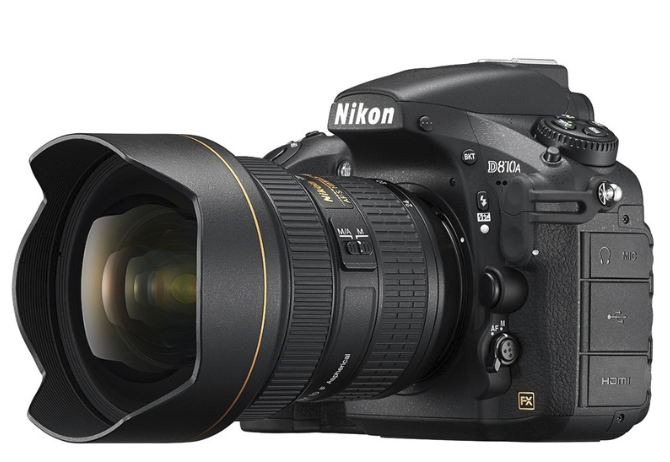 We may earn revenue from the products available on this page and participate in affiliate programs. Learn more ›
Astrophotography is a challenging pursuit that often requires specific gear and lots of patience. Now, Nikon has brought astrophotography cameras into full-frame territory with the D810A.
One of the primary differences between the standard D810 and the Astrophotography version is the IR Cut Filter. By modifying it to allow the hydrogen alpha wavelength through, it allows astro shooters to capture brighter and more colorful renditions of diffuse nebulae in the night sky. While that all sounds very complex, they're simply allowing light at different wavelengths through when they would typically be at least partially blocked by the IR filter in a standard DSLR.
In other space-specific features, they have added a new Long Exposure Manual Mode, which allows for shutter speeds at various intervals between four seconds and 900 seconds. The ISO range has been "optimized" for astrophotography and goes from 200 up to 12,800, but is expandable to 51,200.
To help keep things steady on the tripod for the typically long shutter speeds, they have gadded an Electronic Front Curtain Shutter Mode to cut down on vibrations.
It will cost $3,799, which is decidedly more than the standard D810, but that's to be expected in the case of a specialty camera like this one. The special parts and the much smaller production runs tend to make the price higher, but if you're in the market specifically for an astrophotography camera, it might be well worth the price.
Surely some of you are curious what would happen if you tried to use this for regularly, non-astro photography. It's likely that things would have a bit of a red tint because that extra light from the red end of the spectrum would be sneaking past the