New Gear: Lume Cube, Is a Tiny 1,500 Lumen LED Flash and Video Light
A portable, powerful LED light for GoPro, smartphones and even DSLRs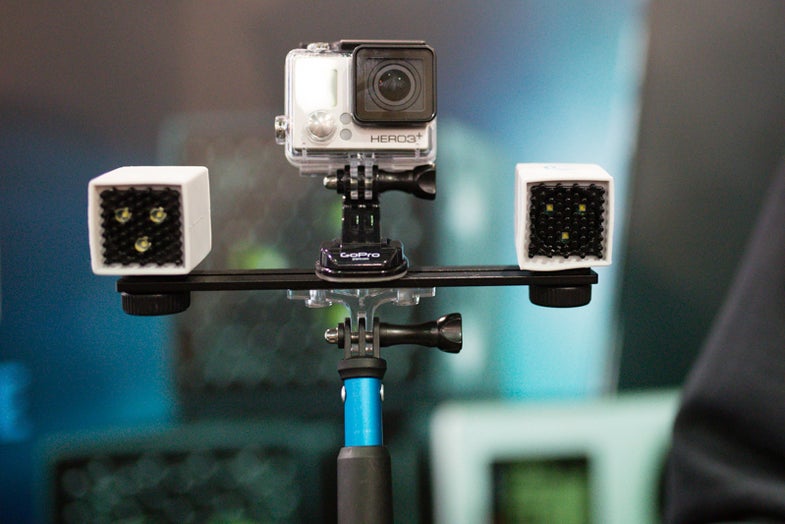 We may earn revenue from the products available on this page and participate in affiliate programs. Learn more ›
This year's Consumer Electronics Show had plenty of gear that we first heard about on Kickstarter, but one of the coolest things we saw on the showroom floor was the Lume Cube, which was succesfully funded a few weeks before the show. The Lume Cube is a tiny powerful LED light that can be used as an external flash or video light for action cams, mobile phones and even DSLRs. It was initially conceived as a way to keep shooting action sports footage after dark.
The 1.5″ light cube has a rechargable battery, is housed in water reistant silicone and attaches to a variety of surfaces: the cube is magnetic, has a suction cup on it (incase you want to mount it to the screen of your phone for better-lit selfies) and their mounting system is compatable with GoPro mounts. You can also use the Lume Cube as a slave to trigger other outside flashes.
The brightness and duration of the Lume Cube is all controlled through a smartphone app, which can manage up to five Lume Cubes at once. On the floor at CES the company also had a variety of accesories on display: cold shoe mounts for DSLR, mini tripods, waterproof cases and the Lume Cube Dual Kit Mount, which is pictured above.
The Lume Cube starts at $60 for a single unit, $100 will get you two cubes and for $250 you can pick up five Lume Cubes. Lume Cubes should start shipping March 1.