Kickstarter: The Intrepid Camera Is A Cheap, Collapsible Way Into Large Format Photography
The Intrepid Camera Co. wants to make a 4x5 that you can easily take on any adventure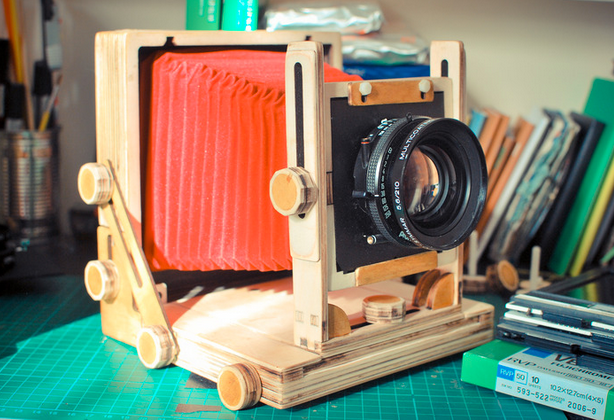 "Compact" and "Affordable" are not typiclaly words that are associated with large format photography. A new Kickstarter from the guys at Intrepid Camera Co. wants to change that.
The prototype of the Intrepid Camera is made out of birch ply wood and is designed to be foldable. It works with 75-300mm lenses using Linhof/Technika lens boards and weighs 1.2 kg (approximately 2.6 lbs)—much lighter than a traditional 4×5. The prototype model shoots with standard 4×5 holders as well as instant film versions. If the Kickstarter campaign is a success they plan to make the camera compatible with graflok backs, as well.
There were only 25 £99 ($119 USD, £20 extra for cameras shipped outside of the UK) Interpid Cameras and they sold out fast. But you can still pick up a full production model and a photographers notebook for £129 ($240 USD). For £189 ($336 USD) you can have something engraved on your Intrepid camera.
While the camera itself is relatively cheap, it doesn't come with a lens and as anyone who has dabbled in 4×5 photography can tell you—it is an expensive hobby. One box of 25 film sheets typically costs $33 and if you're just learning you will probably destroy more than half of those. Intrepid estimates that if they are successfully funded they will start shipping cameras by February 2015.
The Kickstarter campaign runs until Nov. 19.