Ebay Watch: Nikon 13mm F/5.6 Super-Wide Angle Lens
A rare piece of Nikon glass with a Hollywood history goes on the auction block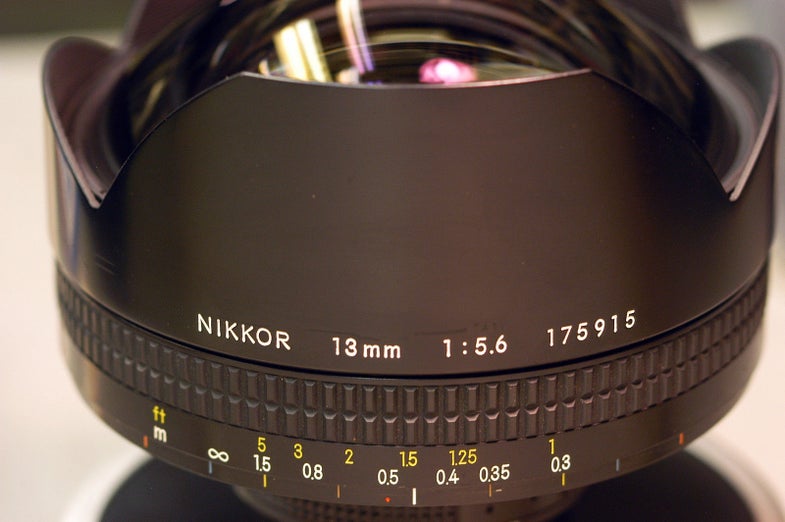 Update: It sold for $24,500 with 48 bids on it.
There are a lot of old lenses out there that are worth drooling over. The massive Nikon 6mm fisheye, for instance, pops up on eBay from time to time. Right now, you can buy the Nikon 13mm F/5.6 wide-angle lens on ebay for about the price of a family sedan.
The lens isn't as massive as the 6mm, but it's definitely a formidable piece of glass. The images on the auction make it clear just how far the front element sticks out from the barrel of the lens.
According to the auction description, the lens originally belonged to movie special effects wizard, John Dykstra, who is known for working on iconic movies like Star Wars. Because it was meant to be used in cinema applications, the click stops have been removed from the aperture ring, so you'll likely want to reinstall them if you're planning to buy it and use it for photographic purposes.
Right now, the bid is at $16,520 and the reserve has not been met, so we'll be interested to see how high the bidding finally goes. Not only is it a rare Nikon lens, but it also has an interesting Hollywood history to go with it, and that's always good for value.
Do you have a "Holy Grail" lens?
From: Nikon Rumors