New Gear: Tamron Working on a 15-30mm F/2.8 VC Zoom Lens for Full-Frame Cameras
Tamron's latest full-frame lens is a stabilized full-frame affair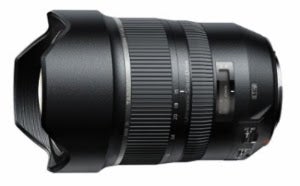 We may earn revenue from the products available on this page and participate in affiliate programs. Learn more ›
When Tamron introduced their 24-70mm lens a while back, they made a splash by including their Vibration Compensation technology, something many users have been asking lens makers to do for ages. Now, they're expanding their stable of full-frame lenses and adding a 15-30mm F/2.8 DI VC USM.
Their announcement is simply about the development of the lens, so there's no official release date or pricing information just yet, but they have given us a fair bit of detail in terms of specs. The glass will be made up of 18 elements split up into 13 groups. Some of the elements are Low Dispersion, and others are Tamron's Expanded Glass Molded Aspherical to cut down on unwanted lens effects like chromatic aberration.
They have also stepped things up a notch in terms of coatings. Some elements now use the Tamron BBAR and eBAND coatings, to cut down on flare. Plus, they're also using a Fluorine coating on the front element because it protrudes from the barrel and makes using a protective filter impractical.
We've been seeing more and more wide angle lenses with built-in image stabilization, including Canon's latest 16-35mm F/4L IS. The prospect of hand-held landscape shots and smooth video makes it more appealing than ever before.
Tamron will be showing off the lens at Photokina 2014, so we're looking forward to getting a chance to check it out next week!