Camera Bag Review: Thule Covert Roll-Top Backpack
A big bag that doesn't scream, "I'm carrying a lot of expensive camera gear"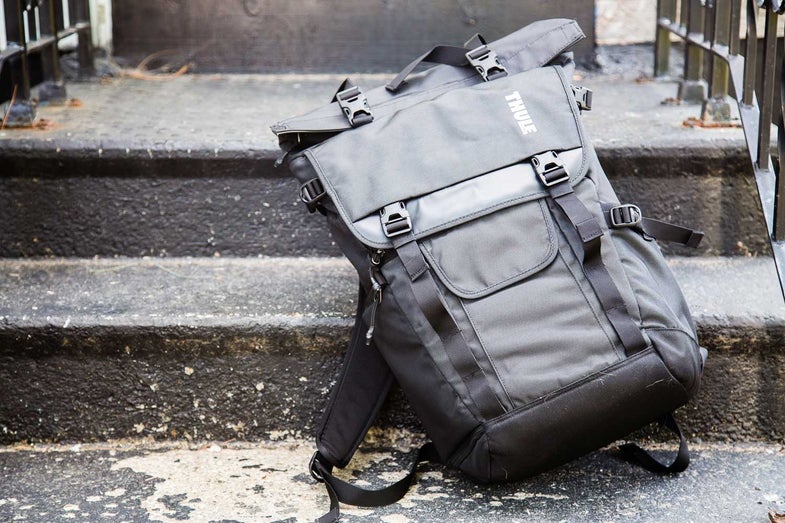 We may earn revenue from the products available on this page and participate in affiliate programs. Learn more ›
One of the trickiest things about writing a camera bag review is the personal nature of the selection process. Our gear collections are diverse and our torsos are even more so. While the Thule Covert Roll-Top camera probably isn't right for everyone, it could be just the big bag some people (like me) have been waiting for. Check out our full Thule camera bag review below.
What is it?
The Covert is a daypack, meant to carry both cameras and non-photographic stuff over the course of a day (or in this case, a few days). At the same time, it uses its understated design to downplay the fact that there might be expensive gear inside.
Storage
Like many daypacks, the main body of this bag is split up into two well-defined compartments. The top section is meant to carry everything that isn't a camera, like hard drives, snacks, and extra clothes. Unlike many other daypacks I've tried out, however, the top section is actually very roomy. I packed it full of every power cord, notebook, hard drive, and USB cable I could find, and it still had enough room for a spare pair of pants and a couple extra shirts. I could have kept going. Plus, it's a roll-top, so you can squash it down or expand it as you need the room.

The camera section isn't quite as spacious, giving you room for a single DSLR body (it won't take a grip or a pro-sized body like a Nikon D4s or Canon 1D X). There's an extra slot for more gear to either side of the camera itself, each of which is big enough for a flash, an extra lens, or whatever other accessory you might want to bring with you. It's not meant to carry all your gear, and even with a standard 70-200mm F/2.8 lens, the fit gets a little tight.
It's worth mentioning that you can only access the gear compartment from the right side of the bag. There's no flap on the front, back, or the other side.

The actual padding that holds the camera comes out as a single unit and the flap between compartments unzips and the module full of padding comes out, so you can use it like a plain old backpack if you're not carrying any cameras.
Other Pockets
I love pockets and I was more than satisfied with the number of options on the Covert. Under a flap on the front are two smaller, semi-flat pockets that close with Velcro and work best for things like portable hard drives. They're actually surprisingly accommodating despite their flat nature. Behind those two pockets is a wider zipper pouch, which holds even bigger items like memory card wallets, or flash diffusers. I even put a couple books of flash gels in there without a problem. Below that is an even deeper flat pocket and there's a simple mesh pocket on the inside of the gear flap. In short, it has a lot of pockets and that's a good thing.
Laptop Compartment
The laptop pocket has its own zipper, which opens vertically and fits a 15-inch MacBook pro with no problem. Frankly, it's one of the best features of the whole bag. Having an independent laptop sleeve makes it much easier to access when you're traveling, and the horizontal zipper makes it less likely your pricy computer will go flying out onto the ground if you forget to zip it.
As an added bonus, they carved out an extra padded slot for carrying an iPad as well as a laptop without the two having a scratch-inducing rumble inside the bag. It's really smart and works very well.
Protection
The padding in the camera compartment doesn't feel as substantial as I'm used to when it comes to protecting gear, but I put it through some hard traveling, and it kept everything very safe. As we move away from thick, puffy padding into thinner, more efficient padding, it's just something I have to get used to.

One advantage that thin padding affords is the "Origami" tech that makes taking the camera out and putting it away simpler. The padding has grooves that allow it to fold up and down as you put things in and take them out. It's a great idea, but the padding starts out pretty stiff and it can still be tricky to get the pads to fold exactly how you want them to. Some breaking in definitely helped its cause.

The padding on the bottom of the bag is nice and thick, though, so setting it down with the gear in the bottom doesn't make me quite as nervous as it does with other, similar backpacks.
Fit
This is a big bag. In fact, it weighs almost five pounds all on its own, and for some people, that will likely be a negative. For me, however, it's a plus. I have a tendency to make normal camera bags look little, and this one actually feels reasonable. On an average-sized person, it looks a little big, but not outlandish. If you're very small, though, it might feel a bit big and bulky.

The back padding is firm, but extremely effective and the channeling makes the air flow excellent. The straps are wide and flat, making them less prone to rolling into a twist every time you put them on. Even the chest strap fell in the right place for me.
Design
For almost all intents and purposes, the bag looks black unless you're up close to it. Only when you get near it can you really tell that it's actually two slightly-different colors. Still, they both get pretty close to what I would consider "black."

Tripod carrying
You have a couple different options if you want to bring a tripod or a light stand with you. The best position is on the side of the bag where two straps and a bottom pocket hold things nicely in place.
What's good:
Tons of storage space for non-photographic gear
Sturdy tripod mounting system
Lots of roomy pockets
Clever folding flaps to help get gear in and out
Strong zippers
Extremely durable nylon material
Very comfortable fit
Inconspicuous design doesn't draw attention to your gear or make you look like a tourist
People with larger torsos will appreciate that it doesn't make them look ridiculous
What's not good
Camera gear compartment can be a tight fit
Folding pad system needs some breaking in
Camera access from just one side of the bag
Some smaller shooters may find it big and heavy
Clips to hold flaps shut are plastic. They're thick plastic, but still plastic.
Who should buy it?
If you're looking to travel as light as possible, then this probably isn't the bag for you. But, if you're like me, and you carry a lot of stuff with you when you're out and about, then this will likely satisfy all your needs. Sure, you can only get a single body and a couple lenses and accessories in it, but that's what it's made for. I was able to take my 70-200mm lens attached to a body, my 24-70mm lens, and a flash without a problem and that's enough for me.

Ultimately, this is one of the best daypacks I've ever used, full stop. It's big and heavy, but if you have the shoulders to pull it off, you'd be hard-pressed to find something that does a better job of lugging your stuff around.