New Gear: Parrot Bebop Drone Packs 14-Megapixel Sensor, 180° Fisheye Lens
And, with a special accessory, a 2 kilometer range and Oculus Rift support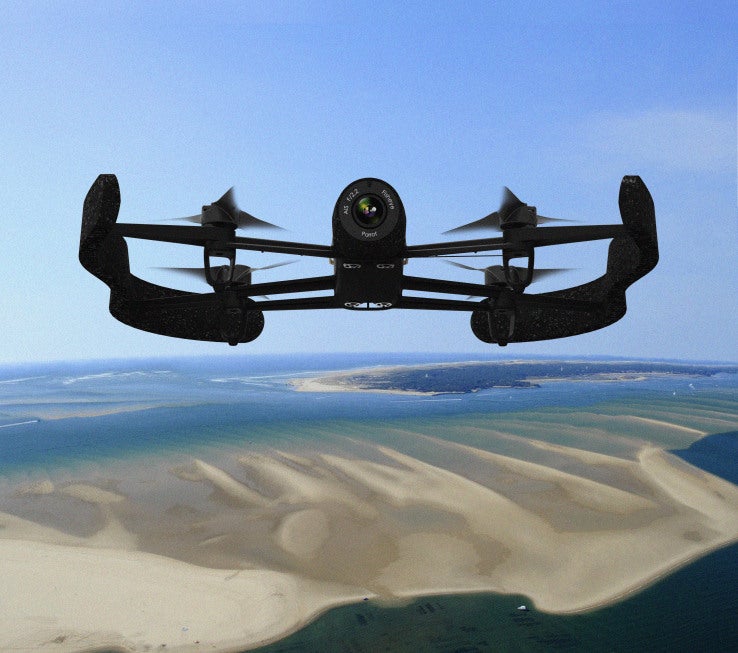 We may earn revenue from the products available on this page and participate in affiliate programs. Learn more ›
Parrot, the company behind one of our favorite affordable drones in 2013, has announced a new product that's a major evolution in the company's quadcopter designs. The Parrot Bebop Drone is small and light like its predecessors, but comes with a totally new camera system, which allows it to perform some incredible tricks.
The Bebop Drone has a 14-megapixel sensor, and 180° fisheye lens. But you'll notice in the video below that the footage and images you see are from only a sliver of that. That's because the Bebop uses the large sensor as a digital stabilization system. Rather than relying on a physical gimbal, like the DJI Phantom does, it instead uses a cropped area of footage, which can be held stable while the drone maneuvers.
The Bebop also has GPS based flightplans and tracking, and is controlled via your smartphone and its Wi-Fi connection.
But things get really crazy with the optional Skycontroller. This accessory extends the Wi-Fi reach of the drone up to 2km, allowing you to steer it from a huge distance. It also allows the Bebop to interface with VR headsets like the Oculus Rift, letting you look around you in real time as you fly.
The big downside of the Parrot Bebop is battery life. A full charge will only grab you 12 minutes of flight—definitely not long enough to hit that 2km distance. Also, Parrot hasn't given a firm pricetag for when it launches in Q4, instead just saying it'll cost somewhere between the $300 Parrot AR Drone 2.0 and the $1,000 DJI Phantom.
[via the Verge, Engadget, Tech Crunch]