New Gear: Sony A7S Camera Adds 4K video, ISO 409,600
Serious video chops and lots of light sensitivity packed into Sony's A7 body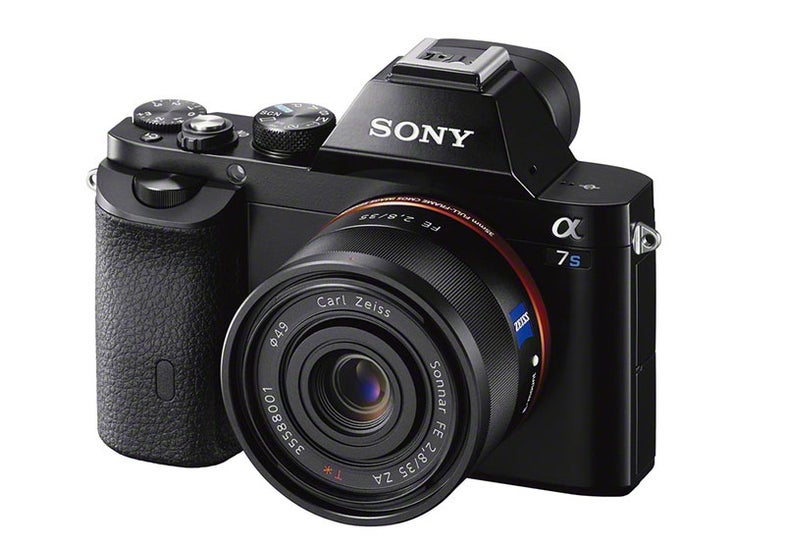 We may earn revenue from the products available on this page and participate in affiliate programs. Learn more ›
The NAB trade show is under way, which means a whole pile of new video-centric camera products are about to hit the wires. Sony has fired the first shot with their new A7S camera with seriously bolstered video capabilities. It's basically the same body as the A7 and A7R, but with a lot more processing power.
The big news on the video front is the 4K capture, but the A7s does it a little different than some of the other guys. Each pixel on the 12.2-megapixel, full-frame sensor takes a reading and the BIONZ X processor crunches it into QFHD 3840 x 2160 pixel footage, sending it to an external recorder. There's no "pixel binning," where pixels are grouped together during video capture. It can also do 4K output via HDMI, plus 1080 up to 60p.
The 50 Mbps nitrate in XAVC S format gives it the kind of video quality required for full-on broadcast footage.
The other big news is the bumped-up sensitivity. The total expanded ISO range of the A7S goes from 50-409,600. That's on par with the pro-level Nikon D4s, which we first saw back at CES.
There's no pricing yet, but it will likely draw a premium over the other A7 cameras because of all the extra cinema features. If you want the rest of the nitty gritty details.
_Joining the acclaimed α7 and α7R family of the world's smallest full-frame interchangeable lens cameras1, Sony's new α7S model puts extraordinary sensitivity, low noise and spectacular 4K video quality into the hands of professional photographers and videographers. _
The innovative α7S camera features a newly developed, 12.2 effective megapixel 35mm Exmor® CMOS sensor paired with a powerful BIONZ X image processor, allowing it to shoot at a sensitivity range of ISO 50 – 4096002 with unprecedented dynamic range and low noise.
The new model is also the world's first camera to utilize the _entire width of a full-frame image sensor in 4K video acquisition, and does this without cropping or line skipping as it can read and process data from every one of the sensor's pixels. This allows 4K video shooters to utilize all of the artistic and creative benefits provided by the unique sensor._
_ "The α7S gives Sony the most complete, versatile lineup of full-frame cameras in market today," said Neal Manowitz, director of the interchangeable lens camera business at Sony Electronics. "Between the α99, VG900, RX1, α7, α7R and now α7S models, we have completely revolutionized what it means to be a 'full-frame' camera, bringing a new level of quality and portability to enthusiast photographers and videographers."_
Wide ISO Sensitivity (ISO 50 – 409,6002) and Impressive Dynamic Range
_Sony, the world's largest manufacturer of image sensors, has developed a unique 12.2 MP sensor with extraordinary sensitivity that allows the α7S camera to collect dramatically more light than traditional cameras and to produce beautifully detailed, low-noise images in even the darkest environments. _
The camera also features a newly developed on-sensor technology that allows it to optimize the dynamic range throughout the entirety of the ISO50 – 409,600 sensitivity range. This on-sensor technology also broadens the range of tonal gradation in bright environments and minimizes noise in dark scenes, allowing the camera to deliver impressive results in these extreme conditions where other cameras (and image sensors) typically struggle.
_World's First Full-Frame Camera with Full Pixel Read-out3** (without pixel binning) during Movie Shooting**_
_With the new α7S camera, the high-speed read out of the 35mm full-frame image sensor combined with the high-speed processing of the BIONZ X processor enables significant improvements in video quality. _
These powerful components allow the camera to process data from all of the sensor's pixels and output stunning HD and 4K (QFHD 3840 x 2160 pixels) video3 while utilizing the full-width of the sensor. In addition to the benefits for low-light shooting, the read out of all pixels frees the video from aliasing, moiré and false color artifacts (as opposed to pixel binning) to achieve the highest quality video.
Additional Pro-Quality Video Functions
In video mode, the α7S can output 4K video4 at QFHD (3840×2160) to an optional external 3rd party 4K recorder, and can record full HD (1920×1080) at frame rates of 60p, 60i, 30p and 24p directly to a compatible memory card. Video modes can be changed from full-frame to APS-C (super 35mm equivalent) if desired, and in this crop mode, the camera can support high frame rate 120fps shooting at standard HD resolution (1280 x 720p), creating a 5x slow-motion effect.
The α7S camera is also equipped with S-Log2 gamma. Common to Sony's range of professional video cameras, S-Log2 expands the dynamic range by up to 1300% to minimize clipped highlights and loss of detail in shadows. Additionally, for the first time ever in a Sony α camera, the α7S adopts the workflow-friendly XAVC S recording format in addition to AVCHD and MP4 codecs. XAVC S format allows for full HD recording at a data rate of 50 mbps with lower compression for improved video quality.
Other specialist video functions on the new camera include a picture profile that can adjust settings like gamma, black, level and color adjustment, and can be saved for use in a multi-camera shoot. It also has Full HD and 4K base band HDMI® output, time code/user bit for easier editing, synchronous recording feature with compatible devices, various marker and zebra displays on both the LCD screen and viewfinder and can dual record XAVC S as well as MP4 (1280×720 @30p).
The camera also has a Multi-terminal interface shoe that is compatible with Sony's XLR Adaptor Microphone Kits (XLR-K1M plus a new model under development), allowing the use of professional microphone systems.
Low-light Shooting Advantages
The high ISO sensitivity range of the α7S camera is extremely effective for still image shooting, especially in low-light conditions, where the camera can shoot at high shutter speeds while keeping noise as low as possible. This is particularly useful for shooting indoor, dimly lit sporting events or other situations where most cameras typically struggle.
The camera is also equipped with the same high-precision Fast Intelligent AF system as the α7R camera, with drastically improved low-light AF sensitivity that can go as low as -4EV.
Expanding α Mount System and New Power Zoom Lens for Movie Shooting
Directly compatible with the growing family of E-mount lenses, the α7S camera can also be used with A-mount and others lens systems with optional adapters. Sony's complete α lens system now includes 54 total lenses for both A and E mounts, including several premium offerings from Carl Zeiss® and G Series Lenses.
_As a whole, Sony's E-mount lens system is particularly well-suited for video shooting, with a variety of models containing "movie-friendly" features like smooth focusing, powered zoom control, and silent iris/aperture control. Building on this, Sony has announced development of a brand new, full-frame power zoom 28-135mm F4 lens E-mount lens that is an ideal match for the powerful movie capabilities of the α7S model. _