Kickstarter: Lensbaby Sweet Spot Is a Selective Focus Lens for the iPhone
This $50 add-on brings full-on Lensbaby functionality to the iPhone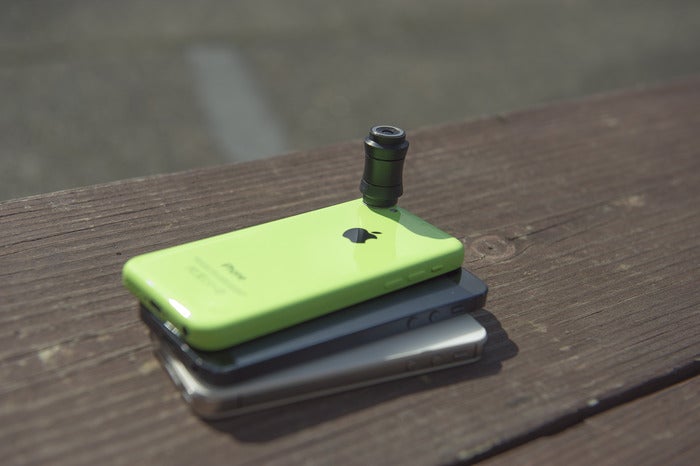 We may earn revenue from the products available on this page and participate in affiliate programs. Learn more ›
The rumblings of interchangeable-lenses for the iPhone have grown louder recently, but Lensbaby isn't keen to wait, it seems. Their new Kickstarter program hopes to fund their new Sweet Spot lens that would bring their trademark selective focus look to the iPhone.
The lens mounts to the phone using an adhesive ring and a magnetic mount, which isn't a totally new idea, but it seems like one that will likely have some traction going forward. The lens actually has magnets on both sides, so you can daisy chain adapters and alter the focal length as well as the focus. That makes sense, as the press material for the Sweet Spot suggests that we're going to be seeing more mobile products from Lensbaby in the future.
Some of the results they have posted from the lens look very much as you'd expect. They have that dreamy quality about them as the sharpness drops away approaching the edge of the frame.

The lens will cost $50 if you by into the Kickstarter, but they also have a deal where you can get a Sweet Spot and a Spark DSLR lens for $125, which isn't a bad deal if you want to dive headlong into the world of Lensbaby.
I'll be very interested to see where Lensbaby goes from here. This is a market that clearly seems to be growing, but the prospect of Apple going out and doing it on their own has to be looming, at least a little, in their minds. That said, the mobile market seems perfect for this kind of thing. Wacky effects and filters couldn't be more popular with many casual shooters right now, and it does help wash the images of the typical smartphone and even Instagram look.
As of writing, they're already halfway to their goal of just $20,000, so it seems very likely that this thing will actually come to be. It will be iPhone-only first.
Check out the Kickstarter page for more info.