New Gear: Olympus Stylus SP-100 Superzoom Lets You Aim Your Camera Like a Rifle
Olympus wants to make composing a little simpler when you're zoomed all the way to 1200mm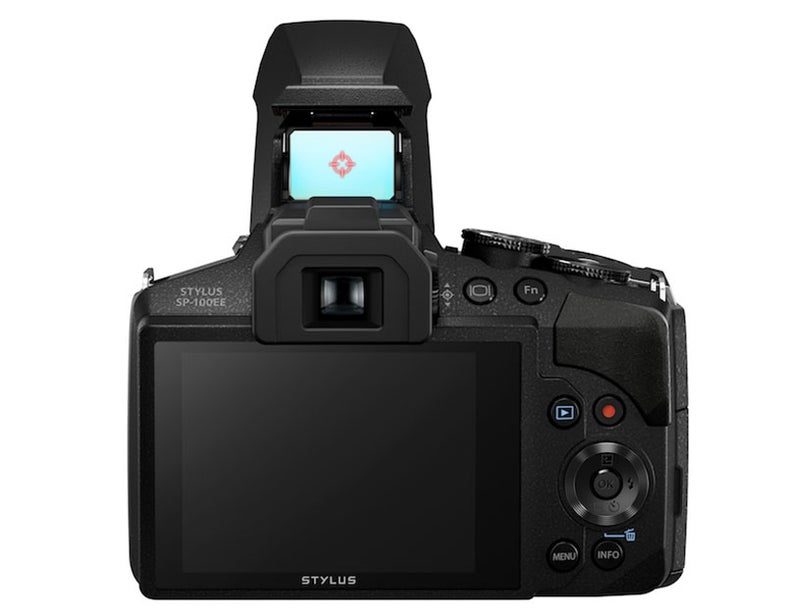 We may earn revenue from the products available on this page and participate in affiliate programs. Learn more ›
Superzoom cameras have their pluses and their minuses. One downside to all that zoom, however, is that it's very easy to lose your subject when trying to zoom in. The field of view gets so narrow at the telephoto end that trying to capture a subject often turns into a game of Where's Waldo. Olympus is trying to fix that with the SP-100 by adding a rifle-like "dot sight" for easily aiming your camera at your subject.
When you put up the pop-up flash, you can see the guidelines on a small screen. By placing your subject in the center of the lines, you can be fairly certain that your subject will be in the frame, even if you're all the way at the telephoto end of the zoom (which has an equivalent focal range of 24-1200mm). It's meant for situations like birding where a movigin object can be extremely hard to track with a narrow field of view.
It has a built-in EVF and a 3-inch 460k dot LCD lens, both of which are pretty standard at a camera of this level. Of course, it ale has optical image stabilization and full HD video recording. And like many other super zooms, it uses a smaller 1/2.3-inch CMOS sensor to facilitate all that reach.
Overall, it's an interesting attempt at solving one of the main problems with super zoom cameras. I've known quite a few people who have gotten a super zoom, only to be really frustrated with trying to actually make use of all that focal length. We'll be interested to check this out when it becomes available. It will cost $399 when it goes on sale later this month.
Want more Olympus news? Check out the new $700 OM-D E-M10 they just announced.