New Gear: Kipon Handevision Ibelux 40mm f/0.85 Lens For Interchangeable-Lens Cameras
That's a wide aperture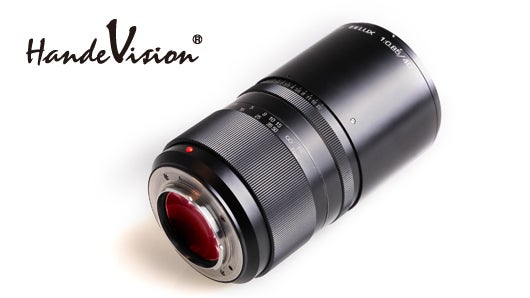 We may earn revenue from the products available on this page and participate in affiliate programs. Learn more ›
In the war of the fast lens, a major new salvo has been fired in the form of the newly announced Kipon Handevision Ibelux 40mm f0.85. Set to be available in a wide array of mirorrless mounts, the Ibelux will launch in February, and will set you back $2,080.
While not quite up to the insane level of the infamous f/0.7 Zeiss lenses that Kubrick had made, f/0.85 is substantially beyond most of what else is on the market. The new lens is being manufactured by the combined expertise of German IB/E and Shanghai Transvision, who have combined under the moniker "Handevision".
The lens will be available on Sony NEX, Fuji X, Canon EOS M and Micro 4/3 mounts (sorry Samsung shooters). For APS-C shooters, it delivers a similar depth of field to f/1.2 on full frame. It's comprised of ten optical elements in eight groups, with a minimum aperture of f/22. It has a metal body, with manual controls for both focusing and aperture adjustment.
What might be its downfall (apart from the rather steep price) is that it's also a hefty lens. It weighs 1.2kg (2.6lbs), and is 128mm (5in) long — a large and heavy lens to strap to the rather petite body of a mirrorless camera.
You can have a spy of some sample images at the announcement page, but it sounds like Handevision isn't stopping there. They're also working on:
The lens will be sold in the USA by Bower, who is best known for rebranding Rokinon lenses under its own label. Come next year, it'll be very interesting to see how a f/0.85 lens shoots.