New Gear: Canon EOS M2 Camera Announced (in Japan)
Yes, it's official, but only in Japan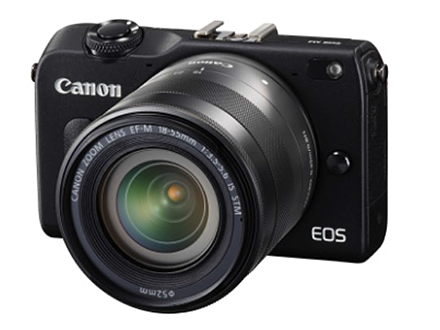 We may earn revenue from the products available on this page and participate in affiliate programs. Learn more ›
Seemingly out of nowhere, Canon Japan has officially announced the Canon EOS M2, a followup to the original EOS M. The new model will have only minor external tweaks, but Canon is already promising a much improved autofocus system — the chief complain about the original.
It seems the Canon M2 will have a hybrid CMOS AF II system, which we saw previously in the Canon SL1. This should result in 2.3x faster AF according to Canon, as well as having phase detection pixels across 80% of the frame. Unfortunately, Canon hasn't ported its excellent Live View AF system from the Canon 70D to the M2, which would seem a natural fit.
The new camera is also 8% smaller than its predecessor, with built-in Wi-Fi, and a redesigned mode dial.
It's expected to go on sale in Japan in mid-way through the month, with an asking price of ¥64800 ($630) for just the body. It will also be sold in a kit with the 18-55mm lens and Speedlite 90EX for ¥84800 ($826), with both the 18-55mm and 22mm lenses, the flash, and an EF mount adapter for ¥104800 ($1020), or with all of the above as well as a 11-22mm lens for ¥134800 ($1313).
There has been no indication of additional lenses or accessories for the M2.
We haven't heard anything about when, or even if, this model is coming to the USA.