New Gear: Back-Bone Ribcage Adds Interchangeable Lenses to GoPro Cameras
This modkit permanently alters a GoPro for interchangeable lenses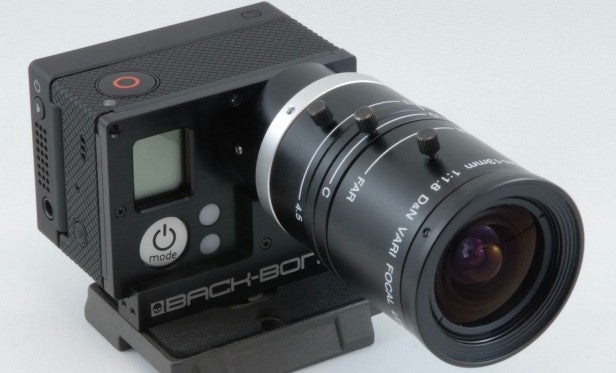 We may earn revenue from the products available on this page and participate in affiliate programs. Learn more ›
As wildly popular as the GoPro is, it's inherently limited by the built-in lens. The wide-angle view is great for when you're capturing extreme sports action, but it less handy for other applications. But a Canadian company wants to get around that, and are starting production on a GoPro modification that will transform it to be able to accept the widely used C-Mount. The Back-Bone Ribcage will set you back just $200 if you want to modify it yourself, and opens GoPro videography to a world of new glass.
Designed for the GoPro Hero3 and Hero3+ Black, the Ribcage is available to pre-order either as a DIY kit, or as a pre-installed version for $799. Once in place, you can load on any C-Mount lens, which brings the advantages of aperture and depth of field control, manual focus, and zooming. Not only that, but the modification includes a removable IR filter, so that you can do infrared photography if you desire.
The DIY version isn't for the faint of heart, and you have to be ok with opening up your camera to get it in place.
Since the GoPro uses a 1/2.3″ sensor, the crop factor can be significant, depending on what the lens was designed for. But the manufacturers have pointed out that using a 1/2″ C-Mount lens will be extremely close to its designed use.
You can see some test footage shot with the modification on the Backbone Vimeo page. But for anyone thinking of using GoPros for more than just action scenes, this could dramatically enhance their flexibility.
[via NoFilmSchool]