New Gear: Olympus Stylus 1 Has the Guts of a Compact and the Form Factor of an OM-D
A compact with the soul of a system camera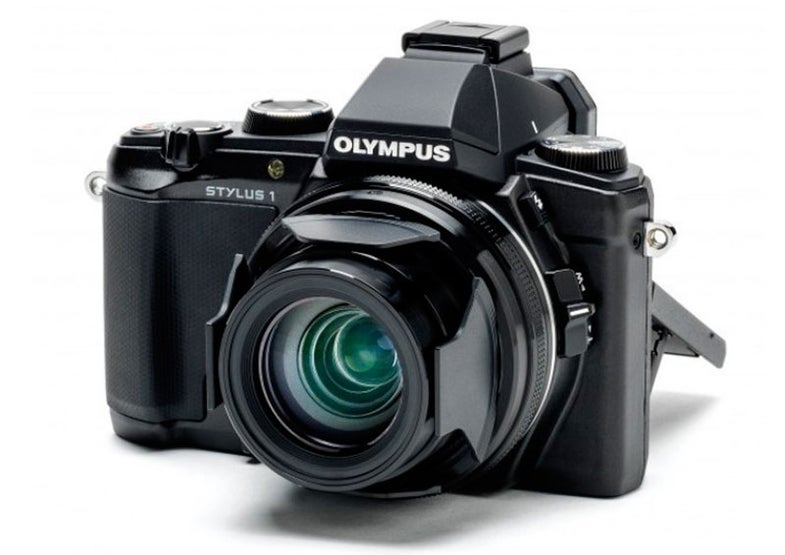 We may earn revenue from the products available on this page and participate in affiliate programs. Learn more ›
Last week at the PhotoPlus Expo, we noted how few compact cameras there were. Actually, it was pretty much just one. But, Olympus is doing something a little different with their Stylus cameras, giving the Stylus 1 the look of their OM-D system cameras, but with an attached lens.
The Stylus 1 has a 12-megapixel, 1/1.7-inch BSI-CMOS sensor. It's not as big as a micro four-thirds chip, but it is on the large side for a camera that technically qualifies as a compact. The lens itself has an equivalent focal range of 28-300mm, which isn't quite super zoom territory. It has built-in optical image stabilization as well.
Another similarity to the OM-D line is the electronic viewfinder with 1.44 million dots of resolution and a 100% field of view. If you prefer a screen to an EVF, there's a 3-inch tilting touchscreen display with 1.04 million dots of resolution.
From a control standpoint, the Stylus 1 has a lot going for it, offering tactile controls in addition to the touchscreen for those who want a more traditional camera experience. The lens is surround by a hybrid control ring, which can be used to change various functions, including focus, much like the one on the Stylux XZ-2.
It has raw capture, 1080p video, and slow-motion video at 120 fps and 240 fps with reduced resolution. And of course, it has built-in wifi.
Ultimately, it does have a lot in common with a more advanced system camera. It even manages 7 fps at full-resolution. The lens range is also extendable using the 1.7x teleconverter. The camera itself will cost $699 when its released in December.
Below is the full press release. It's interesting to see a press release actually acknowledge the shrinking compact camera market, especially right at the beginning.
The compact digital camera market is currently shrinking across the world, however, among these conditions, models with a large-format imaging sensor, bright lens, premium high image quality and performance, and models with a high magnification which cover a wide range of shooting conditions, remain their popularity.
Since announcing the XZ-1 in January 2011, Olympus has released the STYLUS-XZ-2 and the STYLUS XZ-10 equipped with i.ZUIKO DIGITAL lenses that feature excellent image quality and brightness to the telephoto end, resulted in leading the high-performance model market. All-in-one cameras that support various scenes with powerful zooms have also proved to be popular among families for shooting vacations and children's events. However, up to now it has been difficult to create a model with a powerful zoom lens that effectively balanced the size, excellent image quality, and brightness at all focal lengths.
The new OLYMPUS STYLUS 1 is equipped with a newly-developed powerful i.ZUIKO DIGITAL lens that features a compact size, excellent image quality, and brightness at all focal lengths. Many powerful zoom models face the problem of subject blur that occurs in telephoto shooting in dark locations. This revolutionary lens significantly reduces subject blur without degrading image quality. The STYLUS 1 is the flagship model of the STYLUS series, achieving excellent image quality and a high zoom factor through the fusion of an i.ZUIKO DIGITAL lens, and the shooting style of the Olympus Mirrorless Interchangeable-Lens flagship model, the OM-D. The best functions from larger, heavier, and more expensive DSLR cameras with the similar specs have been packed into a compact, slim body.
i.ZUIKO DIGITAL lens of the STYLUS 1 covers a focal distance of 28 to 300mm at 10.7x (35mm equivalent), with a rarely-seen, bright constant aperture f2.8. The brightness of the lens is available at all focal lengths, and promises excellent image quality and defocusing effects from macro shooting to telephoto shooting, with performance that departs from traditional compact cameras. Also, all types of aberrations that occur in powerful zoom cameras are almost perfectly corrected at all focal lengths.
This camera is equipped with a large-size electronic viewfinder (EVF) with the largest magnification factor in class for a compact camera that is equal in quality to the Mirrorless Interchangeable-Lens camera, OM-D, where users can watch varied shooting conditions change in real time in the viewfinder. Stable shooting style while looking into the EVF, full-featured performance, and design that extends to every detail of the slim body make authentic, OM-D-inherited shooting possible. When the automatic opening lens cap is attached, the time from turning the power on to shooting is shortened, and because only the faintest sound from the lens shutter can be heard, the STYLUS 1 delivers a new experience in quiet shooting.
We also focused on the controls of STYLUS 1. In addition to using the Hybrid Control Ring made popular on the STYLUS XZ-2, the zoom lever and customization of all buttons ensure that users never miss a photo opportunity, for authentic shooting that is equal to DSLR cameras.
The STYLUS 1 is the flagship model of the STYLUS series, packing DSLR-level excellent image quality, powerful magnification, superior functions, and a wide shooting range into a compact body for an authentic shooting experience that anyone can easily enjoy – from beginners to advanced users.
Main Features Details
1. An optical 10.7x (28-300mm*1), constant aperture f2.8 i.ZUIKO DIGITAL zoom lens packed into a compact, slim body
1) Constant aperture f2.8, powerful zoom lens for those who enjoy creative shooting
This 10.7x zoom lens boasts a maximum aperture value of f2.8 that is bright in all focal length, and covers from 28 to 300mm (35mm equivalent). In particular, the beautiful defocusing effects produced by the f2.8 at a 300mm equivalent telephoto setting overturns conventional wisdom about compact cameras, making it possible to capture photos where subjects seem to float off the image. Additionally, the brightness of the lens makes it possible to lower the ISO speed, which is beneficial to image quality.
Because the aperture value is fixed to f2.8 even when zooming, control of exposure in Aperture priority (A) mode is easy. Also, because the shutter speed can be increased, subject blur that tends to occur in dim-lit shooting scenes can be reduced. The brightness across all focal length, and fixed large aperture make this a masterpiece of a lens, fulfilling the highest demands for professionals in a zoom lens.
2) Optical design and coating that support excellent image quality
i.ZUIKO DIGITAL lens of the STYLUS 1 was developed based on the DSLR interchangeable ZUIKO DIGITAL lens series, for sharp, next-generation depictive performance from the center to the edges of the image. Olympus molding technology cultivated with DSLR interchangeable lenses was freely used to create a DSA (Dual Super Aspherical) lens for use as an aspherical element in the lens group. A total of 9 aspherical lenses are used in the 12 element, 10 group lens construction. This construction not only effectively compensates for all types of aberration in all zoom range, but allows the lens barrel to be stored in the 52mm deep body when retracted. In order to remove ghosts and flaring, the Olympus-original ZERO (Zuiko Extra-low Reflection Optical) coating was applied to the surface of the lens. These measures ensure highly clear depictive performance, even in backlit or other unfavorable shooting conditions.
3) Powerful macro shooting function
At a 300mm equivalent telephoto setting the minimum shooting distance from the end of the lens is 80cm, making tele-macro defocusing effects possible. With Super Macro, close-up shooting from 5cm away from the end of the lens is available.
4) Powerful image stabilization
Lens shift-type image stabilization is used on the STYLUS 1. This method enables a compact camera construction, and reduces camera shake that tends to occur at telephoto settings or when shooting in dark locations.
5) Automatic Lens Cap attached
A removable lens cap that automatically opens when the power is turned on is supplied with the camera so that users can rest easy, knowing that they will always be able to capture the moment.
2. Equipped with a built-in large-size, high-image quality, high-resolution EVF for checking versatile shooting conditions
1) Performance that exceeds entry-level DSLR cameras
The STYLUS 1 is equipped with a built-in EVF equal to the Olympus Mirrorless interchangeable lens camera, OM-D E-M5. The beauty of the 1.44 million dots, high-resolution LCD is without compare when measured against previous compact digital cameras or home-use camcorders. With field coverage of 100%, it outperforms field coverage of entry-level DSLR cameras. With clear visibility from the center to the edges, users can check the exposure, color, and focus peaks before shooting.
2) Fast response and eye sensor functions
Viewfinder shooting is stress free, thanks to the fast response and short display time lag. Also, with the eye sensor function, simply looking into the viewfinder automatically switches the display from the rear monitor to the viewfinder. The eye sensor is automatically turned off when the rear monitor is tilted or the playback menu is being used to prevent misoperation and improve usability.
3) Adaptive Brightness Technology
This feature raises the brightness of backlight when shooting in bright outdoor conditions, and lowers the brightness in dark indoor conditions, reducing visual errors from light and dark adaptation of the eye. The backlight brightness is automatically adjusted in accordance with ambient light to maintain the proper brightness providing a natural appearance that is close to that of optical viewfinders (OVF).
4) Electronic level gauge and highlight & shadow display
This feature provides functions unavailable on optical viewfinders, and is useful for checking the electronic level gauge while looking at subject (previous display and 3D display), as well as displaying highlights and shadows for finishing photos with a touch of distortion or just the right exposure.
3. Shooting style of enhanced operability and stability inherited from OM-D, and a premium compact, slim design
As the flagship of the STYLUS brand, the STYLUS 1 neither function nor design were compromised, with attention down to the smallest details. The excellent control and stability of OM-D-inherited shooting style provides ease of use as a DSLR sub model.
The highly-stable grip, even when shooting at a 300mm*1 equivalent, lets users firmly hold the camera for long periods of time without tiring. The entire control scheme is designed around the right grip hand, including the zoom lever and Hybrid Control Ring so that a stable DSLR shooting style is possible while looking through the electronic viewfinder.
A compact, slim body design was achieved with a pentaprism silhouette while including a viewfinder and built-in flash. When an interchangeable lens with an equivalent focal length of 28 to 300mm is attached to a DSLR or Mirrorless interchangeable-lens camera, they become large and heavy, but the STYLUS 1 achieves the similar outstanding performance in a compact, slim body design. This camera can be carried around in a bag for easy and fun shooting with the authentic operation of a DSLR sub model. The camera has a premium black finish.
4. Full-featured controls and customization let users focus on shooting
The STYLUS 1 maintains its comfortable controls while providing customization to match users' shooting style for an intuitive approach to shooting exactly as photos are envisioned.
1) Hybrid Control Ring
This model is equipped with the STYLUS XZ-2's popular Hybrid Control Ring. Because frequently used functions can be assigned to the Hybrid Control Ring, settings such as the aperture value or exposure compensation can be quickly adjusted with a twist of the ring, letting users capture images exactly the way they want without missing a chance of shooting. Using the Control Lever located next to the lens, two control types (analog and digital) can be switched immediately.
2) Subdial
The subdial which can be controlled with the thumb of the right hand is equipped for the first time on an Olympus compact digital camera. This feature lets users grip the camera with their right hand and change all pre-assigned settings with minimal movement. In combination with the Control Ring, numerous settings can be changed quickly.
3) Two selectable zoom levers
On compact digital cameras, the zoom lever is normally located on the top of the camera. In addition to the usual location, the STYLUS 1 includes a zoom lever on the left hand side of the lens. With this innovation, the camera can be supported with the left hand for DSLR-style zoom operations, allowing users to focus on the release button with the right index finger so that photo opportunities are never missed. The left hand zoom lever can also be used to adjust the zoom slowly for fine adjustments when composing a shot.
4) Rich customization functions
Users can assign frequently used functions to the Fn1 button and movie button for quick activation. Also, each time the Fn2 button is pressed, multiple functions can be switched, and when the function is activated it can be set to the Hybrid Control Ring or Sub-dial to be used. Two different custom modes are available on the mode dial. Users' favorite pre-assigned settings can be activated simply by turning the dial.
5. Built-in Wi-Fi*2 for easy image sharing and wireless shooting
The STYLUS 1 is equipped with a built-in Wi-Fi function which enables easy connection to a smartphone simply by touching the Wi-Fi icon. The OLYMPUS Image Share (OI.Share)*3 smartphone app can be used to easily send images to a smartphone.
With the OI.Share remote control function, the camera's Live View screen can be viewed on a smartphone while remote shooting in P, A, S, M, and iAUTO modes for smooth operations and zoom operations is also available. By touching the Live View screen that appears on the smartphone AF points can be specified and the shutter can be activated with the same controls as on the camera. Also, users need only to transfer highly-precise GPS logs obtained with OI.Share to the camera to easily add geotags (location information) to images taken with the camera.
Using OI.Share's simple connection function, troublesome initial settings can be easily completed simply by scanning the QR code that appears on the camera screen.
Other Features
iHS Technology
iHS stands for "intelligence", "high-speed", and "high-sensitivity". With the combination of a 1/1.7 type, 12.0 megapixel*4, back-lit CMOS sensor (BSI CMOS sensor), and the TruePic image processor designed for the OLYMPUS PEN, focusing speed is improved, and users will always be able to capture the subject they want, beautifully, and without missing. Additionally, the STYLUS 1 inherits FAST AF from the OLYMPUS PEN series and Touch AF Shutter allows users to instantly shoot exactly the way they want by simply touching the screen, regardless of the subject's position.
PHOTO STORY
The STYLUS 1 includes an advanced version of PHOTO STORY, made popular on the STYLUS XZ-10. Shoot and select moments from various viewpoint by simply touching on the Live View screen. It offers 2 themes; "Standard" which has a variation of choices including patterns, effects, aspect ratios, and the number of images, and "Fun Frames" with three variations of stylish shot. With these features, everyday life will become memorable scenes with varied personalities.
Art Filters
The 11 Art Filters and 5 Art Effects*5 will fuel the spark of imagination so that users can create more stand-out pictures that match their imaginations exactly. Art Filter effects are available for still images, but they can also be used when shooting Full HD movies for greater freedom of expression and enjoyment. Art Filter Bracketing can help out users who have trouble deciding on which Filter to use by automatically applying multiple Art Filters and playing the images back in a slide show. This feature turns mediocre scenes into a virtual kaleidoscope of enjoyment, providing new discoveries in everyday scenery through unexpected filter effects. Additionally, Art Filter Bracketing can be applied when editing RAW images.
Digital Tele-converter
By enlarging 2x in the center of image, digital tele-converter function can be used. By applying this function to the Fn button, this function can be used by simply touching the button. With the superior performance of TruePic image processor, it enables to shoot up to 600mm F2.8*1 while retaining excellent image quality. With the tele-converter lens TCON-17X, it can shoot up to approx. 1020mm F2.8*1.
Advanced iAUTO which automatically detects scene settings
High-sensitivity shooting at ISO 12800 which reduces blurring and maintains excellent image quality
Equipped with an ND filter for controlling exposure in 3 steps, for beautifully defocused shots even in bright locations
The Bulb function enables up to 30 minute of shooting
The Custom Self function offering customizable options such as the number of shots, self timer time, and shooting interval
Equipped with a tilting 3.0 type, 1.04 million dots capacitive touch panel
Zoom Framing Assist function helping users to recapture subjects lost during telephoto shooting, by reducing to half the zoom factor with the push of a single button so they can be found again
Built-in flash
i-Enhance mode is equipped on the STYLUS 1 for the first time on any compact camera, enabling automatic detection of subjects and optimal color and contrast reproduction
Supported media: memory cards, (SD, SDHC, SDXC, UHS-I compatible), Eye-Fi cards