New Gear: Sony FDR-AX1 4K Handycam and HDR-MV1 Music Video Recorder
A few new HD video cameras joint Sony's product line-up
We may earn revenue from the products available on this page and participate in affiliate programs. Learn more ›
Yesterday, we covered a smartphone with the capability of recording 4K video. That's overkill. Sony's new FDR-AX1, however, makes much more sense. It's a full-on 4K-recording video camera for $4,495.
The AX1 records 16:9 footage at 3840 x 2160 resolution. That's a huge amount of data to push through a camera. It uses one sensor, instead of the three sensors sometimes found in cameras like this. It's a 1/2.3-inch sensor that pushes about 1 GB of data for every 1 minute of footage recorded at 4K. It actually records directly to XQD cards, which are very near and dear to Sony's heart. It has dual slots and comes with a single 16 GB card as part of the price.
The Lens is a 20x zoom lens and there's a built-in stereo microphone, as well as all the other things you'd expect to find in a high-end prosumer camcorder such as this one. In fact, it looks quite a bit like their other models.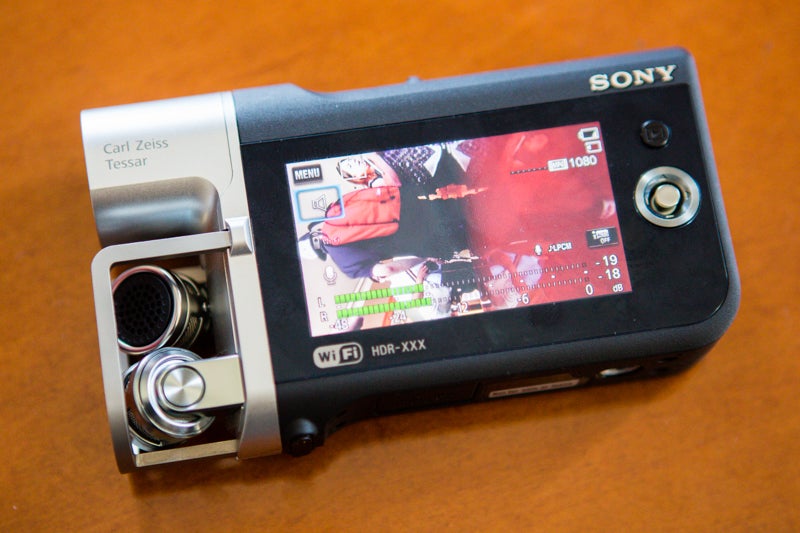 The HDR-MV1 Music Video recorder is actually a palm-sized camera that costs $300. It has a stereo microphone array on the front that records a 120-degree field of sound. The lens matches that coverage, with a 120-degree field of view of its own.
What makes it a music video recorder? It records uncompressed linear PCM sound, which is actually slightly higher-quality than CD qualify. It does 30 fps at 1080p. It would be nice to have 60 fps, but considering the price, it's actually a pretty powerful little recorder.