New Gear: Delkin CF 1050X UDMA 7 Cinema Memory Card Ready for 4K
High speed and high capacity makes them ideal for video work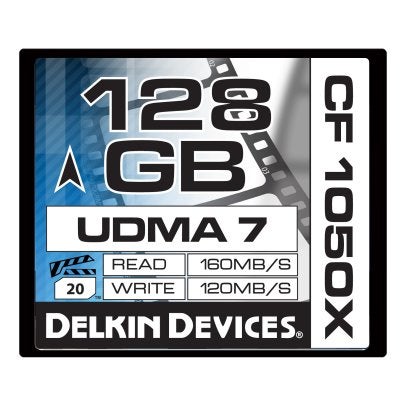 We may earn revenue from the products available on this page and participate in affiliate programs. Learn more ›
Just a few days ago, SanDisk announced a new, high-speed and high-capacity CF card for cinema work. Today sees Delkin doing the same, announcing a new line of CF 1050X UDMA 7 Cinema memory card, rated specifically for 4K video.
The cards are capable of 120MB/s write and 160MB/s read speeds, with UDMA 7 support, and VPG (Video Performance Guarantee) profiling. According to Delkin, the cards are designed to keep speeds above 100MB/s so as not to drop frames from high capacity filming:
The cards are available in three capacities: 32GB, 64GB and 128GB for $139.95, $299.95, and $639.95 respectively. You can pick them up through retailers, or through Delkin directly.