New Gear: Wacom Announces Windows, Android Tablets, Pressure Sensitive iPad Stylus
Finally unveiling the products it has been teasing all year, Wacom unveiled two tablet computers, and a special stylus for iOS users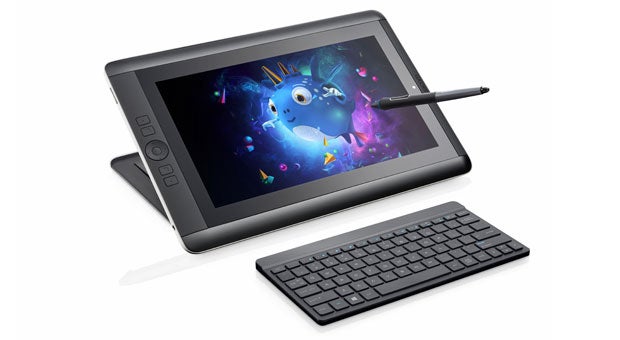 We may earn revenue from the products available on this page and participate in affiliate programs. Learn more ›
Earlier this year, Wacom teased a "mobile tablet for creative uses" due out "this summer". And, after much anticipation, the company has delivered, unveiling the Wacom Cintiq Companion and Cintiq Companion Hybrid.
Both versions of the hardware pack a 13.3-inch TFT LCD display with 1,920 x 1,080, with 700:1 contrast ratio, and 16.7 million colors. They have express keys, the rocker ring, and a stylus Pro Pen with 2,048 levels of pressure. The difference is in the OS (and assumedly the architecture). The Cintiq Companion can run Window 8 or Windows 8 Pro — making it a viable option for creative professionals. It's essentially a fully-fledged PC, with a full Wacom tablet as a primary method of interface. It can also be used as a second screen for an existing computer.
The Cintiq Companion Hybrid functions as an Android tablet, but can be tethered to your companion to work like a traditional Wacom tablet, letting it serve double duty between the two functions.
The Cintiq Companion features Intel Core i-7 processor, 8GB RAM, Intel HD Graphics 4000 GPU and SSD storage. The Windows 8 version has 256GB of onboard storage, and will cost $1,999. The Windows 8 Pro version has 512GB of space, with a $2,499 sticker. The Companion Hybrid version has a NVIDIA GPU and quad-core Tegra 4 processor, 2GB RAM and HDMI input with 16GB and 32GB options — which will go for $1,499 and $1,599 respectively. The Hybrid units are expected to ship in September, and the Companion in October, but both are already available for pre-order.
iOS users haven't been totally abandoned here — Wacom has a swanky new stylus designed just for use with the iPad. The Intuos Creative Stylus will set you back $99.95, and features 2048 leves of pressure sensitivity. It can pair with the iPad 3, iPad 4 or iPad Mini over Bluetooth, and even comes with a special carrying case.