New Gear: Phottix Luna Foldable Beauty Dish and Octa Soft Box Light Modifiers
Two low-priced modifiers you can tear down in a hurry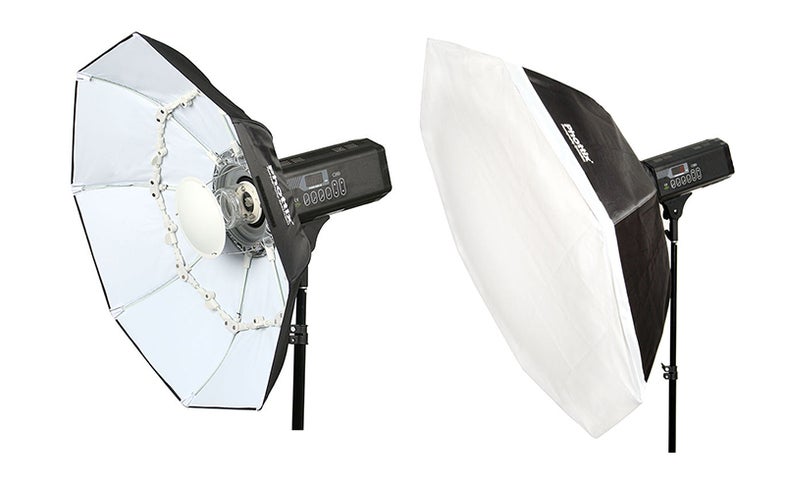 We may earn revenue from the products available on this page and participate in affiliate programs. Learn more ›
For many photographers, the beauty dish is a tricky light modifier to master. The light can be beautiful and directional, but it can also seem harsh and unflattering if not used properly. Then, there's that whole thing where it's big and a pain to carry around. Phottix now offers a folding version as part of their Luna line, which also includes a new octagonal softbox.
The folding beauty dish costs $65 and comes with a speedring for strobes, but you'll need to get a different adapter ring if you want to use it with your speedlites, which seems like the most common application for a folding modifier. Same goes for the Octagonal softbox, only that one costs $10 more at $75. Both use fiberglass rods for support and fold down small for transport.
The Beauty dish is 27.5-inches across, and the site claims that the light falloff should be very similar to what you would expect out of a metal dish. The octa box is 43-inches across, which is an extremely common size for that type of modifier. The real benefit is that doesn't require you to bend metal rods into place in order for it to take shape. But, we'd expect there to be a trade off when it comes to durability.
Both modifiers are relatively inexpensive and we're hoping to give them a try here in the near future. We'll be interested to see if all those plastic hinges in the Beauty Dish have any effect on the overall light pattern.