New Gear: Panasonic Lumix DMC-FZ70 With 60x Optical Zoom
Yes, that's a 20-1200mm equivalent focal range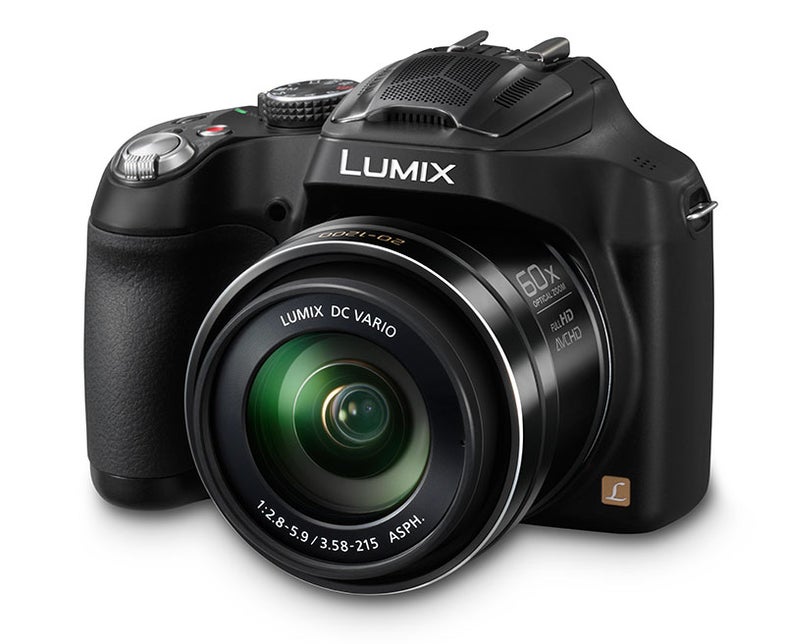 We may earn revenue from the products available on this page and participate in affiliate programs. Learn more ›
Last year, when we saw Canon's 50x optical zoom SX50 HS, it sounded a little crazy. Now, Panasonic has unleashed their new FZ70, which has a monstrous 60x optical zoom. That gives it the equivalent of a — get ready for it — 20-1200mm F/2.8-F/5.9 zoom lens. That is a lot of millimeters.
The lens itself has 14 elements in 12 groups, all of which are a part of Panasonic's much-needed optical image stabilization system. The lens sits in front of a 1/2.3, 16.1-megapixel CMOS sensor, which is small, but that's to be expected in a camera like this. It does have 1080i video at 60p and even raw capture, which is a bit of a surprise, especially since it will cost just $399.
In addition to the massive glass, Panasonic has also beefed up the microphone quite a bit, which is now a stereo unit that's immediatley obvious on top of the camera. It's likely still not perfect, but we're glad to see microphones starting to get more love in the camera world, since audio is so crucial when it comes to shooting motion.
It will be interesting to see how far camera manufacturers can push this optical zoom war. It's productive thing for them to latch onto, becasue it's something smartphone cameras will likely never be able to catch up to. Though, that 60x number can be a little tricky for some users to decode. 20-1200mm sounds great in a single small camera, but when zoomed all the way to the telephoto end, hand-held photography is likely nearly impossible. We'll be interested to see if its imaging power can keep up with all that optical zoom. Until then, here's the full press release.
———-
SECAUCUS, NJ (July 18, 2013) – Panasonic today unveiled the new LUMIX
DMC-FZ70 (FZ70) because life is more than just a single moment captured in time. That's why the LUMIX DMC-FZ70 is packed full of the best multimedia technologies Panasonic makes. Optically the FZ70 delivers from its amazing 20mm wide-angle to 1,200mm (60X) long zoom, making it a category class leader*. With F2.8-5.9 lens brightness, both video and photos will appear bright under low light conditions. Optical image stabilization assures that both long zoom photos and videos are sharp and free from blur. The FZ70 offers amazing Full HD 1080/60i video recording, thanks to Panasonic's experience as a world leader in professional broadcast video. It boasts crystal clear audio due to a unique microphone that eliminates ambient noise and wind sound with the stunning clarity of Dolby® Digital. This unique microphone even zooms with the optical zoom to more precisely zero in on the audio coming from your subject.
1. Category Class Leading Super Long Zoom Lens
With a 60X optical zoom (20 to 1,200mm), the lens in the FZ70 is the widest and longest zoom in its class*. Its stunningly versatile ultra-wide 20mm to 1,200mm range makes it possible to capture dynamic landscapes, wildlife and almost any scene when traveling. At 20mm the lens captures a nearly 140% wider angle of view compared with a 24mm lens. Comprised of 14 elements in 12 groups, including 6 aspherical lenses with 9 aspherical surfaces and 3 ED (Extra-Low Dispersion) lenses, this advanced lens unit delivers exceptional optical performance by suppressing distortion at the wide end and color bleeding at the tele end.
* As of its introduction July 18th for long zoom bridge digital cameras.
A Little Extra Zoom Kick
Thanks to its Intelligent Resolution technology, the FZ70 can extend the zoom ratio up to 120X equivalent while maintaining the picture quality. An optional optical lens adapter can further extend the FZ70s range.
3. Amazingly Clear Zoom Microphone with Dolby(R) Digital Audio Quality
Recording video with the FZ70 is easy, but what's really amazing is its ability to capture audio clearly. The recorded videos come with the highly realistic Dolby® Digital Stereo Creator and its sound quality is further improved in the DMC-FZ70 thanks to a newly developed Wind Shield Zoom Microphone that minimizes wind noise by approx. 70% compared to prior models. Externally, the sealed structure prevents wind from hitting the microphone directly and the draft structure suppresses retention of air internally. As a result, the sound is clear and comfortable to listen to even it if was recorded on a windy day.
* Manufactured under license from Dolby Laboratories. Dolby and the double-D symbol are trademarks of Dolby Laboratories.
4. Full HD Video Recording
The FZ70 records full-HD 1920 x 1080 videos in both AVCHD and MP4 formats. A special, separate button on the top lets you instantly start recording videos while shooting photos without having to make any extra changes. The Creative Video Mode lets you adjust the shutter speed and aperture any way you like when shooting videos. The powerful 60x optical zoom with POWER O.I.S. is available in video recording as well.
5. New 16.1-Megapixel High Sensitivity MOS Sensor and Venus Engine Deliver High Speed Response and High Picture Quality
A newly integrated 16.1-megapixel High Sensitivity MOS sensor and the advanced image processor Venus Engine feature high speed response and high quality image even in high sensitivity recording. This contributes to enabling high speed burst shooting at 9 fps in full resolution* and the Light Speed AF to catch the most fleeting shooting opportunities together with the quick start-up time of less than a second.
* Max. 3 images
Power Optical Image Stabilization with Active Mode
The POWER O.I.S. (Optical Image Stabilizer) effectively suppresses hand-shake vibration. The angular width that the FZ70 can compensate for is more than 200% wider than previous models at the tele-end, which allows for superior handheld 1,200mm super telephoto shooting. The Active Mode equipped allows for active video recording at wide angle such as shooting while walking without causing deterioration of image quality.
7. In-Camera Creative Controls and Retouch
The Creative Control and Creative Retouch feature a total of 15 filter effects: Expressive, Retro, Old Days, High Key, Low Key, Sepia, Dynamic Monochrome, Impressive Art, High Dynamic, Cross Process, Toy Effect, Miniature Effect, Soft Focus, Star Filter and One Point Color. The Creative Control lets users shoot with a filter effect while evaluating how it makes a difference in the picture: this can be used for video recording, as well*. The Creative Retouch enables applying a filter effect on the picture even after shooting in camera.
Creative Panorama (13 effects)

Creative Control (15 effects)

Creative Retouch (15 effects)
* Soft Focus cannot be used in video recording
Creative Panoramic Effects
With the Creative Panorama function, it is possible to shoot a horizontal or vertical panoramic image with consequent shots taken by overlaying the previous picture and to put on a filter effect of Retro, Expressive, High Key, Low Key, Sepia, Dynamic Monochrome, Impressive Art, High Dynamic, Old Days, Cross Process and One Point Color.
Amazing Low Light Sensor Response.
While the FZ70 offers a bright F2.8-5.9 lens, it's the new 16.1-megapixel High Sensitivity MOS sensor that cuts noise by 10-15% and dramatically improves images in high-sensitivity shooting. Together with the Venus Engine, it elevates the response, sensitivity and image quality of the LUMIX DMC-FZ70 to even higher levels.
Panasonic comparison with the DMC-FZ60
10. iA Plus Mode
In the iA (Intelligent Auto) Mode, the camera does all the work, leaving you free to compose shots and capture moments in both photo and video recording. In addition, the iA Plus Mode enables you to adjust defocusing area, exposure compensation and white balance by just moving the slider.
11. Optional Accessories
The LUMIX DMC-FZ70 offers a variety of options to choose from to match every shooting situation and shooting style.
• Tele Conversion Lens – DMW-LA8 Lens Adapter for
1.7X DMW-LT55 Conversion
Lens
• DMW-LC55 Close-up 3X Filter
• External Flashes – DMW-FL220 Flash, DMW-FL360L
Flash, DMW-FL500 Flash
• ND / PL Filters – DMW-LNDH55 Neutral Density Filer
                          DMW-LPL55 Polarizer Filter