New Gear: Canon EF-M 11-22mm f/4-5.6 IS STM Announced In Europe
The Canon EOS M finally has another lens, in the form of an 11-22mm wide zoom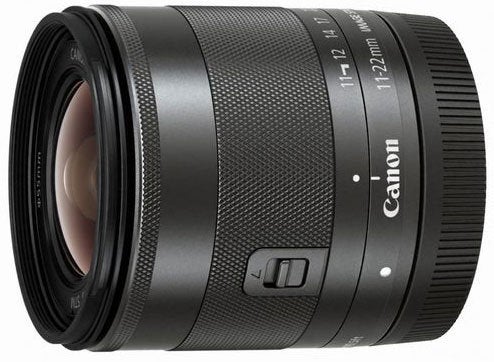 We may earn revenue from the products available on this page and participate in affiliate programs. Learn more ›
The Canon EOS M could use a few more lenses in its arsenal. But Canon is aiming to change this with the announcement of a new EF-M 11-22mm f/4-5.6 IS STM lens, and a promise of better autofocus speeds with new firmware.
The new 17.6mm-35.2mm equivalent lens has only officially been announced for Europe, where it will debut with an eminently reasonable £379.99/€399 MSRP. It's claimed to offer three stops of image stabilization, silent autofocus using a stepper motor, and a retractable barrel design that collapses to the size of the standard 18-55mm kit lens. When locked down, the lens loses 13mm off its length, making it much easier to transport. It features 12 lens elements in nine groups, seven aperture blades, and weighs just 220g (0.49lbs).
Perhaps even more interesting than the lens is the promise of new firmware to alongside it. The newly announced 2.0.0 firmware for the EOS M not only provides full compatibility with the new lens, but is also said to improve autofocus speed with all lenses. Given that the sluggish AF was one of the primary criticisms of the EOS M, hopefully when the firmware lands later this month, it'll offer dramatically improved performance.