New Gear: Adobe Photoshop Creative Cloud Goes Subscription-Only
Lots of new Photoshop features coming to users who don't mind the monthly fee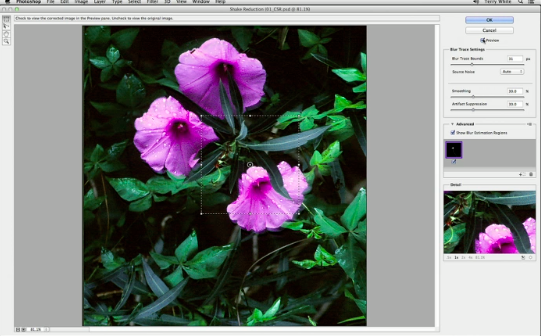 UPDATE: The new CC apps are officially available. Let us know what you think about them in the comments.
Today, Adobe kicked off their MAX conference with a big keynote (check out our live blog here), which announced the next version of what was once known as the Creative Suite software. The new versions will be branded as Creative Cloud and will only be available on a subscription basis. That means, if you want the newest Photoshop, you're going to need to subscribe.
On a feature front, Photoshop has gotten some notable additions. Perhaps the most high-profile addition is that of their Camera Shake Reduction tool. They've been teasing it for a while now, but it's actually going to be a part of Photoshop CC.
When you apply the Camera Shake Reduction tool, it analyzes the image in an attempt to figure out how the camera moved while the shutter was open. Once it recognizes the blur pattern, it can reverse engineer it, and sharpen things up. The demos have been impressive, but we're interested to see how it works. Apparently the function was working over a year ago, but was taking up absurd amounts of computer resources, so it was not included. Now, it's official, though.

The sharpening algorithms have also been updated for "smart sharpening." The function actually takes note of digital noise so it doesn't give that more sharpness and ruin the image. They have also gone to great lengths to try and cut down on "haloing" that can sometimes happen with older sharpening tools.

Enlarging has also gotten some attention, making it simpler for users to make images bigger without so much degradation. It's great if you're working with your own images, but if it does too good of a job, it could be a little troublesome for photographers who struggle with users pulling images off the web.
On the photography front, Adobe has also taken many of the functions from Lightroom 5 (which is currently in Beta) and put them into Photoshop CC. You can now apply Camera Raw as a filter to any kind of file, which means you can adjust things like Clarity on photos and even videos, from within photoshop.
They have also build in the Upright function, which automatically corrects perspective shift. It works exactly as it does in the new Lightroom.
As the new name suggests, the Creative Cloud is built heavily into the software. All your settings, fonts, workspaces, and even files are synced across the cloud, which gives you 20 GB of storage to keep stuff.
There is already a pretty active conversation going on online about the fact that these new software titles will only be available to subscribers. On one hand, it allows them to push out updates on a feature-by-feature basis rather than doing bigger releases. On the other hand, some people just don't want to pay that monthly fee. For standard users, it's a $50 fee for the entire suite of software. If you just want Photoshop, you can pay $20 per month for the single app.
What do you think? Will you sign up for Creative Cloud or will you be sticking with your old versions? Or, will you be looking for an alternative?