New Gear: Ricoh GR Compact Camera With APS-C Sensor
A cult classic camera gets a serious sensor upgrade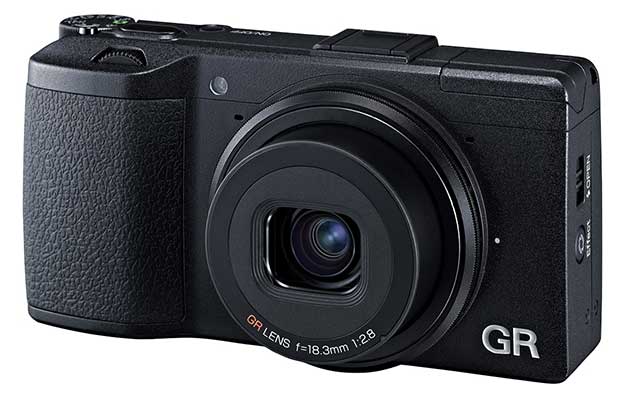 We may earn revenue from the products available on this page and participate in affiliate programs. Learn more ›
For street photographers, the Ricoh GR series has quite a bit of credibility. Some were curious how it would fare once Ricoh merged with Pentax, but we now know it lives and it's actually stronger than ever, boasting the title of smallest camera with an APS-C sensor.
The new Ricoh GR has a 16-megapixel APS-C sensor, which is a decided upgrade from previous models, which used true compact sensors. It has no low-pass filter to help draw maximum resolution out of the lens and it has a maximum ISO of 25,600. It's powered by the GR Engine V, which has a tall order of fighting noise in such a small camera.
The lens has always been one of the big draws for this line and the GR has new optics, giving it the familiar equivalent field of view of a 28mm lens on a full-frame body. It has a maximum aperture of F/2.8. The back of the camera has a 3-inch LCD with an impressive 1.23-megapixel resolution.
Like any advanced compact, it has a pop-up flash, but it also has a hot shoe for using Ricoh flashes. There's a depth-of-field preview button and it captures photos in RAW format, so you do get some truly advanced features as part of the package. There's also already a host of accessories available for the GR line that are compatible with the new body, which helps hammer home how impressive it is that they managed to cram an APS-C sensor in there.
The camera is coming in May with a price tag of $799, which makes it cheaper than other big-sensor advanced compacts like Sigma's DP-series and the new Nikon Coolpix A.
While it will likely be written off immediately by some as a "hipster camera" we're interested to see how it performs. If the lens lives up to its lineage, and the APS-C sensor doesn't suffer noise and battery issues from being nestled into such a small body, this could be an extremely capable little street shooter.