New Gear: Blackmagic Pocket Cinema Camera Shoots RAW Video For $1000
…and sports a Micro Four Thirds Mount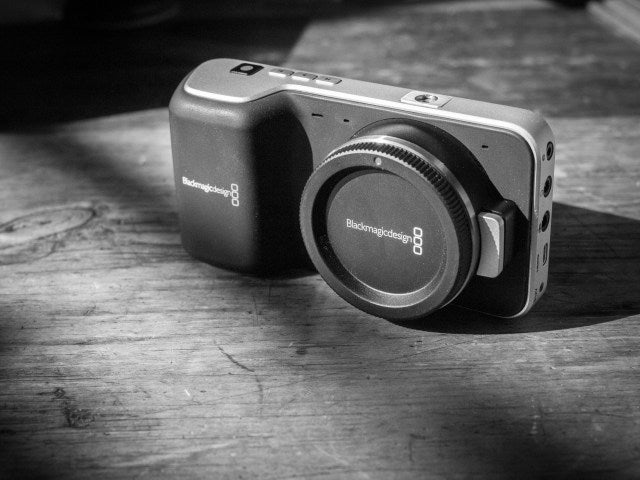 We may earn revenue from the products available on this page and participate in affiliate programs. Learn more ›
Blackmagic is back, and poised to turn the RAW video world on its head once again, just like it did at one year ago with the $3000 Blackmagic Cinema Camera.
This time around, Blackmagic has its sights set on the pocket-sized high-res video market, in the form of the $1000 Blackmagic Pocket Cinema Camera.
The BMPCC (which will call it from here on out), has a lot to offer: Namely, the ability to record full, uncompressed RAW video at 1920×1080 at a maximum of 30fps (it can also record to ProsRes and DNxHD), a Micro Four Thirds Mount, and the same 13 stop dynamic range as the BMCC. Big numbers for a $1,000 camera.
While the BMPCC features the same sensor as its bigger, older brother, the physical surface area of that sensor is smaller and can be compared to the size of a Super-16 film camera.
The Micro Four Thirds mount means the BMPCC has a whole world of glass friends to play with. That includes Panasonic and Olympus lenses, as well as budget options like Rokinon or even Noktor. It's also easily adaptable to other lens systems.
We recently spent some serious time with the larger 2.5k Blackmagic Cinema Camera (sample video and field test coming soon) and it's excellent, but SSD recording and a non-removable battery limit it for some users. Thankfully, the BMPCC offers a removable battery and records to regular old SD cards.
Details about the BMPCC camera are still trickling out, but we do know it will be available in July for an easy $1000. We'll certainly keep you updated when we find out more/get one in for testing.
Via: John Brawley