New Gear: Nikon 80-400mm F/4.5-5.6 ED VR Zoom Lens
An update to a classic old lens with a lot of reach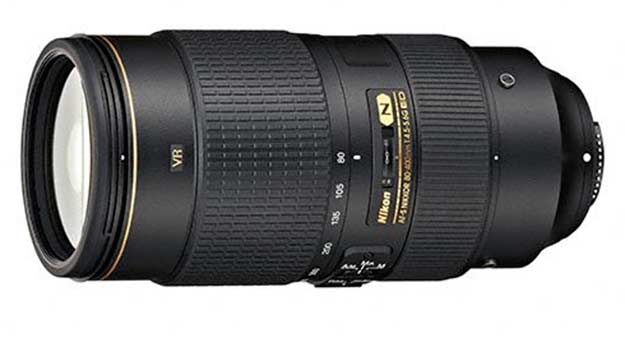 We may earn revenue from the products available on this page and participate in affiliate programs. Learn more ›
In addition to their new Coolpix A APS-C compact camera, Nikon has some new glass to add to the Nikkor lineup. The new 80-400mm F/4.5-5.6 ED VR is actually an update to an older lens, bringing some new features to a niche favorite.
It throws an image circle big enough to cover a full-frame sensor, so it can of course also be attached to an APS-C camera like the new D7100 to get a 120-600mm equivalent field of view.
Inside you'll find a lot of glass: 20 elements in 12 groups. It uses Nikon's Nano Crystal Coat to prevent ghosting as well as the Silent Wave Motor for quiet, quick focusing. Four of the elements use Extra-Low Dispersion glass and one element is made of Super ED glass. All of that is combined with Nikon's optical Vibration Reduction function.
The lens is coming next month and will bring with it a price tag of $2,699. It's certainly not a cheap walk-around lens like some of the other super-zooms, but if it can maintain high image quality for the full 5x zoom range, it could be a great tool for photographers who need a lot of range and a lot of reach.
FULL PRESS RELEASE BELOW
MELVILLE, N.Y. – Today, Nikon Inc. introduced the AF-S NIKKOR 80-400mm f/4.5-5.6G ED VR, a versatile FX-format telephoto zoom lens designed to provide top-class performance and a long reach for a variety of shooting scenarios. Sporting a long 5x zoom range, the 80-400mm f/4.5-5.6G is capable of capturing vivid colors with exquisite sharpness, whether shooting stills or HD video. Ideal for sports and nature photography, the addition of the AF-S NIKKOR 80-400mm f/4.5-5.6G ED VR reaffirms Nikon's commitment to providing a stable of lensing options for all types of photographers.
"Nikon's next generation of the 80-400mm lens** **gives advanced photographers yet another top-quality NIKKOR lens to help capture every precise moment with intense detail and exceptional clarity," said Bo Kajiwara, Vice President of Marketing, Planning and Customer Experience, Nikon Inc. "It's a one lens solution that combines a versatile 5x zoom range, long focal length and core Nikon technologies to help create beautiful stills and HD video."
High-Performance, High-Power Zoom
Nikon's newest telephoto zoom lens features a versatile 80-400mm focal length (5x zoom equivalent) that offers photographers a high-power FX-format lensing option to help capture stunning stills and HD video. Whether birding or shooting from the stands, the lens is also compatible with DX-format bodies to extend the maximum reach to 120-600mm (35mm equivalent). Additionally, alongside a 1.4x teleconverter, the lens can be expanded to an f/8 aperture to retain compatibility with the AF system on the most recent Nikon D-SLR cameras.
The AF-S NIKKOR 80-400mm f/4.5-5.6G ED VR is loaded with essential NIKKOR technologies to help ensure top performance for the advanced photographer, including Vibration Reduction (VR) allowing for up to four stops of image stabilization while Auto tripod detection VR allows for effortless stabilization when mounted on a tripod. The lens sports Nikon's exclusive Nano Crystal Coat to prevent ghost and flare, a Silent Wave Motor (SWM) to ensure fast and quiet AF operation, and two focusing modes including M/A (AF with manual override) and M (manual). A new optical formula features 20 elements in 12 groups and includes one Super ED Glass Element and four ED glass elements for maximum clarity in a wide variety of shooting environments.
Price and Availability
The AF-S NIKKOR 80-400mm f/4.5-5.6G ED VR**** ****will be available in early April 2013 for a suggested retail price (SRP) of $2,699.95.* For more information on these and other NIKKOR lenses as well as other Nikon products, please visit **www.nikonusa.com.**