Camera Test: Sony Cyber-shot RX1 Full-Frame Advanced Compact
Meet the world's first full-frame digital compact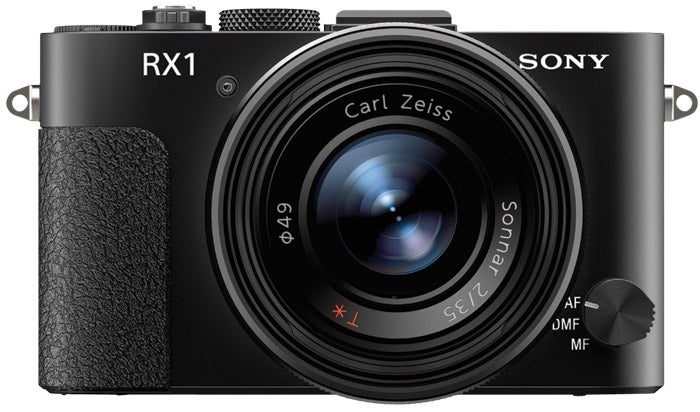 We may earn revenue from the products available on this page and participate in affiliate programs. Learn more ›
Every once in a long while a camera comes along that is at once both a complete surprise and exactly what everyone wants to see. Such is Sony's 24.3MP Cyber-shot RX1 ($2,798, street). Our jaws dropped when Sony first told us about it prior to the Photokina trade fair in Cologne, Germany, last fall.
With its full-frame CMOS sensor, it promised to be the topmost gun of the large-sensored premium compacts that have managed to survive in a world awash in cellphone cameras. It also puts an end to the perennial question: Why doesn't someone just put a full-frame sensor in a small, pocketable camera?
The answer is that it just isn't that simple. For utility's sake, Sony had to use a lens that is on the wide side—in this case a 35mm. For depth-of-field control and low-light prowess, the engineers also had to make it a fast lens. That combination leads to large glass. So Sony opted for a fixed lens to reduce bulk—interchangeable lenses need bigger external barrels.
If you look at the position of the sensor plane indicated in the photo of the top of the camera (up and to the right), you'll see that it is very far toward the back of the RX1's body. Consider, too, that the lens extends more than halfway into the camera, placing the rear element only a few millimeters in front of the sensor. It was undoubtedly a huge challenge to design the lens.
Add to that the problem of managing heat in such a small body and putting it all together with an elegant design commensurate with the unavoidably high price tag, and you've got more complexity than most companies would want to deal with. In this case, Sony clearly wanted to show off that the company is serious—very serious—about cameras.
In the Test Lab
With its large sensor, high pixel count, and a fast purpose-built lens, we weren't surprised to see the RX1 get high marks in our lab tests. Its biggest drawback was in color accuracy—an area in which many compact cameras don't excel. This isn't to say that the colors weren't pleasing. They just weren't as accurate as we've become accustomed to in DSLRs and ILCs. Noise also proved troublesome, but it's not easy to keep temperatures down in a compact, and excess heat can lead to more noisy images.
Overall image quality earned an Extremely High rating from ISO 50 through ISO 200. With 2870 lines per picture height in our resolution test, there was plenty of resolving power for an Excellent rating. From there, the Extremely High rating in Color accuracy (9.5 average Delta E) sent the image quality rating one level down from our top honors.
In our noise tests, the RX1 wasn't clean enough for an Extremely Low rating at any ISO. Instead, it started out with a Very Low rating at ISO 50 and rose to Moderately Low by ISO 400. Impressively, Sony held noise to acceptable levels all the way up to ISO 3200. Even at ISO 25,600, the RX1 showed a standard deviation of 4.8—a better result than Nikon's D800, though that DSLR far outresolves the RX1 at lower sensitivities.
Even though the resolution dropped as the sensitivity increased, the camera always managed to resolve enough for an Excellent rating by our standards. At ISO 400, the RX1 dropped to 2790 lines; by ISO 3200, to 2640 lines. At the camera's highest ISO, 25,600, you still get 2510 lines. The noise and loss of detail at this setting may make images unusable for some photographers, but others might not mind. We generally felt safe shooting at up to ISO 3200, where the noise wasn't too prominent and the loss of resolution was not much more than 200 lines below the camera's peak.
The thing to remember here is that this is a compact camera. Sony's own RX100 ($648, street), while costing thousands of dollars less, maxes out at 2270 lines per picture height and reaches Unacceptable noise levels by ISO 800. The RX1 shows the extremes of what is possible in a camera that can fit comfortably in a coat pocket.
In the Field
With a solid-feeling metal body that tries to look neither retro nor futuristic, the RX1 carries an easy charm and an underlying sense of sophistication. The control system, with its aperture ring on the lens barrel, relies on two-handed operation.
We're fine with this, since it's always better to steady the camera with two hands, but the grip is anemic, to say the least. It benefits from textured rubber, making it relatively secure in the hand, but Sony could take it a step further as Olympus does in its PL line of ILCs. The optional TGA-1 thumb grip ($250, street) remained on our test sample for the majority of our field testing.
This is problematic because, while the grip does have a cold shoe on which you can mount the optional FDA-V1 optical finder ($598, street), you can't use it in conjunction with the optional FDA-EVM1K ($448, street) electronic OLED finder. The optical finder is lovely, but we found ourselves missing the information available in the OLED finder, as well as the ability to customize the display with overlays of histograms or the electronic level. We're hoping Sony will devise a thumb grip that retains the contacts for the Multi Interface Shoe.
Changing settings while shooting is relatively painless, thanks to the function menu. A quick press of the Fn button brings up all the settings you'll likely need. We appreciated being able to change ISO by simply turning the rear control wheel while ISO was highlighted in the function menu. Sometimes manufacturers make you select with another button press before changing this setting, which only slows things down.
The dedicated exposure-compensation dial is a classy feature. Not only can you see if any compensation will be applied without turning the camera on, you can also count clicks to apply compensation while using the optical finder. The downside is that exposure comp doesn't go beyond +/– 3EV. While this is commonplace in compact cameras and entry-level DSLRs, we always like to see more.
Street shooters will appreciate the threaded shutter release. Not only is a mechanical cable release a great way to trigger the shutter without tipping people off that you're shooting, it is also less expensive than most electronic cable releases (welcome relief after springing for the thumb grip and optical finder.) You might also want to keep some extra cash around to get the optional LHP-1 lenshood ($178, street). This mounts on a bayonet found neatly recessed into the front of the lens barrel.
In addition to all the normal shooting functions, Sony includes its array of auto modes, some of which are useful as well as fun. Sweep Panorama makes wide vistas easy to capture. Handheld Twilight combines multiple exposures to minimize noise. Auto HDR merges three shots into one high-dynamic-range image without the need for a computer. The results are nice, and you can select how much of a bracket you want, but dedicated HDR software still yields the best possible results for these types of images.
The RX1 can capture video at up to 1920x1080p60 thanks to the inclusion of AVCHD progressive recording. Footage we shot looked fine for a compact camera.
If you like the extremely close focusing you would normally find in Sony's compact cameras, you should know that the RX1 can't match it. The physical limitations that go along with the large sensor prohibit it. However, we found that it got close enough for most of the shots we wanted to do, once we switched to the close-focusing range that spans about 8 to 14 inches.
The Bottom Line
It's hard to compare the Sony RX1 to other cameras because it really is unique. As such, it carries a hefty price tag. For significantly less money, you could opt for the Sony Alpha NEX-7 ($1,198, street, body only) paired with the new E-mount 35mm f/1.8 OSS lens ($448, street). You'd end up with the same pixel count (though notably less measured resolution in our tests), better noise performance, and better color accuracy. You'd also have a built-in OLED EVF and the versatility of swappable lenses.
But you wouldn't have the world's first full-frame compact. And when it comes to a camera like this, you may find that even more alluring.
Specifications:
IMAGING: 24.3MP effective, full-frame CMOS sensor captures 6000×4000-pixel images with 14 bits/color in RAW mode.
STORAGE: SD/Memory Stick Pro slot stores JPEG, ARW RAW, and RAW + JPEG files.
BURST RATE: Full-sized JPEGs (Extra Fine mode), up to 20 shots at 2.5 fps, up to 14 shots at 5 fps (speed priority); RAW (14-bit), up to 14 shots at 2.5 fps, up to 12 shots at 5 fps using an SDHC UHS-I card.
AF SYSTEM: TTL contrast detection with 25-point multi, centerweighted, or flexible spot; face detection and tracking.
SHUTTER SPEEDS: 1/4000 to 30 sec, plus B (1/3-EV increments) at f/5.6 or smaller; up to 1/3200 sec at f/4; to 1/2000 sec at f/2.8.
METERING: TTL metering with 1200-zone multi-segment (evaluative), centerweighted, spot (size of spot not specified).
ISO RANGE: Standard, ISO 100–25,600 (in 1/3-EV increments); Expanded, ISO 50–25,600.
VIDEO: Records at 1920x1080p at up to 60 fps in AVCHD v. 2.0; at 1440x1080p at 30 fps in MPEG-4 MOV format; built-in stereo microphone; stereo mic input.
FLASH: Built-in pop-up; GN 20 (feet); Multi Interface Shoe for dedicated flash or other accessories; flash sync to 1/4000 sec.
LENS: Carl Zeiss Sonnar T* 35mm f/2 with 8 elements in 7 groups (3 aspherical elements); 9–bladed aperture; minimum focusing 12 inches or 8 inches (macro).
LCD: 3-inch TFT with 1,229,000-dot resolution; 5-step brightness adjustment.
OUTPUT: USB 2.0, micro HDMI video, composite video, analog audio.
BATTERY: Rechargeable NP-BX1 Li-ion, CIPA rating 220 shots (with LCD set to maximum brightness) or 270 (with LCD set to middle brightness).
SIZE/WEIGHT: 4.5×2.6×2.8 in., 1.1 lb with a card and battery.
STREET PRICE: $2,798.
INFO: www.sonystyle.com