New Gear: GoPro Hero3 'Black Edition' Captures 4K Video
It is also 30% smaller, 25% lighter than the Hero2, not to mention WiFi-enabled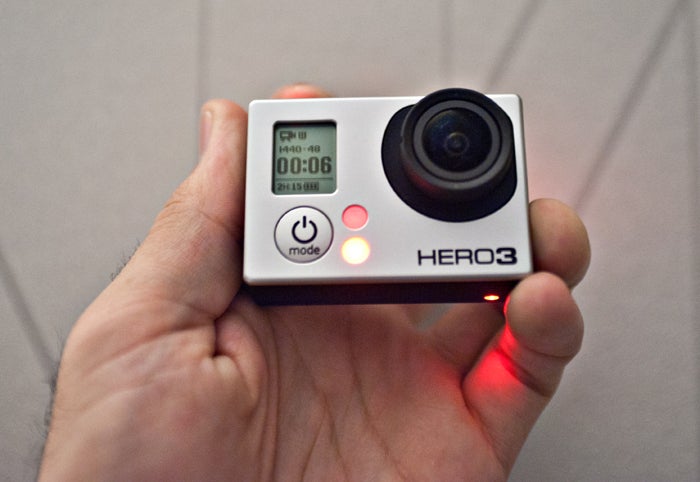 We may earn revenue from the products available on this page and participate in affiliate programs. Learn more ›
We're out here in San Francisco at GoPro's launch event for the Hero3, the company's new action cam. The GoPro Hero3 is smaller and lighter than the Hero2, 25% lighter and 30% smaller to be exact. The Hero3 comes WiFi-enabled right out of the box (no need for the WiFi BackPac add-on) and offers 4x higher resolution video capture than its predecessor (in the flagship Black Edition only).
Max resolution hits 4K if you're willing to pull down just 15 fps, but the Black Edition can also capture 1080p video at 60 fps, 1440p video at 48 fps and — perhaps most importantly — 720p video at 120 fps (and just for added options, in can do 480p at 240 fps). GoPro also went ahead and gave the unit an entirely new and rather robust processor, touting it as up to two times faster than that in the Hero2. One of the higher-ups at the company, who was sitting at my table, mentioned rather candidly how the new processor really opens the floodgates for what the company can do with their product down the road.
The Hero3 also has a brand-new lens, which is apparently 2x sharper and 2x better in low-light. The company's CEO, Nick Woodman mentioned, in regards to the new lens, that while they did correct for some of the distortion found in older models, the engineers opted to not fully correct for it, as distortion is a "signature" of the brand.
All that processor power is being put to use in still mode, too, giving it the ability to grab 30 12-megapixel photos in a single second. GoPro is also touting that fact that the new unit has 2x better low-light performance—which can likely this can be attributed to the new processor and redesigned lens.
Audio hasn't always been a strongsuit for the boxy little cameras, so they've addressed that with a few upgrades. The mic now captures stereo audio and they've tweaked their wind noise-cutting algorithm, which they claim is now far more effective.
At a price point of $400 and shipping out this Monday (available for pre-order right now), the Hero3 also comes with the new GoPro Wifi remote, which can control up to 50 cameras at a range of 600 feet ($80 on its own).
However, if $400 is a bit too rich for your blood, you can also pick up the Silver or White version, which, respectively will cost you $300 and $200. The Silver is essentially a smaller lighter Hero2 with WiFi (max frame rate of 1080p), while the White is essentially a Hero1 (also smaller, lighter and with Wi-Fi).
All three models are compatible with the new mobile app and the GoPro Wi-Fi Remote (again, the Black Edition comes with it).
Stay tuned, we'll be posting sample video later in the day after I do some swimming with sharks (assuming I survive).