New Gear: CustomSLR M-Plate Mini Universal Tripod Mount
A smaller plate with a larger list of compatible tripods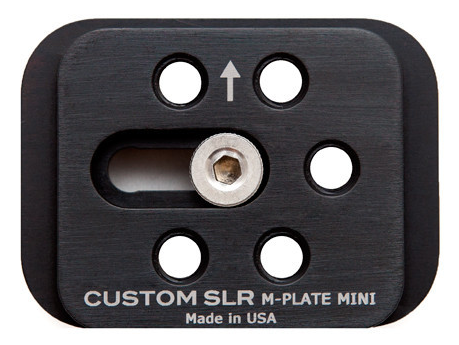 We may earn revenue from the products available on this page and participate in affiliate programs. Learn more ›
The original M-Plate tripod plate was an elegant solution to a simple, but annoying problem stemming from the general awfulness of most stock tripod plates. Now, there's a new mini version that's designed to be even easier to keep attached to your camera at all times.
The M-Plate Mini is a lot like the original, only it's, well, more mini. It weighs just 1.3-ounces despite being made of aerospace-grade aluminum and it lacks the additional metal required for mounting CustomSLR's C-Loop system.
It fits most Manfrotto and Arca Swiss style tripods and has five threaded accessory holes, which is convenient if you want to mount your camera to a tripod with something like a flash bracket attached.
The M-Plate Mini isn't going to be available until November, and there's no official pricing information yet. It will likely be a bit cheaper than the original M-Plate, if only because it's made from less metal.