Tamron Has Updated SP 90mm f/2.8 DI MACRO 1:1 VC USD In The Works
A new version of the 90mm macro will soon be released with vibration control, ultra silent drive focusing, and new optics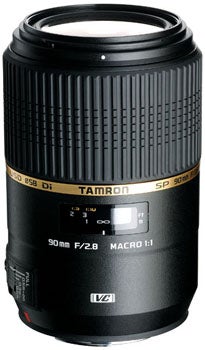 Alongside the newly announced f/2.8 70-200mm, Tamron is also working on an updated version of its 90mm macro lens. The newly announced glass is the Tamron SP 90mm F/2.8 Di VC USD, which will be available by end of year for Canon, Nikon, and Sony mounts.
The changes to the lens are substantial, most notably the introduction of Vibration Control (Tamron speak for image stabilization), and Ultrasonic Silent Drive, the company's autofocus system. Unlike the previous version, the new 90mm lens will have an internal focus system, so the length of the lens won't change from 4.8 inches, regardless how near or far you focus.
The lens structure has also been tweaked, now featuring 14 elements in 11 groups, with two XLD (Extra Low Dispersion) glasses and one LD (Low Dispersion) element to limit chromatic aberrations. The lens also features an eBAND (Extended Bandwidth & Angular-Dependency) coating to limit ghosting and flares.
Sony users will get an ever so slightly different version of the lens, the SP 70-200mm f/2.8 Di USD, which lacks the Vibration Control, since Sony has that built in to camera bodies.
I'm sure we'll get a better idea of this lens at Photokina, but for know we're lefting wanting on what the price will be.