Olympus 15mm F/8 Micro Four Thirds Bodycap Lens: Hands-On and First Impressions
No one has ever had this much fun with a body cap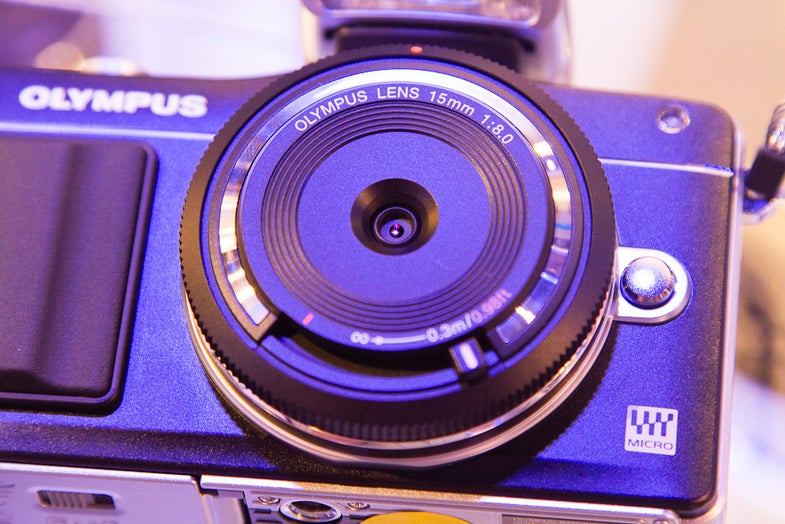 We may earn revenue from the products available on this page and participate in affiliate programs. Learn more ›
Most of the glass we've been writing about here at Photokina 2012 has been big and fast, but the Olympus bodycap lens is the exact opposite and that's what makes it cool.
When the Olympus rep pulled the lens out from behind the counter, I was surprised as to just how small it actually is. The cap that protects the rear optics is nearly the same size as the lens itself. And when it's attached to the camera — I stuck it on one of the new PEN E-PL5 bodies — the camera could fit in my pocket.
Operating it is super simple. Focus is achieved by flipping a switch. Your choices are 1-foot or infinity. Shooting at F/8 on the dark tradeshow floor is less than ideal, but it's actually a little sharper than I expect. It's tough to remember that there are actually three elements in that tiny little body.
Operating it is a lot like using a Holga or other Lomo bodies. The ultra-simple focusing and the built-in tiny lenscap are very toy-like. But, it's definitely a lot more interesting than a normal body cap. When we get one, I'm eager to take it out into bright sunlight and see what kind of interesting flare we can get out of it.
Above: This was shot with the 15mm F/8 from about a foot away using the close focus setting. The purplish lighting isn't great for taking pictures, but you can see that it's capable of solid sharpness. Click the image to see the full-unedited JPEG.
On a picture quality-front, the aesthetic reminds me of what you'd get out of a high-end smartphone. Because of the bigger sensor, the IQ is of course better than any cellphone, but the wide depth of field and the distinctive look of a photo taken through really small glass could help shots pass for ones that were taken with a mobile device.
Above: This image was actually shot handheld. F/8 is pretty dark for this setting, but because the IS is built into the body rather than the lenses, it's still sharp. The huge depth of field doesn't hurt, either.
__