New Gear: Pentax DA 18-270mm f/3.5-5.6 ED SDM and HD Pentax DA 560mm f/5.6 ED AW Lenses
A new all-in-one zoom and monster telephoto lens join the K-mount line-up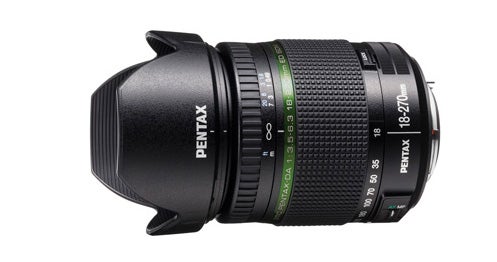 We may earn revenue from the products available on this page and participate in affiliate programs. Learn more ›
In addition to the new K-5 Mark II DSLR, Pentax has also announced the addition of two new lenses to it's K-mount system: the beefy HD Pentax DA 560mm f/5.6 ED AW telelphoto, and the Pentax DA 18-270mm f/3.5-5.6 ED SDM all-in-one zoom.

Offering 15x optical zoom range, the 18-270mm has a full-frame equivalent focal range of 27.5mm-414mm on an APS-C body. Thanks to the company's SDM technology, Pentax promises the AF is both silent and smooth. The lens features two extra-low dispersion elements in order to minimize chromatic aberration. Available in November, the 19-270mm will run you $799.95.

On the more professional-end, Pentax is also offering the 560mm f/5.6, which is the equivalent focal length of an 859mm lens on an APS-C body. It's clearly aimed at pro shooters, so Pentax gave it all the pricy bells and whistles you'd expect like their new HD coating, as well as a removable polarizing filter.
In addition, the lens features all-out weather and dust-proofing (thanks to a total of 29 special seals) as well as a Super Protect coat on the front element, which repels both water and grease.
Available in December, this crazy long lens will run you a cool $7000.