Adobe Announces Photoshop Elements 11 And Premiere Elements 11
Customize Adobe's new editing software to your own skill level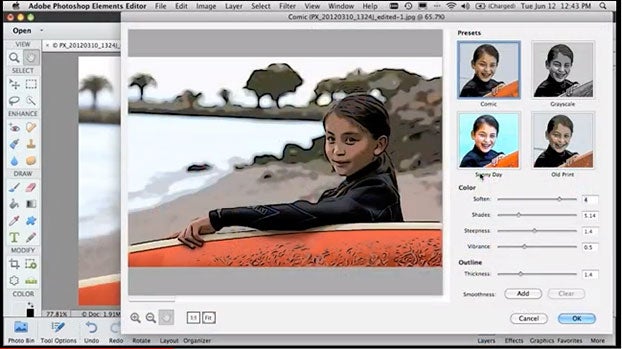 I'm not quite sure why they didn't make the announcement last week at Photokina, but today Adobe has pulled back the curtain on the latest versions of their entry-level photo and video editing software solutions: Photoshop Elements 11 and Premiere Elements 11.
Both titles have gotten significant redesigns in the user-interface department, but there has also been a fair bit of tweaking done on the code side as well.
Photoshop Elements 11 now uses the same engine as the full version of Photoshop, which will likely mean faster execution of commands and the potential for more complex actions. The UI is more icon based now, as you'd expect with a consumer-oriented solution, bundling several more complex actions into simpler ones. When you're editing photos, there are three different levels of complexity you can choose from. So, if you're a beginner, you can have the simplest options. If you're an expert, you can have more control. It seems like a rather elegant solution to help accommodate a wide variety of users.
They have brought in even more Photoshop tech as well, allowing for Photoshop Elements to extract objects from scenes using refine edge. It's not as robust as the full version of photoshop, but it's a nice addition at this level. And of course, they've beefed up the web sharing capabilities even further, increasing the extent to which it will play nice with social networking sites like Facebook.
Now that the powerful Lightroom software is just $50 more expensive, they're clearly trying to differentiate this product with things like a totally different method for archiving photos.
Premiere Elements 11 has a new UI experience, but it also gets a decent crop of new video effects like filters and transitions to help edited movies look more finished.
Each piece of software will cost a familiar $99 individually, or you can get both for the discounted price of $149. If you already have both, you can upgrade to the new versions for $119. Individual upgrade editions will cost $79 each.
We look forward to trying out the new software and seeing just how improved the new experience really is. Look for a review in the coming weeks.
Check out the official Photoshop Blog post for more info.