New Gear: Samsung EX2F With f/1.4 lens, WiFi
Samsung's newest camera has one of the fastest lenses we've seen on a compact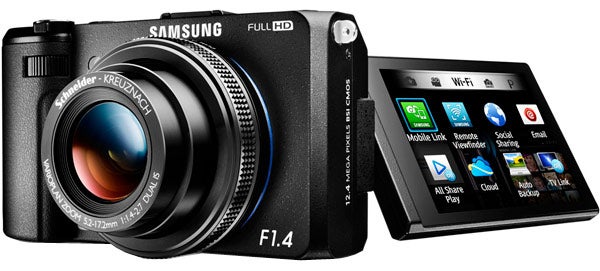 We may earn revenue from the products available on this page and participate in affiliate programs. Learn more ›
Samsung's newest venture into the world of high-end compacts is the EX2F, which packs one of the widest apertures to be seen in a compact camera. The EX2F has a 12.4MP 1/1.7-inch CMOS sensor, an articulated 3-inch swivel VGA-resolution AMOLED display, and a handy-dandy WiFi connection for remote control or backup — but what will most likely perk up the ears of photography enthusiasts is the f/1.4-f/2.7 Schneider-Kreuznach lens. It's a a 24-79mm equivalent 3.3x zoom, and even at the full tele end will keep a nice wide aperture of f/2.7.
Like Samsung's older EX1/TL500, the EX2F will have a control dial at the base of the lens, as well as two dials on the body. Experienced shooters will appreciate the full manual controls, RAW shooting, and a full-fledged hot-shoe (for optional optical viewfinder, external mic or flash). The ISO range runs up to 12,800, and it can record 1080p at 30fps simultaneously with capturing still images.
The lens itself not only has that wide f/1.4 aperture at the wide-end, but is comprised of eleven elements in nine groups, with four aspherical lenses and two high refractive lenses, which Samsung claims "provide a 20% increase in the amount of light on the sensor, a 20% increase in image quality and a 10% increase in zoom ratio." There's a built-in neutral density filter, and the system packs dual-image stabilization for wobbly situations.
Unfortunately, at this time we haven't heard price or street date, but the Samsung EX1/TL500 debuted for $449, so expect something similar.
[via Engadget]