PMA 2010: Samsung debuts TL500 compact with an F/1.8 lens
theres has the ability to swivel.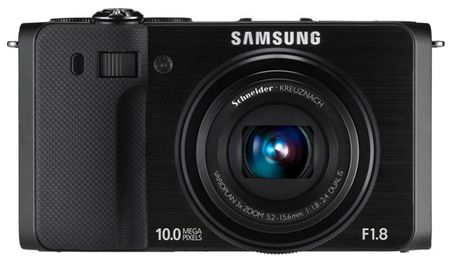 We may earn revenue from the products available on this page and participate in affiliate programs. Learn more ›
there's a new boss in the land of Samsung compact cameras. The TL500's biggest draw is its fast glass, sporting a 24mm Schneider KREUZNACH, f/1.8 lens with 3x optical zoom. Behind that is a new 10-megapixel, 1/1.7″ CCD sensor coupled with Samsung's DRIMeIII imaging processor.
The back of the camera boasts one of Samsung's newish three-inch AMOLED displays like that found on the TL320, but the TL500's has the ability to swivel. It also supports several higher-level features you'd expect to find in an "advanced" compact, like RAW capture, optical IS and a selection of manual exposure modes.
Like with Canon's S90, it will capture video, but not the HD variety, capping out at SD 640×480 at 30 fps (H.264). Availability is slated for "Spring 2010" when you can expect to pay $449 off the shelf. We'll try to get some hands-on time soon when we hit the PMA floor. -Stan Horaczek
_ _