The Insane Zoom Of The Nikkor 1200-1700mm
Once the longest ever 35mm zoom, the Nikkor 1200-1700mm f/5.6-8 is a testament to engineering.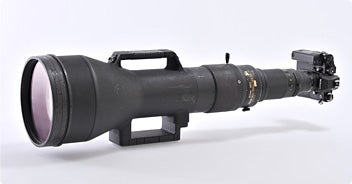 We may earn revenue from the products available on this page and participate in affiliate programs. Learn more ›
Nikon has just announced a new, 800mm super-zoom is in the works, declaring it their longest ever AF lens — but it's not the longest Nikkor ever made, not by a longshot. Nikon recently updated their Recollections website with information about the Zoom-Nikkor 1200-1700mm f/5.6-8P IF-ED from the early 90s, which held the record for the longest ever 35mm zoom for some time.
Weighing in at 16kg/35lbs, and 888mm/35 in long, it was a behemoth by any stretch of the imagination. When it was released in 1990, it had an asking price of around $60,000-$75,000, and required a unique, two-section lens barrel.
Introduced in 1990, this behemoth of a lens was first used at Koshien Stadium, where Japan holds its annual huge high school baseball tournament. The lens was developed especially to shoot from the photographers seats, and still capture all the action. Even with a relatively slow maximum aperture, apparently it still took incredibly sharp images — assuming there was enough light around.
The real magic is in just how long that zoom was. Check out the shots below for a comparison between 50mm, 1200mm, and that maximum 1700mm.
This thing definitely belongs on our list of unbelievable lenses.
[via PhotographyBay, Gizmodo]