Field Test: Tamrac Evolution 8 3-In-1 Camera Bag
Several days on the slopes of Whistler with Tamrac's transforming camera carrier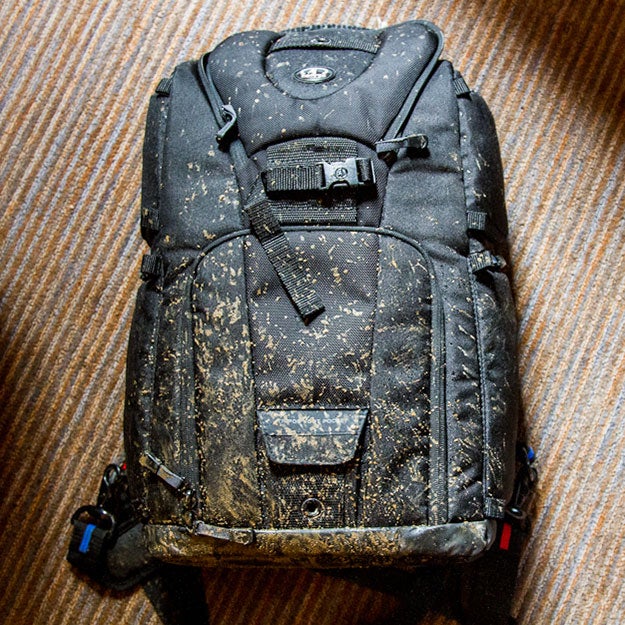 We may earn revenue from the products available on this page and participate in affiliate programs. Learn more ›
When I travel, I've become a big fan of camera daypacks. The Timbuk2 I tested back at CES was one of the my favorite camera bags to date, which is why I chose Tamrac's new Evolution 8 bag ($159) for a mountain bike photography trip to Whistler in Canada.
What is it?
The Evolution in the name stems from the fact that you can wear this bag in three different orientations. You can keep both straps attached and wear it like a traditional backpack or disconnect either one of the straps to wear it like a sling depending on which side you favor.
Carrying Gear
Here's what I brought on this test trip. It's a pretty standard kit for a short shoot like this. Long lens for sports, standard zoom with IS for video and wider stuff and a flash.
1 Canon 7D Body with battery grip
1 70-200mm F/2.8L zoom lens
1 24-105 F/4L IS zoom lens
1 Canon 580 EX Speedlite
At the start, I had arranged the bag in its standard configuration with the 70-200mm lens attached to the body and stowed horizontally across the middle of the gear compartment. All the gear fit and this was useful because it allowed me to use the side access flaps to take the camera in and out really quickly. I like to keep my lens hood on my 70-200mm lens in the bag, though (turned around, of course) and that made things fit rather tightly when trying to access them from the top.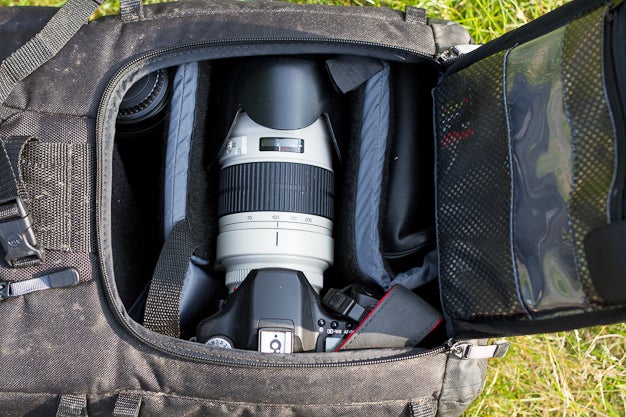 Since I was shooting mostly setup shots and I didn't need really fast access to my gear, I switched the padding around and carried the lenses separate from the body. It would be impractical in a fast-action situation, but it gave my gear a little more room. The upside is that I can easily switch back and forth in configuration using the same selection of padding.
The clear plastic pockets on the outer flap are sturdy and surprisingly roomy when you consider how flat they are. I kept a few sets of batteries, lens cloths, and a filter in there and still had plenty of room.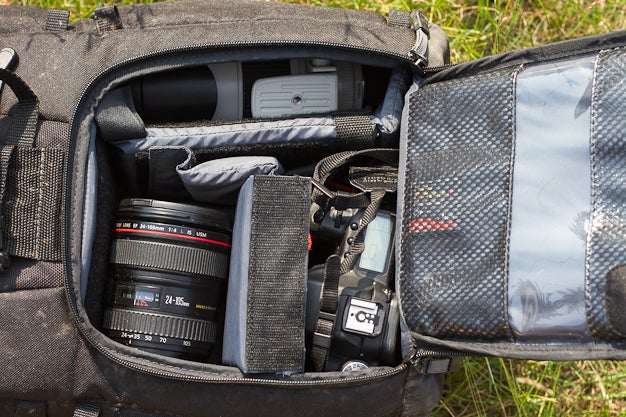 Carrying other stuff
Since it's a daypack, the upper portion of the bag is meant to hold things like accessories and personal belongings. The mesh pocket at the back was _just barely _too small to fit an ipad, but that fit fine in the laptop pocket anyway. I folded an extra shirt up into the bottom of the compartment and still had plenty of room for other essentials. It's enough to get you through a shoot or even a day walking around, but it's not a bag you can live out of for sure.
The laptop compartment was spot on. Lots of padding, separate zipper so you don't have to open the main compartment. There was even room for a 15-inch MacBook Pro, a notebook, an iPad, and a magazine all at once.
Wearing it
The one major annoyance that I had with the bag is that I got the straps twisted almost every single time I put it on. Whether I was wearing a T-shirt or full-on mountain bike body armor, the skinny straps often didn't want to lay flat on the first try. It's easily fixed because of the freely rotating clips at the bottom, but I have a feeling they were also part of the problem.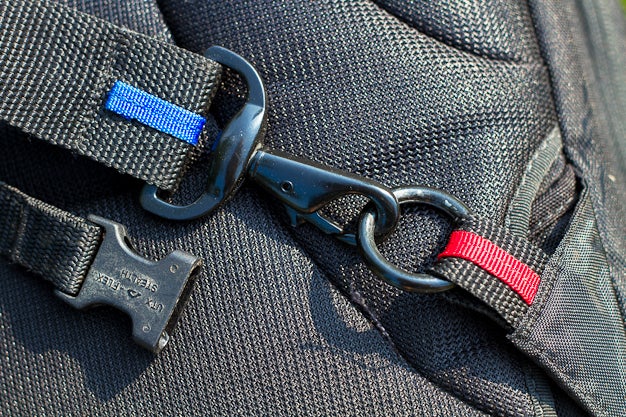 The straps are also thinner than I'd prefer. I understand that it's not an outdoors pack and that not everyone is big like me, but a little extra thickness might have helped combat the twisting and made it a little more comfortable. This was especially evident when I tried to use it in sling configuration.
I was extremely glad that it came equipped with a chest strap — quite honestly, I think a chest strap should be a legal requirement for every backpack — but this one sits up extremely high, which limits its effectiveness. I even had someone much shorter than me try it on and the strap was still higher than most chest straps I've used.
I prefer backpacks to slings, so I wore it in the two-strap configuration most of the time, but I did try it in sling mode. One of the problems I usually have with them is that you can't switch shoulders, but with this modular design, you can and that's a big plus. There's also an access door to the gear compartment on both sides, so you're not punished for going righty or lefty.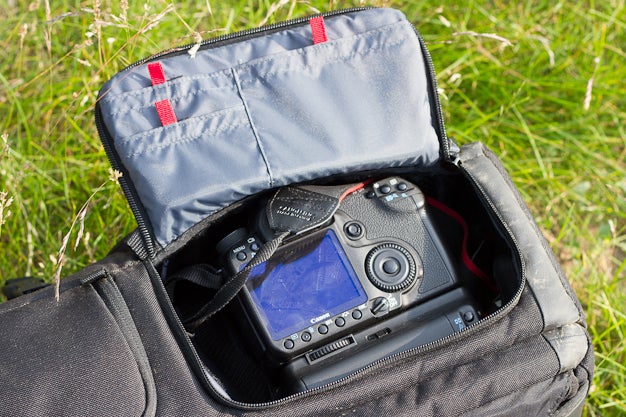 The second strap becomes a waist strap, which is a very nice touch and holds it to your body a lot more securely than other slings I've used. You need to keep the waist strap fastened, though, otherwise it dangles awkwardly or gets in the way if you try to tuck it up into the bag. Because of that, it's not the fastest bag when it comest to putting it on or taking it off.
Construction
Like many of Tamrac's bag, this one seems plenty capable when it comes to surviving a beating. Like I said before, it's not specifically an "outdoors" bag, but I sure took it outside and covered it in mud. The reinforced bottom is sturdy and sheds dirt nicely. The material itself is extremely water-resistant (I didn't feel the need to bust out the rain cover even though it rained steadily one day) and didn't get pulls or scuffs despite being dragged against rocks and trees. I did have a very hard time getting the mud off of it, though. In fact, even after I've cleaned it pretty thoroughly, it's still obvious that it used to be dirty.
The padding is pretty standard, so it should seem pretty familiar if you've ever used, well, just about any modern camera bag ever. I like that you can take the divider between the two compartments out completely, though, in case you need a lot more space.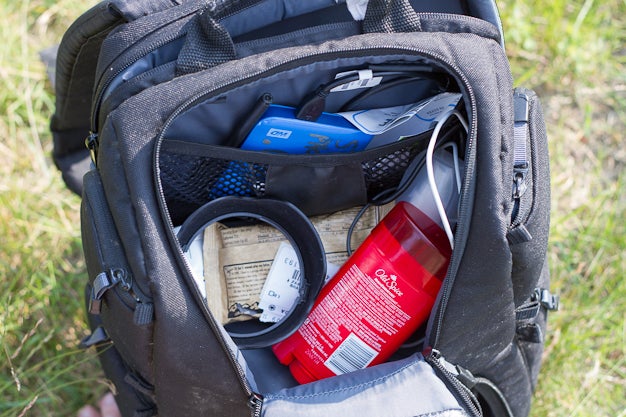 Pockets
When it comes to flat stuff, there's plenty of room. Every single flap on the bag has zippered pockets on the inside for carrying things like memory cards or batteries. The side pockets are handy, too. I was able to carry an external hard drive in it or my phone from time to time. I would've liked one more slightly fatter pocket to hold things like a deodorant. I ended up having a big jumble of things in the top pocket. Still, that would've made it bigger and from a size perspective, this thing is pretty spot on.
Conclusion
Options are always nice to have and this bag has plenty of them. Daypacks with laptop slots are getting better all the time, but this is one has one of the best mixes of comfort and sturdiness. For me, the modular straps are merely a bonus, but if you're having trouble picking between a sling and a backpack, this might be a perfect solution. Just be ready to adjust that strap a little when it gets twisted.